Textbook
Fundamentals of Physics Extended, Ninth Edition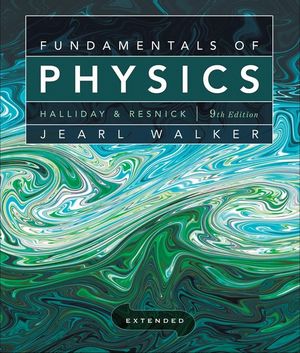 Engaging students and teaching students to think critically isn't easy! The new Ninth Edition of Halliday Resnick and Walker (HRW) has been strategically revised to conquer this challenge. Every aspect of this revision is focused on engaging students, supporting critical thinking and moving students to the next level physics understanding.
Key to the ninth edition's support for critical thinking and development of understanding physics concepts is Jearl Walker's modern voice. Jearl Walker is both an active teacher, who understands the challenges faced in today's classroom, and a world renown communicator of science to the general public. His Flying Circus material is integrated throughout the ninth edition to catch students' attention, engage them, and encourage them to solve the underlying real world physics phenomenon and concepts, before they begin the more quantitative portion of the content or problem. New features in WileyPLUS are designed to help students read and come more prepared to class and to engage their various learning styles, as well as to help instructors make more efficient use of their class preparation time.
HRW 9e  provides the perfect solution for teaching  a 2 or 3 semester calc-based physics course providing instructors with a tool by which they can teach students how to effectively read scientific material, identify fundamental concepts, reason through scientific questions, and solve quantitative problems.

for
Fundamentals of Physics Extended, Ninth Edition
. Learn more at
WileyPLUS.com


Table of Contents
VOLUME 1.
PART 1.
1 Measurement.
2 Motion Along a Straight Line.
3 Vectors.
4 Motion in Two and Three Dimensions.
5 Force and Motion — I.
6 Force and Motion — II.
7 Kinetic Energy and Work.
8 Potential Energy and Conservation of Energy.
9 Center of Mass and Linear Momentum.
10 Rotation.
11 Rolling, Torque, and Angular Momentum.
PART 2.
12 Equilibrium and Elasticity.
13 Gravitation.
14 Fluids.
15 Oscillations.
16 Waves — I.
17 Waves — II.
18 Temperature, Heat, and the First Law of Thermodynamics.
19 The Kinetic Theory of Gases.
20 Entropy and the Second Law of Thermodynamics.
VOLUME 2.
PART 3.
21 Electric Charge.
22 Electric Fields.
23 Gauss' Law.
24 Electric Potential.
25 Capacitance.
26 Current and Resistance.
27 Circuits.
28 Magnetic Fields.
29 Magnetic Fields Due to Currents.
30 Induction and Inductance.
31 Electromagnetic Oscillations and Alternating Current.
32 Maxwell's Equations; Magnetism of Matter.
PART 4.
33 Electromagnetic Waves.
34 Images.
35 Interference.
36 Diffraction.
37 Relativity.
PART 5.
38 Photons and Matter Waves.
39 More About Matter Waves.
40 All About Atoms.
41 Conduction of Electricity in Solids.
42 Nuclear Physics.
43 Energy from the Nucleus.
44 Quarks, Leptons, and the Big Bang.
Appendices.
Answers to Checkpoints and Odd-Numbered Questions and Problems.
Index.
New To This Edition
New WileyPLUS features:

Graded Reading Comprehension Assignments. Instructors can assign – for credit – reading comprehension questions. Because the assignment and grading of these questions is done automatically by WileyPLUS, no extra instructor or staff time is necessary.
Significantly expanded multi-media assets. Additional interactive simulations, animations and video mini-lectures have been included to accommodate a variety of learning styles. Through the videos, Jearl teaches students how to read technical content. Extra help material (not in the printed text) is available through hypertext links for those students who need or want it. In addition, callouts throughout the text direct the student to additional resources in WileyPLUS.

Redesigned key illustrations. The author has re-designed a number of the key figures in the new edition to provide a more inviting and informative treatment to help beginning students get a better grasp of key concepts. These figures are not overly complex and don't assume an unrealistic level of sophistication on the students' part. The figures are broken into component parts with supporting commentary so that the students can more readily see the key ideas. In addition, animated versions of the figures with audio commentary are now included in the multimedia version of the text which is accessed through WileyPLUS.
MathHelp videos and a MathSkills Module
Hallmark Features
Integration of The Flying Circus of Physics. Material from The Flying Circus is incorporated into the chapter opener puzzlers, Sample Problems, text examples and end-of-chapter problems to make the subject more interesting and engaging and to show students that the world around them can be examined and understood using the fundamental principles of physics. Links to The Flying Circus material are identified throughout the text with a biplane icon.
Checkpoints offer stopping points so students can check their understanding of a question with some reasoning based on the narrative or sample problem they just read.
Sample problems are chosen to demonstrate how problems can be solved with reasoned solutions rather than quick and simplistic plugging of numbers into an equation with no regard for what the equation means. Key Ideas in the sample problems focus a student on the basic concepts at the root of the solution to a problem.
Additional help. When worked-out solutions are provided in print or electronically for certain problems, there is an icon listed to alert the student and instructor to where the solutions are located:

Guided-Online Tutorials (GO)- Tutoring problem available in WileyPLUS or WebAssign
Student Solutions Manual (SSM)
Worked-out Solution on the website (WWW)
Interactive LearningWare Solution on the website (ILW)

WileyPLUS

All end of chapter problems are coded and available for assignment
Every problem has an associated hint that can be made available at the instructor's discretion.
Additional problems not found in the book can be made available to the students at the instructor's discretion.
Several problems per chapter are available in a tutorial format that provides step-by-step guidance (Guided Online tutorials).
Simulation problems that require student interaction are also available.
Office Hours™ videos include:
o Video Mini-lectures
o Video Worked Examples by Jearl Walker

Just in time MathSkills review


Available Versions