Textbook
70-564: Designing and Developing ASP.NET Applications Using the Microsoft .NET Framework 3.5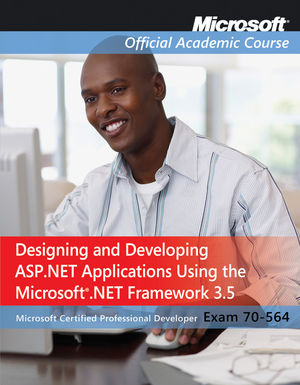 This book is for students and professionals aspiring  to become Microsoft developers by preparing for the 70-564, Designing and Developing ASP.NET Applications using the Microsoft .NET Framework 3.5certification exam
.  
The Microsoft Official Academic Course (MOAC) lessons correlate and are mapped to the Microsoft Certified
Technology Specialist/Microsoft Certified Information Technology Professional (MCTS/MCITP) and Microsoft Certified Professional Developer (MCPD) 70-564 certfication exam.  The MOAC IT Professional series is the Official from Microsoft, turn-key Workforce training program that leads to professional certification and was authored for college instructors and college students. 
Students benefit from hands-on instruction with, and professional certification on, the Visual Studio suite of development tools, the Windows .NET Framework component, and ASP.NET technology. The 70-564 exam, is the one Professional-level exam required for the MCPD certification focused on the ASP.NET track for developing web-based applications.   
The book covers:
Designing and implementing controls
Designing the presentation and layout of an application
Accessing data and services
Establishing ASP.NET solution structure
Leveraging and extending ASP.NET architecture
Applying security principles
This text offers the pedagogy and support provided by the MOAC Ready To Teach, Ready To Work program. MOAC .NET 70-564 provides the resources that instructors and students need to deploy an excellent Microsoft course. This .NET 70-564 textbook,  complete with lab manual, also offers the developer software via the MSDN AA program.  As with all MOAC titles, MOAC .NET 70-564 will contain coverage of all certification exam objectives.
See More
Chapter  1: Designing Web Applications with Suitable Controls
Chapter  2: Designing Web Sites
Chapter  3: Creating Web Applications and Web Sites
Chapter  4: Designing State Management for Web Applications
Chapter  5: Designing Reusable Controls 
Chapter  6: Leveraging Scripting with ASP.NET AJAX
Chapter  7: Troubleshooting Web Applications
Chapter  8: Accessing and Displaying Data
Chapter  9: Sourcing Data from Different Sources
Chapter  10: Enhancing Web Applications
Chapter  11: Designing Security Measures
Chapter  12: Protecting Web Applications
Chapter  13: Configuring and Deploying Web Applications
Appendix Getting Started with Visual Studio 2008

See More
Free MSDNAA license. Free 3 year MSDNAA subscription upon adoption of MOAC titles for new subscribers for the department available upon adoption.
Books address student needs by emphasizing authentic workplace scenarios with an abundance of projects, exercises, cases, and assessments, covering certification exam learning objectives.
Microsoft Updates Technology and curriculum seminars delivered through the Wiley Faculty Network
MCTS/MCITP/MCPD mapping though the text. Microsoft certification exam objectives are introduced and summarized in each lesson, and are called out throughout the lesson.
See More
Instructors Resources
Digital evaluation copy available for this title
Request Copy

Contact your Wiley Representative
Find Your Rep

See More
See Less
Purchase Options
Wiley E-Text

Exam 70-564: Designing and Developing ASP.NET Applications Using the Microsoft .NET Framework 3.5, Package
ISBN : 978-0-470-58383-8
648 pages
October 2010, ©2011
Paperback
Exam 70-564: Designing and Developing ASP.NET Applications Using the Microsoft .NET Framework 3.5, Package
ISBN : 978-0-470-55140-0
648 pages
April 2010, ©2011

Information about Wiley E-Texts:
Wiley E-Texts are powered by VitalSource and accessed via the VitalSource Bookshelf reader, available online and via a downloadable app.
Wiley E-Texts are accessible online and offline, and can be read on a variety of devices, including smartphones and tablets.
Wiley E-Texts are non-returnable and non-refundable.
Wiley E-Texts are protected by DRM. For specific DRM policies, please refer to our FAQ.
WileyPLUS registration codes are NOT included with any Wiley E-Text. For informationon WileyPLUS, click here .
To learn more about Wiley E-Texts, please refer to our FAQ.

Information about e-books:
E-books are offered as e-Pubs or PDFs. To download and read them, users must install Adobe Digital Editions (ADE) on their PC.
E-books have DRM protection on them, which means only the person who purchases and downloads the e-book can access it.
E-books are non-returnable and non-refundable.
To learn more about our e-books, please refer to our FAQ.
Learn more about