Textbook
Java For Everyone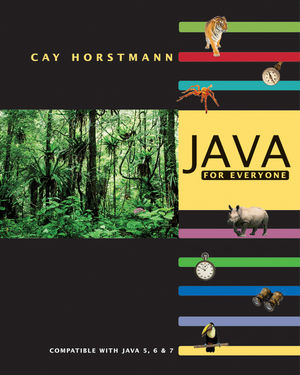 Java For Everyone gives an introduction into Java and computer programming that focuses on the essentials ? and on effective learning. The book is suitable for a first course in programming for computer scientists, engineers, and students in other technical or scientific disciplines. No prior programming experience is required, and only a modest amount of high school algebra is needed. What sets this book apart is its visual approach that motivates the reader and eases navigation. Guidance and worked examples help students succeed by providing starting points and outlining the tasks at hand. Ample practice gives students the confidence they need. From simple programming assignments to self-check questions at the end of each section, Java For Everyone gets students programming in an enjoyable and friendly manner.
See More
PREFACE
.
SPECIAL FEATURES.
CHAPTER 1 INTRODUCTION.
1.1 Computer Programs.
1.2 The Anatomy of a Computer.
1.3 The Java Programming Language.
1.4 Becoming Familiar with Your Programming Environment.
1.5 Analyzing Your First Program.
1.6 Errors.
1.7 Algorithms.
CHAPTER 2 FUNDAMENTAL DATA TYPES.
2.1 Declaring Variables.
2.2 Variable Assignment.
2.3 Reading Input.
2.4 Constants.
2.5 Arithmetic.
2.6 Strings.
CHAPTER 3 DECISIONS.
3.1 The if Statement.
3.2 Comparing Numbers and Strings.
3.3 Multiple Alternatives.
3.4 Nested Branches.
3.5 Boolean Variables and Operators.
3.6 Application: Input Validation.
CHAPTER 4 LOOPS.
4.1 The while Loop.
4.2 The for Loop.
4.3 The do Loop.
4.4 Application: Processing Sentinel Values.
4.5 Common Loop Algorithms.
4.6 Nested Loops.
4.7 Application: Random Numbers and Simulations.
CHAPTER 5 METHODS.
5.1 Methods as Black Boxes.
5.2 Implementing Methods.
5.3 Parameter Passing.
5.4 Return Values.
5.5 Methods Without Return Values.
5.6 Stepwise Refinement.
5.7 Variable Scope.
5.8 Recursive Methods (Optional).
CHAPTER 6 ARRAYS AND ARRAY LISTS.
6.1 Arrays.
6.2 The Enhanced for Loop.
6.3 Common Array Algorithms.
6.4 Using Arrays with Methods.
6.5 Two-Dimensional Arrays.
6.6 Array Lists.
CHAPTER 7 OBJECTS AND CLASSES.
7.1 Object-Oriented Programming.
7.2 Specifying the Public Interface of a Class.
7.3 Instance Variables.
7.4 Instance Methods.
7.5 Constructors.
7.6 Testing a Class.
7.7 Discovering Classes.
7.8 Object References.
7.9 Static Variables and Methods.
7.10 Packages.
CHAPTER 8 INPUT/OUTPUT AND EXCEPTION HANDLING.
8.1 Reading and Writing Text Files.
8.2 Processing Text Input.
8.3 Command Line Arguments.
8.4 Exception Handling.
8.5 Application: Handling Input Errors.
CHAPTER 9 INHERITANCE AND INTERFACES.
9.1 Inheritance Hierarchies.
9.2 Implementing Subclasses.
9.3 Overriding Methods.
9.4 Polymorphism.
9.5 Object: The Cosmic Superclass.
9.6 Interface Types.
CHAPTER 10 COLLECTIONS AND MAPS.
10.1 The Java Collections Framework.
10.2 Linked Lists.
10.3 Queues and Stacks.
10.4 Sets.
10.5 Maps.
10.6 Hash Tables.
10.7 Binary Search Trees.
CHAPTER 11 GRAPHICS AND EVENT HANDLING (WEB ONLY).
11.1 Frame Windows.
11.2 Drawing on a Component.
11.3 Ellipses, Lines, Text, and Color.
11.4 Shape Classes.
11.5 Events and Event Handling.
11.6 Using Inner Classes for Listeners.
11.7 Building Applications with Buttons.
11.8 Using Timer Events for Animations.
11.9 Mouse Events.
11.10 Using Inheritance to Customize Frames.
CHAPTER 12 GRAPHICAL USER INTERFACES (WEB ONLY).
12.1 Processing Text Input.
12.2 Text Areas.
12.3 Layout Management.
12.4 Choices.
12.5 Menus.
12.6 Exploring the Swing Documentation.
CHAPTER 13 RECURSION (WEB ONLY).
13.1 Triangle Numbers.
13.2 Recursive Helper Methods.
13.3 The Efficiency of Recursion.
13.4 Permutations.
13.5 Mutual Recursions.
APPENDICES.
APPENDIX A THE BASIC LATIN AND LATIN-1 SUBSETS OF UNICODE.
APPENDIX B JAVA OPERATOR SUMMARY.
APPENDIX C JAVA RESERVED WORD SUMMARY.
APPENDIX D THE JAVA LIBRARY.
APPENDIX E JAVA SYNTAX SUMMARY.
APPENDIX F HTML SUMMARY.
APPENDIX G TOOL SUMMARY.
APPENDIX H JAVADOC SUMMARY.
APPENDIX I NUMBER SYSTEMS.
APPENDIX J BIT AND SHIFT OPERATIONS.
APPENDIX K UML SUMMARY.
APPENDIX L JAVA LANGUAGE CODING GUIDELINES.
GLOSSARY.
INDEX.
ILLUSTRATION CREDITS.
ALPHABETICAL LIST OF SYNTAX BOXES.
Arrays.
Array Lists.
Assignment.
Catching Exceptions.
Comparison.
Constructors.
Constructor with Superclass Initializer.
for Statement.
if Statement.
Input Statement.
Instance Methods.
Instance Variables.
Interface Types.
Java Program.
Method Declaration.
Subclass Declaration.
The "for each" Loop.
The finally Clause.
The instance of and Cast Operators.
The throws Clause.
Throwing an Exception.
Two-Dimensional Array Declaration.
while Statement.
Variable Declaration.
See More
Cay S. Horstmann is a Professor of Computer Science in the Department of Computer Science at San Jose State University. He is an experience professional programmer and was Vice President and Chief Technology Officer for Preview Systems, Inc. He is also a consultant for major corporations, universities, and organizations on Java, C++, Windows, and Internet programming. Horstmann is the author of many successful professional and academic books, including Big C++, C++ For Everyone, Big Java, Java Concepts, Object Oriented Design and Patterns (all John Wiley & Son, Inc.), and Core Java (Sun Microsystems Press), with Gary Cornell.
See More
A Java programming text for everyone-By de-emphasizing advanced topics such as object-orientation, JFE provides practical programming instruction to a wide range of students.
Highly accessible content-In a market where some texts are viewed as too rigorous, JFE gets students programming as soon as possible.
Flexible organization-Non-CS markets have different pedagogical needs and JFE's flexible organization facilitates use in a broad range of settings.
Assumes students have little or no programming experience.
Utilizes a highly visual approach.
JFE demphasizes such topics as data structures, algorithms, object-oriented design and software engineering principles.
See More
Instructors Resources
ENHANCE YOUR COURSE
Digital evaluation copy available for this title
Request Copy

Contact your Wiley Representative
Find Your Rep

See More
See Less
Students Resources
See More
See Less
Purchase Options

Information about Wiley E-Texts:
Wiley E-Texts are powered by VitalSource technologies e-book software.
With Wiley E-Texts you can access your e-book how and where you want to study: Online, Download and Mobile.
Wiley e-texts are non-returnable and non-refundable.
WileyPLUS registration codes are NOT included with the Wiley E-Text. For informationon WileyPLUS, click here .
To learn more about Wiley e-texts, please refer to our FAQ.

Information about e-books:
E-books are offered as e-Pubs or PDFs. To download and read them, users must install Adobe Digital Editions (ADE) on their PC.
E-books have DRM protection on them, which means only the person who purchases and downloads the e-book can access it.
E-books are non-returnable and non-refundable.
To learn more about our e-books, please refer to our FAQ.
This title is also available on :