Textbook
Introduction to Engineering, 3rd Edition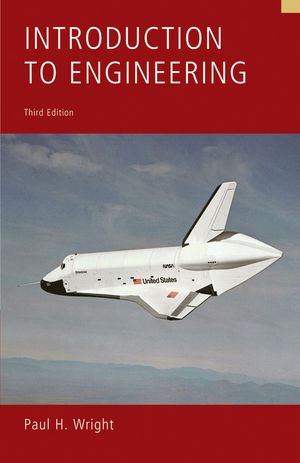 A broad, yet concise, introduction to the field of engineering for undergraduate students. Designed for the beginning student, this text covers the history of engineering, career paths for engineers, issues of professional responsibility and ethics, and critical engineering skills like problem solving and communication. Includes two case studies, one of which deals with the circumstances and events leading to the space shuttle Challenger accident.
A brief, paperback text, this title can be used in conjunction with other texts to provide a solid foundation for the introductory engineering course.


Table of Contents
* History of Engineering
* Definition of Engineering
* The Engineer as a Professional
* Learning and Creative Thought
* The Engineering Approach to Problem Solving
* Engineering Communications
* Engineering Calculations
* A Case Study--Atlant's Freedom Parkway Project
* A Case Study--Space Shuttle Challenger Accident
Hallmark Features
Just right, just in time content for introductory engineering courses
Wiley Desktop Edition provides coverage of core content with price, permanence, and customization advantages over existing print products
Price: more than 60% less than the list price of buying each text individually
Permanence:  the WDE resides on the students hard drive.  No need to be connected to the Web while using the product.
Customization:  Student can search, highlight, and take notes using the built-in VitalSource software. 
Broad array of content relevant to beginning students providing appropriate teaching materials for the introductory course
Covers writing, design, computer tools—topics necessary to success
Allows instructors to select most relevant material for course, allows customization
Available Versions