Textbook
C++ For Everyone, 2nd Edition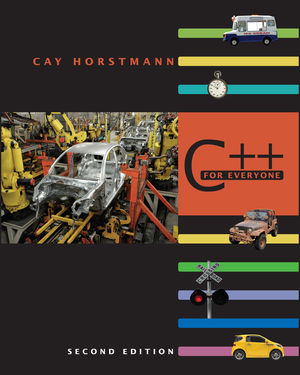 This exciting new edition by respected author Cay Horstmann provides an introduction to C++ and computer programming that focuses on the essentials ? and on effective learning. Suitable for a first course in programming for students in computer science, engineering, technology, and the physical sciences, it requires no prior programming experience. The new edition provides even more tools for motivating students to program and giving them the tools to succeed.
See More
Chapter 1 Introduction.
Chapter 2 Fundamental Data Types.
Chapter 3 Decisions.
Chapter 4 Loops.
Chapter 5 Functions.
Chapter 6 Arrays and Vectors.
Chapter 7 Pointers.
Chapter 8 Streams.
Chapter 9 Classes
Chapter 10 Inheritance.
The Following Chapters are Available Online Only.
Chapter 11 Recursion.
Chapter 12 Sorting and Searching.
Chapter 13 Lists, Stacks, and Queues.
Chapter 14 Sets, Maps, and Priority Queues.
See More
New sections on problem solving strategies provide techniques for planning and evaluating solutions—before starting to code. These include the use of pseudocode for algorithm design and pseudocode, hand-tracing code segments, using storyboards, and more.
Optional engineering problem sets engage students with problems from engineering-related domains.
More opportunities for students to practice what they have learned.
See More
A visual approach motivates the reader and eases navigation. Abundant illustrations and photographs make concepts memorable. Syntax boxes annotate code examples to present a visual summary of key points.
Guidance and worked examples help students succeed. Step-by-step "how-to" boxes guide students through the implementation of core concepts. Worked examples on the web apply these steps to new problems. Tips and Common Errors Guide students to good practice.
Practice makes perfect. Abundant practice tools build student confidence and skills. Self checks in each section test understanding and point students to exercises they can do to practice what they've learned.
Teaches computer science principles, not just C++ or object-orientation. The core of the book builds students' skills in control flow, loops, functions, arrays, pointers and streams before addressing classes and inheritance.
Focuses on the essentials while being technically accurate. The essentials are presented in digestible chunks, with separate notes that go deeper into good practices or language features.
See More
Instructors Resources
Digital evaluation copy available for this title
Request Copy

Contact your Wiley Representative
Find Your Rep

See More
See Less
Purchase Options
C++ for Everyone, 2nd Edition
ISBN : 978-1-118-02690-8
560 pages
February 2011, ©2011
Loose-leaf
C++ for Everyone, Binder Ready Version, 2nd Edition
ISBN : 978-0-470-92092-3
560 pages
June 2011, ©2011
Paperback
C++ for Everyone, 2nd Edition
ISBN : 978-0-470-92713-7
560 pages
December 2010, ©2011

Information about Wiley E-Texts:
Wiley E-Texts are powered by VitalSource and accessed via the VitalSource Bookshelf reader, available online and via a downloadable app.
Wiley E-Texts are accessible online and offline, and can be read on a variety of devices, including smartphones and tablets.
Wiley E-Texts are non-returnable and non-refundable.
Wiley E-Texts are protected by DRM. For specific DRM policies, please refer to our FAQ.
WileyPLUS registration codes are NOT included with any Wiley E-Text. For informationon WileyPLUS, click here .
To learn more about Wiley E-Texts, please refer to our FAQ.

Information about e-books:
E-books are offered as e-Pubs or PDFs. To download and read them, users must install Adobe Digital Editions (ADE) on their PC.
E-books have DRM protection on them, which means only the person who purchases and downloads the e-book can access it.
E-books are non-returnable and non-refundable.
To learn more about our e-books, please refer to our FAQ.