Textbook
Contemporary Linear Algebra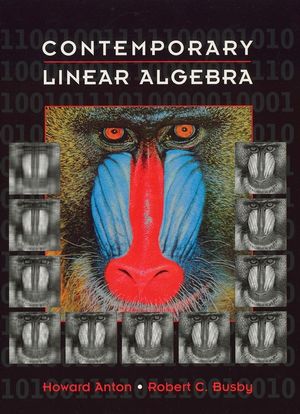 From one of the premier authors in higher education comes a new linear algebra textbook that fosters mathematical thinking, problem-solving abilities, and exposure to real-world applications. Without sacrificing mathematical precision, Anton and Busby focus on the aspects of linear algebra that are most likely to have practical value to the student while not compromising the intrinsic mathematical form of the subject. Throughout Contemporary Linear Algebra, students are encouraged to look at ideas and problems from multiple points of view.
See More
CHAPTER 1 Vectors 1
1.1 Vectors and Matrices in Engineering and Mathematics; n-Space 1
1.2 Dot Product and Orthogonality 15
1.3 Vector Equations of Lines and Planes 29
CHAPTER 2 Systems of Linear Equations 39
2.1 Introduction to Systems of Linear Equations 39
2.2 Solving Linear Systems by Row Reduction 48
2.3 Applications of Linear Systems 63
CHAPTER 3 Matrices and Matrix Algebra 79
3.1 Operations on Matrices 79
3.2 Inverses; Algebraic Properties of Matrices 94
3.3 Elementary Matrices; A Method for Finding A−1 109
3.4 Subspaces and Linear Independence 123
3.5 The Geometry of Linear Systems 135
3.6 Matrices with Special Forms 143
3.7 Matrix Factorizations; LU-Decomposition 154
3.8 Partitioned Matrices and Parallel Processing 166
CHAPTER 4 Determinants 175
4.1 Determinants; Cofactor Expansion 175
4.2 Properties of Determinants 184
4.3 Cramer's Rule; Formula for A −1; Applications of Determinants 196
4.4 A First Look at Eigenvalues and Eigenvectors 210
CHAPTER 5 Matrix Models 225
5.1 Dynamical Systems and Markov Chains 225
5.2 Leontief Input-Output Models 235
5.3 Gauss–Seidel and Jacobi Iteration; Sparse Linear Systems 241
5.4 The Power Method; Application to Internet Search Engines 249
CHAPTER 6 Linear Transformations 265
6.1 Matrices as Transformations 265
6.2 Geometry of Linear Operators 280
6.3 Kernel and Range 296
6.4 Composition and Invertibility of Linear Transformations 305
6.5 Computer Graphics 318
CHAPTER 7 Dimension and Structure 329
7.1 Basis and Dimension 329
7.2 Properties of Bases 335
7.3 The Fundamental Spaces of a Matrix 342
7.4 The Dimension Theorem and Its Implications 352
7.5 The Rank Theorem and Its Implications 360
7.6 The Pivot Theorem and Its Implications 370
7.7 The Projection Theorem and Its Implications 379
7.8 Best Approximation and Least Squares 393
7.9 Orthonormal Bases and the Gram–Schmidt Process 406
7.10 QR-Decomposition; Householder Transformations 417
7.11 Coordinates with Respect to a Basis 428
CHAPTER 8 Diagonalization 443
8.1 Matrix Representations of Linear Transformations 443
8.2 Similarity and Diagonalizability 456
8.3 Orthogonal Diagonalizability; Functions of a Matrix 468
8.4 Quadratic Forms 481
8.5 Application of Quadratic Forms to Optimization 495
8.6 Singular Value Decomposition 502
8.7 The Pseudoinverse 518
8.8 Complex Eigenvalues and Eigenvectors 525
8.9 Hermitian, Unitary, and Normal Matrices 535
8.10 Systems of Differential Equations 542
CHAPTER 9 General Vector Spaces 555
9.1 Vector Space Axioms 555
9.2 Inner Product Spaces; Fourier Series 569
9.3 General Linear Transformations; Isomorphism 582
APPENDIX A How to Read Theorems A1
APPENDIX B Complex Numbers A3
ANSWERS TO ODD-NUMBERED EXERCISES A9
PHOTO CREDITS C1
INDEX I-1
See More
Contemporary Linear Algebra meets the guidelines of the Linear Algebra Curriculum Study Group (LACSG).
The authors believe that a working knowledge of vectors in Rn and some experience with viewing functions as vectors is the right focus for this course. Material on Axiomatic vector spaces appears toward the end so as to avoid the wall of abstraction so many students encounter.
All major concepts are introduced early and revisited in more depth later on. This spiral approach to concept development ensures that all key topics can be covered in the course.
The text provides students with a strong geometric foundation upon which to build. In keeping with this goal, the text covers vectors first then proceeds to linear systems, which allows the authors to interpret parametric solutions of linear systems as geometric objects.
Looking Ahead features provide students with insight into the future role of the material currently being studied.
A wide range of applications throughout gives students a sense of the broad applicability of linear algebra. The applications include very modern topics such as global positioning and internet search procedures.
Each exercise set is broken into four categories:
Basic Exercises progressing in difficulty from drill to challenging.
Discussion and Discovery exercises that are more open-ended.
Working with Proofs exercises which ask students for precise proofs.
Technology Exercises that teach students how to use such tools as MatLab, Mathematica, Maple and Derive.
Theorems and proofs are presented with precision, but in a style appropriate for beginning students.
See More
Instructors Resources
Request a print evaluation copy
Contact us

Contact your Wiley Representative
Find Your Rep

See More
See Less
Students Resources
See More
See Less
Purchase Options
Paperback
TI-89 Calculator Technology Resource Manual to accompany Contemporary Linear Algebra
ISBN : 978-0-471-45357-4
279 pages
January 2003, ©2003
Hardcover
Contemporary Linear Algebra
ISBN : 978-0-471-16362-6
656 pages
September 2002, ©2003
Hardcover
Contemporary Linear Algebra with Maple Manual Set
ISBN : 978-0-471-65432-2
912 pages
October 2003, ©2003
Hardcover
Contemporary Linear Algebra with Mathematica Manual Set
ISBN : 978-0-471-44672-9
916 pages
January 2003, ©2003
Hardcover
Contemporary Linear Algebra with Student Solutions Manual Set
ISBN : 978-0-471-45001-6
892 pages
November 2002, ©2003

Information about Wiley E-Texts:
Wiley E-Texts are powered by VitalSource and accessed via the VitalSource Bookshelf reader, available online and via a downloadable app.
Wiley E-Texts are accessible online and offline, and can be read on a variety of devices, including smartphones and tablets.
Wiley E-Texts are non-returnable and non-refundable.
Wiley E-Texts are protected by DRM. For specific DRM policies, please refer to our FAQ.
WileyPLUS registration codes are NOT included with any Wiley E-Text. For informationon WileyPLUS, click here .
To learn more about Wiley E-Texts, please refer to our FAQ.

Information about e-books:
E-books are offered as e-Pubs or PDFs. To download and read them, users must install Adobe Digital Editions (ADE) on their PC.
E-books have DRM protection on them, which means only the person who purchases and downloads the e-book can access it.
E-books are non-returnable and non-refundable.
To learn more about our e-books, please refer to our FAQ.