Textbook
Ensemble Culture et Societe, Sixth Edition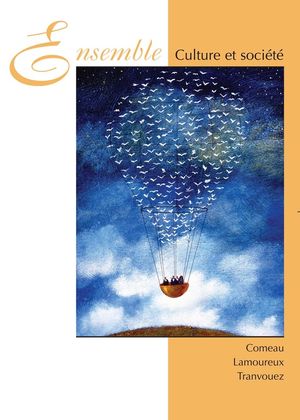 This provocative and complete intermediate French language program offers selections from contempoary documents and media. Each chapter of this three volume program is cordinated thematically and linguistically with the others, yet each text may also be used independently.

Ensemble: Grammaire offers a brief review of basic grammatical structures via the introductory chapter in a clear and concise format that prepares students for the introduction of intermediate grammatical topics throughout the volume. The grammar presentations are clear, concise explanations in English with contextualized, personalized, and communicative exercises.

Ensemble: Litterature offers selections from the world's most fascinating French authors, past and present. More than one-fourth of the selections in this volume have been revised from the previous edition to reflect women in francophone literature. Superior pre-reading activities present essential facts concerning the authors, and their other works helping to place the reading in context. Appreciation du texte post-reading activities check students' comprehension and understanding of the literature. The volume is now packaged with a student listening CD.

Ensemble: Culture et Societe offers reading selections around such themes as family, politics, and the arts and emphasizes issues of current interest, including urban renewal, immigrant workers, French-Canadian nationalism, and la nouvelle cuisine. More than one-third of the selections in this volume have been revised from the previous edition and include current newspaper and magazine articles, excerpts from essays, literary works, travel guides, interviews, and cartoons. Pre- and post-reading activities, role-playing activities, collaborative writing assignments, and suggestions for oral and written presentation make up this volume.

Additional components enhance the program:

Lab Manual

Lab Cassettes

Tapescript

Camera 1 VHS Video Program

Camera 1 Viewer's Manual

Ensemble: Histoire
See More
1ere Partie: Vie sociale

1. Les Jeunes
2. Les Femmes
3. La Famille

2eme Partie: Modes de vie

4. Ville et Campagne
5. Les Classes sociales

3eme Partie: Institutions et Influences

6. La France politique et economique
7. Images de la France
8. La Francophonie

4eme Partie: Vie culturelle

9. Interactions
10. La Scene et les Lettres
11. Chanson et Cinema

Index Culturel
Reponses au Nouveau Contexte
Vocabulaire
See More
This edition organizes selections around such themes as family, politics, and the arts, and emphasizes issues of current interest, including urban renewal, immigrant workers, French-Canadian nationalism, and la nouvelle cuisine.
More than one-third of the reading selections from newspapers, magazines, excerpts from essays, literary works, travel guides, interviews and cartoons have been completely revised.
Qu'en pensez-vous? questions and the Appréciation du texte exercises test students compre-hension and understanding of the reading.
Pratique de la langue sections contain role-playing activities and collaborative writing assignments that encourage students to express opinions on the topics introduced in the selection.
Sujets de discussion ou de composition sections relate to the chapter theme and suggest topics for oral and written presentations.
See More
Purchase Options
Paperback
Ensemble, Culture et Société, 6th Edition
ISBN : 978-0-470-00290-2
320 pages
December 1998, ©1999

Information about Wiley E-Texts:
Wiley E-Texts are powered by VitalSource and accessed via the VitalSource Bookshelf reader, available online and via a downloadable app.
Wiley E-Texts are accessible online and offline, and can be read on a variety of devices, including smartphones and tablets.
Wiley E-Texts are non-returnable and non-refundable.
Wiley E-Texts are protected by DRM. For specific DRM policies, please refer to our FAQ.
WileyPLUS registration codes are NOT included with any Wiley E-Text. For informationon WileyPLUS, click here .
To learn more about Wiley E-Texts, please refer to our FAQ.

Information about e-books:
E-books are offered as e-Pubs or PDFs. To download and read them, users must install Adobe Digital Editions (ADE) on their PC.
E-books have DRM protection on them, which means only the person who purchases and downloads the e-book can access it.
E-books are non-returnable and non-refundable.
To learn more about our e-books, please refer to our FAQ.
Learn more about