Textbook
Health Psychology: Biopsychosocial Interactions, 7th Edition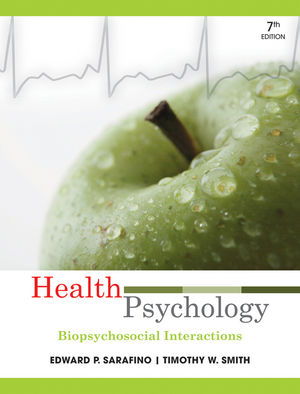 Author Ed Sarafino draws from the research and theory of many disciplines in order to show how psychology and health affect each other.
Health Psychology: Biopsychsocial Interactions
has been updated to include new research and data throughout, including new discussions on health care systems. Additionally, international examples are included to broaden the psychologist's view of health issues around the world and highlight what works in the field.
The psychological research cited in the text supports a variety of behavioral, physiological, cognitive, and social/personality viewpoints. Sarafino integrates a focus on lifespan development in health and illness throughout the text.


Table of Contents
PART I An Introduction: Basic Issues and Processes.
Chapter 1 An Overview of Psychology and Health.
Chapter 2 The Body's Physical Systems.
PART II Stress, Illness, and Coping.
Chapter 3 Stress—Its Meaning, Impact, and Sources.
Chapter 4 Stress, Biopsychosocial Factors, and Illness.
Chapter 5 Coping With and Reducing Stress.
PART III Lifestyles to Enhance Health and Prevent Illness.
Chapter 6 Health-Related Behavior and Health Promotion.
Chapter 7 Substance Use and Abuse.
Chapter 8 Nutrition, Weight Control and Diet, Exercise, and Safety.
PART IV Becoming Ill and Getting Medical Treatment.
Chapter 9 Using Health Services.
Chapter 10 In the Hospital: the Setting, Procedures, and Effects on Patients.
PART V Physical Symptoms: Pain and Discomfort.
Chapter 11 The Nature and Symptoms of Pain.
Chapter 12 Managing and Controlling Clinical Pain.
PART VI Chronic and Life-Threatening Health Problems.
Chapter 13 Serious and Disabling Chronic Illnesses: Causes, Management, and Coping.
Chapter 14 Heart Disease, Stroke, Cancer, and Aids: Causes, Management, and Coping.
PART VII Looking to the Future.
Chapter 15 What's Ahead for Health Psychology?
New To This Edition
Offers new information on prevention and intervention, especially for teens' risky behaviors.

Presents new discussions on health care systems and integrates international examples to broaden the view of health issues around the world.

Includes new and updated research and data throughout every chapter.
Hallmark Features
Includes three different types of boxed features "Highlights on Issues," "Assess Yourself," and "Clinical Methods and Issues" to help give readers context for the material. The "Highlight" feature focuses on high-interest and in-depth topics such as careers relating to health and psychology. The "Assess Yourself" feature has readers actively examine their own health-related characteristics such as lifestyles and ways of coping with stress. Finally, the "Clinical Methods and Issues" focuses on methods and issues in application efforts in clinical health psychology, medicine, public health, and rehabilitation.
Lifespan development in health and illness is integrated throughout the book and each chapter contains information dealing with development.
Each chapter concludes with a substantial Summary and a list of Key Terms for readers to review and reflect on chapter topics and content.
Interactive animation notices are placed throughout the text for each interactive animation -- featured on the complimentary Student Companion Site -- when relevant material is presented.
Available Versions