Textbook
Intermediate Accounting, 14th Edition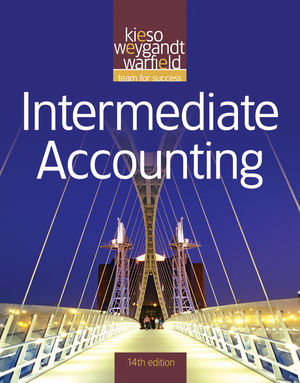 No other text is used in more accounting programs, and by more professionals in the field, than Intermediate Accounting by Kieso, Weygandt, and Warfield. The Fourteenth edition redefines the Intermediate Accounting course in light of Convergence and new best practices with the most comprehensive coverage of IFRS on the market! It maintains the qualities for which the text is globally recognized, including its reputation for accuracy, comprehensiveness, accessibility, and quality problem material that best prepares students for success on the CPA exam. This edition sets a new standard to which all others need to be measured when producing well-prepared graduates for the global economy.

for
Intermediate Accounting, 14th Edition
. Learn more at
WileyPLUS.com


Table of Contents
1 Financial Accounting and Accounting Standards 2
2 Conceptual Framework for Financial Accounting 42
3 The Accounting Information System 86
4 Income Statement and Related Information 158
5 Balance Sheet and Statement of Cash Flows 212
6 Accounting and the Time Value of Money 308
7 Cash and Receivables 364
8 Valuation of Inventories: A Cost-Basis Approach 434
9 Inventories: Additional Valuation Issues 492
10 Acquisition and Disposition of Property, Plant, and Equipment 554
11 Depreciation, Impairments, and Depletion 604
12 Intangible Assets 664
13 Current Liabilities and Contingencies 720
14 Long-Term Liabilities 782
15 Stockholders' Equity 842
16 Dilutive Securities and Earnings per Share 904
17 Investments 974
18 Revenue Recognition 1064
19 Accounting for Income Taxes 1142
20 Accounting for Pensions and Postretirement Benefits 1208
21 Accounting for Leases 1288
22 Accounting Changes and Error Analysis 1366
23 Statement of Cash Flows 1434
24 Full Disclosure in Financial Reporting 1512
New To This Edition
Expanded coverage of IFRS: This new edition includes updated and expanded coverage of IFRS topics. Some of this new content will be adapted from the recently published Intermediate Accounting, IFRS Edition. In addition, instructors and students will benefit from new end-of-chapter content and assignments specifically related to IFRS.
WileyPLUS: The 14th edition is supported by the next generation WileyPLUS course, offering countless opportunities for student practice, tracking of progress toward concept mastery and many more assignment options for instructors.
Critical Thinking and Conceptual Understanding: Building on traditional strengths from previous editions, the new edition includes new Accounting, Analysis, and Principles review exercises to help reinforce these three important elements from each chapter.
Professional Simulations: This edition includes updated professional simulations that model the latest version of the computerized CPA exam.
Updated real-world focus: This edition contains many new chapter-opening stories and "What Do the Numbers Mean?" boxes. Such applications join theory and practice, and demonstrate to students the use of accounting in today's business world.
Hallmark Features
WileyPLUS online homework management technology helps faculty with the assigning, delivery and grading of student homework. WileyPLUS comes with a complete online, interactive version of the text.
Financial Accounting and Reporting Professional Research problem, using the Financial Accounting and Research System (FARS) added to the Using Your Judgment section of the end-of-chapter material.
Accounting in Action continuing problem on the book companion web site helps students build upon their content knowledge and apply concepts from chapter to chapter
Professional Simulations in the Using Your Judgment section of the end-of-chapter material (with additional simulations online) to reflect the latest version (format) of the CPA professional exam.
End-of-chapter Brief Exercises, Exercises and Problems are classified by Learning Objective.
Available Versions