Textbook
Financial Accounting Theory and Analysis: Text and Cases, 10th Edition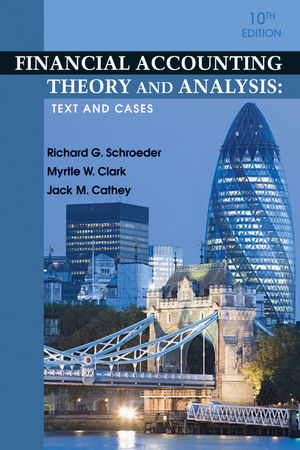 Richard Schroeder, Myrtle Clark, and Jack Cathey have updated, refocused, and revised the 10th edition of Financial Accounting Theory and Analysis to provide students and professionals with the theoretical background they need to keep up with Convergence issues and succeed in today's increasingly global economy. Edition after edition, they focus on showing readers how accounting standards directly affect daily decision making on the job and give them the tools they need to best utilise the power of the Internet in their profession.  The unique "Solving the FARS Cases with the FASB Codification" supplement prepares users to succeed on the new CPA exam and beyond.


See More
1. The Development of Accounting Theory
2. The Pursuit of the Conceptual Framework
3. International Accounting
4. Research Methodology and Theories on the Uses of Accounting Information
5. Income Concepts
6. Financial Statements I: The Income Statement
7. Financial Statements II: The Balance Sheet and the Statement of Cash Flows
8. Working Capital
9. Long-Term Assets I: Property, Plant and Equipment
10. Long-Term Assets II: Investments and Intangibles
11. Long-Term Liabilities
12. Accounting for Income Taxes
13. Leases
14. Pensions and Other Post-Retirement Benefits
15. Equity
16. Accounting for Multiple Entities
17. Financial Reporting Disclosure Requirements and Ethical Responsibilities
See More
Updated discussion of FASB-IASB "Roadmap to Convergence" project, SFAS No. 150, 153, 154, 157, and 158.
New coverage of the controversy surrounding Section 404 of the Sarbanes-Oxley in Chapter 17.
Expanded coverage of the revised Hierarchy of Generally Accepted Accounting Principles in Chapter 1
Discussion of the FASB-IASB "Norwich Agreement" and their joint conceptual framework and financial statement presentation in Chapter 2.
Expanded use of the Web by including cases and updates on the book companion site.
New "Room for Debate" cases in each chapter.
Updated disclosure examples throughout the chapters and updated the financial analysis sections of each chapter using Hershey and Tootsie Roll as the example companies.
See More
Each chapter begins with a discussion of the relevant theoretical issues associated with each chapter topic.
Readings for each chapter on the book companion website address a controversial or confusing issue.
The text emphasises the financial analysis of the major topics throughout.
A series of cases are available at the book companion website to improve student critical-thinking skills or to use as group projects.
Each chapter contains an extensive bibliography.
Each chapter contains a case using the internet and a Room for Debate case.
See More
Instructors Resources
ENHANCE YOUR COURSE
Digital evaluation copy available for this title
Request Copy

Contact your Wiley Representative
Find Your Rep

See More
See Less
Students Resources
See More
See Less
Purchase Options
Wiley E-Text&nbsp&nbsp&nbsp

Financial Accounting Theory and Analysis: Text and Cases, 10th Edition
ISBN : 978-0-470-91399-4
February 2011, ©2011
Hardcover&nbsp&nbsp&nbsp
Financial Accounting Theory and Analysis: Text and Cases, 10th Edition
ISBN : 978-0-470-64628-1
612 pages
September 2010, ©2011
$246.95&nbsp&nbsp&nbsp
BUY

Information about Wiley E-Texts:
Wiley E-Texts are powered by VitalSource technologies e-book software.
With Wiley E-Texts you can access your e-book how and where you want to study: Online, Download and Mobile.
Wiley e-texts are non-returnable and non-refundable.
WileyPLUS registration codes are NOT included with the Wiley E-Text. For informationon WileyPLUS, click here .
To learn more about Wiley e-texts, please refer to our FAQ.

Information about e-books:
E-books are offered as e-Pubs or PDFs. To download and read them, users must install Adobe Digital Editions (ADE) on their PC.
E-books have DRM protection on them, which means only the person who purchases and downloads the e-book can access it.
E-books are non-returnable and non-refundable.
To learn more about our e-books, please refer to our FAQ.
This title is also available on :