Textbook
Principles of Fraud Examination, 3rd Edition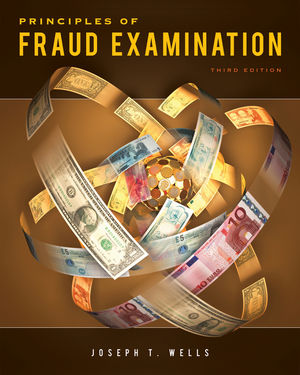 Accountants have historically had an important role in the detection and deterrence of fraud, however, as Joe Wells' Principles of Fraud Examination 3e illustrates, fraud is much more than numbers. In short, books and records don't commit fraud – people do. Fraud involves complex human behaviors such as greed and deception, factors that are difficult to identify and quantify. Widely embraced by fraud examination instructors across the country in its second edition, Principles of Fraud Examination 3e was written to provide a broad understanding of fraud – because understanding how fraud is committed is paramount to preventing and detecting it. The text begins by providing an understanding of fraud examination methodology, then presenting the schemes used by executives, managers and employees to commit fraud against their organizations.


Table of Contents
CHAPTER 1 Introduction.
CHAPTER 2 Skimming.
CHAPTER 3 Cash Larceny.
CHAPTER 4 Billing Schemes.
CHAPTER 5 Check Tampering.
CHAPTER 6 Payroll Schemes.
CHAPTER 7 Expense Reimbursement Schemes.
CHAPTER 8 Register Disbursement Schemes.
CHAPTER 9 Noncash Assets.
CHAPTER 10 Corruption.
CHAPTER 11 Accounting Principles and Fraud.
CHAPTER 12 Fraudulent Financial Statement Schemes.
CHAPTER 13 Fraud Risk Assessment.
CHAPTER 14 Conducting Investigations and Writing Reports.
CHAPTER 15 Interviewing Witnesses.
CHAPTER 16 Occupational Fraud and Abuse:  The Big Picture.
APPENDIX A Online Sources of Information.
APPENDIX B Sample Code of Business Ethics and Conduct.
APPENDIX C Fraud Risk Assessment Tool.
BIBLIOGRAPHY.
INDEX.
New To This Edition
New chapter on Fraud Risk Assessment has been added.
Updated statistics to include most recent ACFE findings
New material reflecting the increasing use of electronic payments and other technology in fraud schemes
Updated to reflect new and revised accounting standards and laws
Hallmark Features
The Report to the Nation on Occupational Fraud and Abuse, first issued in 1996 and last updated in 2006, has concluded that occupational fraud and abuse can be divided into three main categories: asset misappropriation, corruption, and fraudulent statements. From the three main categories, there are 13 principle schemes identified and classified, which are covered in this text.
Each chapter is organized similarly with the major schemes illustrated and detailed. 
Prevention, detection and investigation strategies are outlined.
Statistics are provided and the schemes are flowcharted.
Each Chapter contains a Case Study and has essential terms, questions, and discussion issues to help students understand and retain the material.
Available Versions