Textbook
Microeconomics, 4th Edition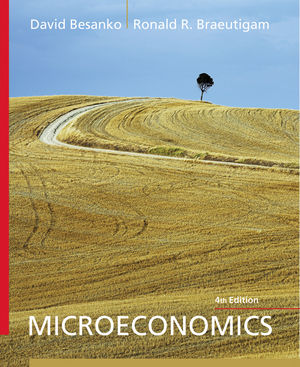 The solution is in the problems.  Besanko and Braeutigam's Microeconomics gives students the most effective approach for learning microeconomic tools and concepts.  This text provides an accessible, integrated structure with numerous practice problems, exercises, and engaging applications. Worked-out Learning-by-Doing problems, mathematical and graphical data, and verbal explanations will enable business and economics majors to recognise significant data, patterns, and trends.  Besanko and Braeutigam will help build students' knowledge and confidence and prepare them for future courses and real-world business experience in coming years.
See More
Part 1: Introduction To Microeconomics.
Chapter 1: Analyzing Economic Problems.
Chapter 2: Demand and Supply Analysis.
Part 2: Consumer Theory.
Chapter 3: Consumer Preferences and the Concept of Utility.
Chapter 4: Consumer Choice.
Chapter 5: The Theory of Demand.
Part 3: Production and Cost Theory.
Chapter 6: Inputs and Production Functions.
Chapter 7: Costs and Cost Minimization.
Chapter 8: Cost Curves.
Part 4: Perfect Competition.
Chapter 9: Perfectly Competitive Markets.
Chapter 10: Competitive Markets: Applications.
Part 5: Market Power.
Chapter 11: Monopoly and Monopsony.
Chapter 12: Capturing Surplus.
Part 6: Imperfect Competition and Strategic Behavior.
Chapter 13: Market Structure and Competition.
Chapter 14: Game Theory and Strategic Behavior.
Part 7: Special Topics.
Chapter 15: Risk and Information.
Chapter 16: General Equilibrium.
Chapter 17: Externalities and Public Goods.
See More
New Applications:  80% of integrated Applications are brand new or thoroughly revised.
New Coverage of Behavior Economics.
Updated Game Theory content to include recent developments in the field.
New End-of-Chapter problems in every chapter.
New Contributor:  Michael Gibbs, Clinical Professor of Economics and Human Resources at the University of Chicago's Booth School of Business.
See More
Learning-by-Doing (LBD) Problems:  Give students the opportunity to make economics their own!  These fully worked out problems provide step-by-step road maps to help students solve numerical problems.  They are correlated to chapter summaries and similar practice problems at the end of each chapter.

Extensive Real-World Examples:  Contemporary, highly-engaging examples draw students into these economic theories while reinforcing tools and concepts.

Over 120 Applications:  Each chapter contains a wealth of diverse and extensive applications that make the subject matter relevant.

Math and Graphs Tell the Story:  Integrated mathematics and easy-to-follow tables and graphs are shown parallel to the text and applications in order to help students see the connections.

Modern treatment of conventional economic and business topics including game theory, oligopoly, sunk costs, and consumer surplus.

Proven solutions crafted by an esteemed author team:  Besanko, recently named Professor of the Year at Kellogg, is also coauthor of Economics of Strategy, 5th Edition, and Braeutigam is Associate Provost for Undergraduate Education at Northwestern University where he has taught the intermediate microeconomics course for nearly two decades.
See More
This is certainly an excellent approach to teaching microeconomics, suitable for my course. … [The Learning-by-Doing exercises are] exactly what students need after they learned the theory and face the task of applying the theory to solve problems on their own. The detailed and sometimes step-by-step learning by doing exercises nicely bridge the gap between the two stages.
—Zuohong Pan, Western Connecticut State University
One clear strength of Besanko/Braeutigam is its regular use of Learning-by-Doing exercises linking theory and practice. The set-up used (problem, solution, similar problems) is easy to follow and they link together various text material. These will be very popular with students and teachers. I would use some of these as out-of-class student assignments and also use them in some of my lectures.
—Donald Bumpass, Sam Houston State University
The author's writing style is very appropriate for undergraduate level students: not too wordy, easy to follow, and yet comprehensive enough. Students find it engaging for these important reasons, particularly when coupled with learning-by-doing exercises and real-life applications.
—Irene Trela, University of Western Ontario
The 'Learning by Doing' exercises are particularly great!  They seem to do a good job of tying together many concepts, and illustrating how one needs to take into account many factors in solving an individual problem. The numbered examples are very effective.
—Tina A. Carter, Florida State University
I think it's great that it includes more advanced discussions of the topics and includes appendices with topics like duality and Shephard's Lemma; the end-of-chapter questions are the best I've seen in any intermediate text; the Learning-by-doing exercises are very well done.
—Robert McComb, Texas Tech University
See More
Instructors Resources
ENHANCE YOUR COURSE
Digital evaluation copy available for this title
Request Copy

Contact your Wiley Representative
Find Your Rep

See More
See Less
Students Resources
See More
See Less
Purchase Options
Microeconomics, 4th Edition
ISBN : 978-0-470-91185-3
816 pages
February 2011, ©2011
Loose-leaf&nbsp&nbsp&nbsp
Microeconomics, 4th Edition Binder Ready Version
ISBN : 978-0-470-91756-5
816 pages
November 2010, ©2011
Hardcover&nbsp&nbsp&nbsp
Microeconomics, 4th Edition
ISBN : 978-0-470-56358-8
816 pages
October 2010, ©2011

Information about Wiley E-Texts:
Wiley E-Texts are powered by VitalSource technologies e-book software.
With Wiley E-Texts you can access your e-book how and where you want to study: Online, Download and Mobile.
Wiley e-texts are non-returnable and non-refundable.
WileyPLUS registration codes are NOT included with the Wiley E-Text. For informationon WileyPLUS, click here .
To learn more about Wiley e-texts, please refer to our FAQ.

Information about e-books:
E-books are offered as e-Pubs or PDFs. To download and read them, users must install Adobe Digital Editions (ADE) on their PC.
E-books have DRM protection on them, which means only the person who purchases and downloads the e-book can access it.
E-books are non-returnable and non-refundable.
To learn more about our e-books, please refer to our FAQ.
This title is also available on :