Textbook
Contemporary Business, 14th Edition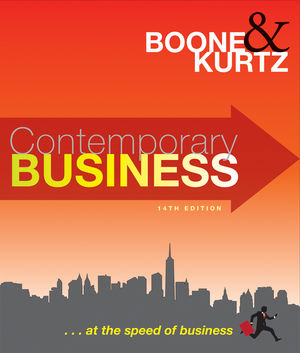 Boone & Kurtz,
Contemporary Business, 14th Edition
delivers
solutions at the speed of business
for the Introduction to Business course. As business moves at an unparalleled pace,
Contemporary Business
delivers the most current content and resources
at the speed of business
. Comprehensive, engaging, and offering the most current resources,
Contemporary Business
has been used by 2 million students and is the right solution for any beginning business student and for every instructor.
Opening new doors of possibility can be difficult. Contemporary Business 14th Edition gives students the business language and study tools they need to feel confident in taking the first steps toward becoming successful business majors, and gets them excited about their future careers. With the innovative, research-based, online environment of WileyPLUS, Introduction to Business students will more effectively learn the core business topics, be more engaged, and come to class more prepared.

for
Contemporary Business, 14th Edition
. Learn more at
WileyPLUS.com


Table of Contents
PART 1 Business in a Global Environment 1
Chapter 1 The Changing Face of Business 2
Chapter 2 Business Ethics and Social Responsibility 34
Chapter 3 Economic Challenges Facing Contemporary Business 70
Chapter 4 Competing in World Markets 104
PART 2 Starting and Growing Your Business 143
Chapter 5 Forms of Business Ownership and Organization 144
Chapter 6 Starting Your Own Business: The Entrepreneurship Alternative 182
PART 3 Management: Empowering People to Achieve Business 215
Chapter 7 Management, Leadership, and the Internal Organization 216
Chapter 8 Human Resource Management: From Recruitment to Labor Relations 252
Chapter 9 Top Performance through Empowerment, Teamwork, and Communication 284
Chapter 10 Production and Operations Management 314
PART 4 Marketing Management 349
Chapter 11 Customer-Driven Marketing 350
Chapter 12 Product and Distribution Strategies 386
Chapter 13 Promotion and Pricing Strategies 426
PART 5 Managing Technology and Information 465
Chapter 14 Using Technology to Manage Information 466
PART 6 Managing Financial Resources 497
Chapter 15 Understanding Accounting and Financial Statements 498
Chapter 16 The Financial System 532
Chapter 17 Financial Management 566
Appendix A Business Law A-1
Appendix B Insurance and Risk Management A-18
Appendix C Personal Financial Planning A-31
Appendix D Developing a Business Plan A-43
Appendix E Careers in Contemporary Business A-53
New To This Edition
All NEW Business Examples: Thoroughly revised opening vignettes, features, cases, and business examples reflect new business trends and practices.
Business Weekly Updates: Stay up to date along with your students on the very latest in business news stories. Each week you will find links to 5 new articles, video clips, business news stories, and so much more with discussion questions to elaborate on the stories in the classroom. http://wileybusinessupdates.com
New End-of-Chapter Videos: Brand new end of chapter video cases include companies like Zipcar, Seventh Generation, New Harvest Coffee Roasters, and Comet Skateboards.
Flashcard/Self-Study iPhone App: Students can now review chapter concepts and key terms on the go with the iPhone/iTouch flashcards app.
New Student Study Guide: Helps students review key concepts and business language available in an integrated digital format in WileyPLUS or in print.
New Business Simulations: New suite of business and ethics simulations offered by Ethics-LX http://www.ethics-lx.com/
New Business Plan Pro and Marketing Plan Pro Software Option: Give your students hands on training with industry leading software for creating business and marketing plans. Over 500 sample plans to use as examples.
Hallmark Features
Comprehensive coverage: Contains the most important introductory business topics that give students the perspective they need to understand how a business works, whether it's a multinational company, or a single owner consulting firm.
Most current: All of the examples and resources have been developed to help students and instructors understand and engage with the contemporary business world.
End-of-chapter & End-of-Part Video cases: High quality video cases have been a staple of Contemporary Business.
Effective pedagogy: Hit & Miss, Business Etiquette, Going Green, and Solving an Ethical Controversy help students apply the concepts to real world scenarios.
Available Versions