Textbook
Entrepreneurship, 2nd Edition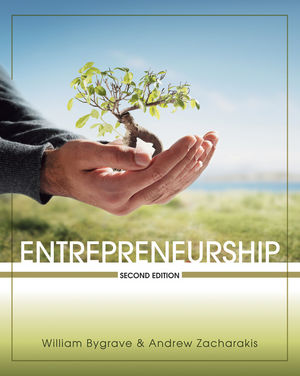 Entrepreneurship 2nd Edition combines concepts and cases while presenting the latest theories of entrepreneurship. The concepts cover what "would-be entrepreneurs" need to know to start and grow their businesses. Additionally, the cases illustrate how real entrepreneurs have gone out and succeeded. The authors cover all stages of the entrepreneurial process from searching for an opportunity to shaping it into a commercially attractive product or service, launching the new venture, building it into a viable business, and eventually harvesting it. Any student, "would-be entrepreneur" or not, will benefit from the lessons in this text.


Table of Contents
1 The Power of Entrepreneurship.
2 The Entrepreneurial Process.
3 Opportunity Recognition, Shaping, and Reshaping.
4 Understanding Your Business Model and Developing Your Strategy.
5 Entrepreneurial Marketing.
6 Building the Founding Team.
7 The Business Planning Process.
8 Building Your Pro-Forma Financial Statements.
9 Financing Entrepreneurial Ventures Worldwide.
10 Raising Money for Starting and Growing Businesses.
11 Debt and Other Forms of Financing.
12 Legal and Tax Issues.
13 Intellectual Property.
14 Entrepreneurial Growth.
15 Social Entrepreneurship: An Overview.
New To This Edition
New Chapter 15 on Social Entrepreneurship: written by John Whitman. John has created a number of cutting edge courses on Social Entrepreneurship. In Chapter 15, he uses his expertise to talk about different organization structures and how entrepreneurs can create companies that have a double or triple bottom line.
New cases throughout the book include:

LazyBones looks at a successful entrepreneur who wants to grow his business, a laundry service, through franchising.
BladeLogic looks at a company desperately in need of growth capital, addressing how entrepreneurs should manage the board and articulate their plan in seeking equity financing.
College Coach looks at how a new venture identifies and tests various distribution channels to reach the customer.

New Business Simulations: New suite of business and ethics simulations offered by Ethics-LX http://www.ethics-lx.com/
New Business Plan Pro Software Option: Give your students hands on training with industry leading software for creating business plans. Over 500 sample plans to use as examples
Hallmark Features
Concepts and Cases: The book is focused on concepts and cases on entrepreneurship.
End of Chapter Cases: Each chapter is accompanied by a case study of entrepreneurs in action.
Video Cases: Accompany the end of chapter video cases.
Opportunity Journal: Students can reflect on the lessons learned and think about how to apply them to their own entrepreneurial ventures, or to managing their careers.
WebExercises: Build upon key concepts identified in each chapter.
Available Versions