Textbook
Economics and the Environment, 6th Edition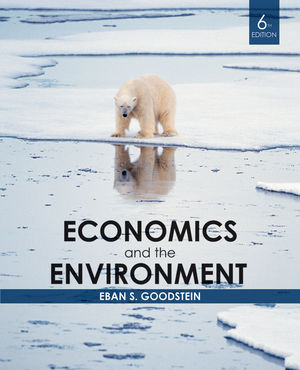 Climate change and environmental policy are rapidly changing the world's economic progress and outlook.  Economics and the Environment provides students with a clear, concise, and comprehensive presentation of the standard analysis to environmental and resource economics.  The text is also a compelling look at broader topics including the government's role in environmental policy and more advanced theories.  With a unique framework and compelling narrative style, Goodstein supplies timely discussions on the various approaches, schools, and research that are crucial for today's students to consider for tomorrow's world.
See More
INTRODUCTION
Chapter 1 Four Economic Questions about Global Warming
PART I: HOW MUCH POLLUTION IS TOO MUCH?
Chapter 2 Ethics and Economics
Chapter 3 Pollution and Resource Degradation as Externalities
Chapter 4 The Efficiency Standard
Chapter 5 The Safety Standard
Chapter 6 Sustainability: A Neoclassical View
Chapter 7 Sustainability: An Ecological View
Chapter 8 Measuring the Benefits of Environmental Protection
Chapter 9 Measuring the Costs of Environmental Protection
Chapter 10 Benefit–Cost in Practice: Implementing the Efficiency Standard
Chapter 11 Is More Really Better? Consumption and Welfare
PART II: IS GOVERNMENT UP TO THE JOB?
Chapter 12 The Political Economy of Environmental Regulation
Chapter 13 An Overview of Environmental Legislation
Chapter 14 The Regulatory Record: Achievements and Obstacles
Chapter 15 Monitoring and Enforcement
PART III: HOW CAN WE DO BETTER?
Chapter 16 Incentive-Based Regulation: Theory
Chapter 17 Incentive-Based Regulation: Practice
Chapter 18 Promoting Clean Technology: Theory
Chapter 19 Energy Policy and the Environment
PART IV: CAN WE RESOLVE GLOBAL ISSUES?
Chapter 20 Poverty, Population, and the Environment
Chapter 21 Environmental Policy in Poor Countries
Chapter 22 The Economics of Global Agreements
See More
Significantly Revised Introductory Chapter provides a clear, accurate introduction of the current debate on global warming economics, including the Stern report and the advance in the benefit-cost discussion, Weitzman's work on discounting and insurance, and complementing price policy with non-price efficiency.
Newly Revised Political Economy Chapters (12-15) reflect the impact of the Bush Administration on the structure of regulation and enforcement and Obama's policy framework.
Updated discussions of cap-and-trade, pollution tax policy, and clean technology to reflect recent European and US experiences, concerns about biofuels, and new developments in the clean tech sector.
New Coverage of green jobs and the stimulus argument.
New End-of-Chapter Exercises and Applications give students an opportunity to work through and understand concepts and principles.
Newly updated examples and references
See More
Four Questions organize the text's theories and applications for the course in a way that students can understand.  1.) How much pollution and resource degradation is too much?  2.) Is government up to the job?  3.) How can we do better?  4.) How can we resolve global issues?
Balanced introductory coverage of neoclassical versus ecological approaches to sustainability. Dual chapters explain the longstanding controversy through demonstrations of how to evaluate the costs of an environmental crisis.
Accessible economics for both economics and environmental studies students.  No matter what the students' background or attitude, the text acknowledges common environmentalist objections to economics, and then invites the students to learn more.
Credible and insightful author is Director of the Bard Center for Economic Policy and runs weekly follow-ups to the National Teach-In on Global Warming called The National Climate Dialogue.
Student-friendly writing style and puzzles encourage students to learn more about substantive topics such as depreciating stocks of oil and other natural capital.
The most up-to-date coverage of environmental hot topics.
See More
Instructors Resources
ENHANCE YOUR COURSE
Digital evaluation copy available for this title
Request Copy

Contact your Wiley Representative
Find Your Rep

See More
See Less
Students Resources
See More
See Less
Purchase Options

Information about Wiley E-Texts:
Wiley E-Texts are powered by VitalSource technologies e-book software.
With Wiley E-Texts you can access your e-book how and where you want to study: Online, Download and Mobile.
Wiley e-texts are non-returnable and non-refundable.
WileyPLUS registration codes are NOT included with the Wiley E-Text. For informationon WileyPLUS, click here .
To learn more about Wiley e-texts, please refer to our FAQ.

Information about e-books:
E-books are offered as e-Pubs or PDFs. To download and read them, users must install Adobe Digital Editions (ADE) on their PC.
E-books have DRM protection on them, which means only the person who purchases and downloads the e-book can access it.
E-books are non-returnable and non-refundable.
To learn more about our e-books, please refer to our FAQ.
This title is also available on :