Textbook
Project Management in Practice, 4th Edition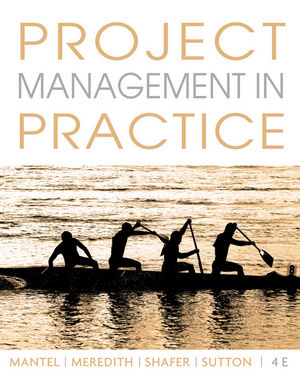 Offering streamlined coverage with an applied approach, Project Management in Practice, 4th Edition focuses on the essentials of project management. This concise, hands-on text is ideal for a one semester project management course, or as a module on project management. This textbook is organised around the project management life cycle and it provides students with essential project management concepts.
See More
THE WORLD OF PROJECT MANAGEMENT 1
1.1 What Is a Project? 1
Trends in Project Management 2
1.2 Project Management vs. General Management 4
Major Differences 4
Negotiation 5
1.3 What Is Managed? The Three Goals of a Project 6
1.4 The Life Cycles of Projects 8
1.5 Selecting Projects to Meet Organizational Objectives 10
Nonnumeric Selection Methods 11
Numeric Selection Methods 12
1.6 Confronting Uncertainty—the Management of Risk 21
Considering Uncertainty in Project Selection Decisions 22
Considering Disaster 30
1.7 The Project Portfolio Process 31
Step 1: Establish a Project Council 31
Step 2: Identify Project Categories and Criteria 31
Step 3: Collect Project Data 33
Step 4: Assess Resource Availability 33
Step 5: Reduce the Project and Criteria Set 34
Step 6: Prioritize the Projects within Categories 34
Step 7: Select the Projects to Be Funded and Held in Reserve 34
Step 8: Implement the Process 35
1.8 The Materials in this Text 36
Review Questions 37
Discussion Questions 37
Problems 38
Incident for Discussion 39
Case: United Screen Printers 40
Case: Handstar Inc. 41
Bibliography 42
THE MANAGER, THE ORGANIZATION, AND THE TEAM 44
2.1 The PM's Roles 45
Facilitator 45
Communicator 47
Virtual Project Manager 48
Meetings, Convener and Chair 49
2.2 The PM's Responsibilities to the Project 50
Acquiring Resources 50
Fighting Fires and Obstacles 51
Leadership and Making Trade-Offs 51
Negotiation, Confl ict Resolution, and Persuasion 52
2.3 Selection of a Project Manager 53
Credibility 53
Sensitivity 54
Leadership, Style, Ethics 54
2.4 Project Management as a Profession 55
2.5 Fitting Projects Into the Parent Organization 57
More on "Why Projects?" 57
Pure Project Organization 58
Functional Project Organization 60
Matrix Project Organization 61
Mixed Organizational Systems 64
The Project Management Offi ce and Project Maturity 64
2.6 The Project Team 66
Matrix Team Problems 67
Intrateam Confl ict 68
Review Questions 72
Discussion Questions 72
Incidents for Discussion 72
Case: The Quantum Bank 73
Case: Southern Care Hospital 74
Bibliography 77
PLANNING THE PROJECT 79
3.1 The Contents of a Project Plan—The "Project Charter" 79
3.2 The Planning Process—Overview 83
3.3 The Planning Process—Nuts and Bolts 84
The Launch Meeting—and Subsequent Meetings 84
Sorting Out the Project—The Work Breakdown Structure (WBS) 87
Extensions of the Everyday WBS 90
3.4 More on the Work Breakdown Structure and Other Aids 96
The RACI Matrix 97
A Whole-Brain Approach to Project Planning 98
3.5 Multidisciplinary Teams—Balancing Pleasure and Pain 102
Integration Management 102
Interface Coordination—Interface Management 104
The Design Structure Matrix 105
Comments on Empowerment and Work Teams 107
Review Questions 108
Discussion Questions 109
Problems 109
Incidents for Discussion 110
Case: St. Dismas Assisted Living Facility—1 111
Case: John Wiley & Sons 113
Bibliography 113
BUDGETING THE PROJECT 115
4.1 Methods of Budgeting 116
Top-Down Budgeting 118
Bottom-Up Budgeting 119
4.2 Cost Estimating 120
Work Element Costing 120
The Impact of Budget Cuts 121
An Aside 122
Activity vs. Program Budgeting 124
4.3 Improving Cost Estimates 125
Forms 126
Learning Curves 126
Tracking Signals 130
Other Factors 131
4.4 Budget Uncertainty and Risk Management 133
Budget Uncertainty 133
Risk Management 136
Review Questions 144
Discussion Questions 144
Problems 145
Incidents for Discussion 146
Case: St. Dismas Assisted Living Facility Project Budget Development—2 146
Case: Photstat Inc. 149
Bibliography 149
SCHEDULING THE PROJECT 151
5.1 PERT and CPM Networks 152
The Language of PERT/CPM 152
Building the Network 153
Finding the Critical Path and Critical Time 155
Calculating Activity Slack 157
Doing It the Easy Way—Microsoft Project (MSP) 158
5.2 Project Uncertainty and Risk Management 161
Calculating Probabilistic Activity Times 161
The Probabilistic Network, an Example 162
Once More the Easy Way 164
The Probability of Completing the Project on Time 165
Selecting Risk and Finding D 171
The Case of the Unreasonable Boss 171
The Problem with Mergers 172
5.3 Simulation 173
Traditional Statistics vs. Simulation 176
5.4 The Gantt Chart 178
The Chart 178
5.5 Extensions to PERT/CPM 182
Precedence Diagramming 183
Final Thoughts on the Use of These Tools 184
Review Questions 186
Discussion Questions 186
Problems 186
Discussion Problem 188
Incidents for Discussion 189
Case: St. Dismas Assisted Living Facility Program Plan—3 189
Case: NutriStar 193
Bibliography 194
ALLOCATING RESOURCES TO THE PROJECT 196
6.1 Expediting a Project 197
The Critical Path Method 197
Fast-Tracking a Project 201
6.2 Resource Loading 202
The Charismatic VP 207
6.3 Resource Leveling 208
Resource Loading/Leveling and Uncertainty 214
6.4 Allocating Scarce Resources to Projects 216
Some Comments about Constrained Resources 217
Some Priority Rules 217
6.5 Allocating Scarce Resources to Several Projects 218
Criteria of Priority Rules 220
The Basic Approach 220
Resource Allocation and the Project Life Cycle 221
6.6 Goldratt's Critical Chain 222
Estimating Task Times 225
The Effect of Not Reporting Early Activity Completion 226
Multitasking 226
Common Chain of Events 229
The Critical Chain 230
Review Questions 231
Discussion Questions 232
Problems 232
Incidents for Discussion 233
Case: St. Dismas Assisted Living Facility Resource Usage—4 234
Case: Charter Financial Bank 235
Bibliography 236
MONITORING AND CONTROLLING THE PROJECT 238
7.1 The Plan-Monitor-Control Cycle 238
Designing the Monitoring System 240
7.2 Data Collection and Reporting 241
Data Collecting 241
Data Analysis 242
Reporting and Report Types 243
Meetings 245
Virtual Meetings, Reports, and Project Management 246
7.3 Earned Value 247
7.4 Project Control 254
Purposes of Control 255
7.5 Designing the Control System 256
Types of Control Systems 258
Tools for Control 260
7.6 Scope Creep and Change Control 263
Review Questions 265
Discussion Questions 265
Problems 266
Incidents for Discussion 266
Case: St. Dismas Assisted Living Facility Case—5 268
Case: Palmstar Enterprises, Inc. 270
Bibliography 271
EVALUATING AND TERMINATING THE PROJECT 272
8.1 Evaluation 272
Evaluation Criteria 273
Measurement 274
8.2 Project Auditing 275
The Audit Process 275
The Audit Report 277
8.3 Project Termination 280
When to Terminate a Project 280
Types of Project Termination 281
The Termination Process 282
The Project Final Report 284
Review Questions 285
Discussion Questions 285
Incidents for Discussion 286
Case: St. Dismas Assisted Living Facility Case—6 286
Case: Datatech's Audit 289
Bibliography 290
APPENDIX A: PROBABILITY AND STATISTICS 291
A.1 Probability 291
Subjective Probability 292
Logical Probability 292
Experimental Probability 292
A.2 Event Relationships and Probability Laws 292
The Multiplication Rule 293
The Addition Rule 294
A.3 Statistics 294
Descriptive versus Inferential Statistics 295
Measures of Central Tendency 296
Measures of Dispersion 297
Inferential Statistics 298
Standard Probability Distributions 299
Bibliography 300
NAME INDEX 301
SUBJECT INDEX 305
See More
Addresses the newest version of Crystal Ball
Expanded risk management coverage
Clearer and simpler approach to the explanation of "crashing a project" and to the discussion of the "tracking signal"
Expanded emphasis on ethics in project management
Teacher's Manual organised with learning objective
See More
Clear and accessible writing style. One reviewer said "One of the best written textbooks I have read. It should be a hit with the students who in many texts are confused by unclear presentation."
Focuses on the basic fundamentals of project management.
Practical, hands-on approach, using Microsoft Project (schools adopting the text can obtain access to the full version of Microsoft Project through Wiley's MSDNAA partnership) and Crystal Ball trial versions (risk analysis software) packaged with text
Organisation of the book follows project management life cycle, mirroring the way a real-world project would be executed.
See More
Instructors Resources
ENHANCE YOUR COURSE

Instant access to textbooks as eTextbooks.
Learn more

Digital evaluation copy available for this title
Request Copy

Contact your Wiley Representative
Find Your Rep

See More
See Less
Purchase Options

Information about Wiley E-Texts:
Wiley E-Texts are powered by VitalSource technologies e-book software.
With Wiley E-Texts you can access your e-book how and where you want to study: Online, Download and Mobile.
Wiley e-texts are non-returnable and non-refundable.
WileyPLUS registration codes are NOT included with the Wiley E-Text. For informationon WileyPLUS, click here .
To learn more about Wiley e-texts, please refer to our FAQ.

Information about e-books:
E-books are offered as e-Pubs or PDFs. To download and read them, users must install Adobe Digital Editions (ADE) on their PC.
E-books have DRM protection on them, which means only the person who purchases and downloads the e-book can access it.
E-books are non-returnable and non-refundable.
To learn more about our e-books, please refer to our FAQ.
This title is also available on :