Textbook
Macroeconomics as a Second Language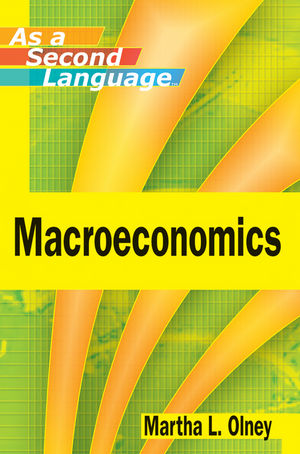 Macroeconomics as a Second Language, a new volume in Wiley's bestselling As a Second Language series, is a study and review guide for students taking principles of macroeconomics courses or for any student who needs a review of fundamental concepts.  A professor of the course for more than a decade, Olney combines her insights and experience in the classroom into this concise and accessible text.
See More
Chapter 1:  Economics Tools – Math and Graphing
Chapter 2:  Production Possibilities Frontier, Economic Growth, and Gains from Trade
Chapter 3:  Demand and Supply
Chapter 4:  Measuring the Macroeconomy
Chapter 5:  Long-Run Economic Growth
Chapter 6:  Keynesian Cross
Chapter 7:  Aggregate Demand
Chapter 8:  The Spending Multiplier
Chapter 9:  Macroeconomic Policy: The Overview
Chapter 10: Fiscal Policy
Chapter 11: Money Creation
Chapter 12: The Money Market
Chapter 13:  Monetary Policy and Interest Rates
Chapter 14:  Inflation and Output:  The AS/AD Approach
Chapter 15:  Input and Output: The Monetary Policy Approach
Chapter 16:  Open Economy Macroeconomics
Answers to all "TRY" Questions
Index
See More
Opening chapter key concepts: A list of key terms and concepts, graphs, and equations covered in the chapter to keep the student on track.
"TIP" Notes: Tricks in each chapter for remembering key concepts or common errors to avoid.
"TRY" Questions: These questions give students the chance to test what they've learned throughout the book. Answers to all the "TRY" questions can be found in the back of the book.
Emphasis on Fundamentals: It 'cuts right to the chase' by focusing in on the concepts, assumptions, and models essential to the student's overall understanding of macroeconomics.
See More
Purchase Options
Paperback
Macroeconomics as a Second Language
ISBN : 978-0-470-50538-0
352 pages
January 2011, ©2011

Information about Wiley E-Texts:
Wiley E-Texts are powered by VitalSource and accessed via the VitalSource Bookshelf reader, available online and via a downloadable app.
Wiley E-Texts are accessible online and offline, and can be read on a variety of devices, including smartphones and tablets.
Wiley E-Texts are non-returnable and non-refundable.
Wiley E-Texts are protected by DRM. For specific DRM policies, please refer to our FAQ.
WileyPLUS registration codes are NOT included with any Wiley E-Text. For informationon WileyPLUS, click here .
To learn more about Wiley E-Texts, please refer to our FAQ.

Information about e-books:
E-books are offered as e-Pubs or PDFs. To download and read them, users must install Adobe Digital Editions (ADE) on their PC.
E-books have DRM protection on them, which means only the person who purchases and downloads the e-book can access it.
E-books are non-returnable and non-refundable.
To learn more about our e-books, please refer to our FAQ.