Textbook
Becoming a Master Manager: A Competing Values Approach, 5th Edition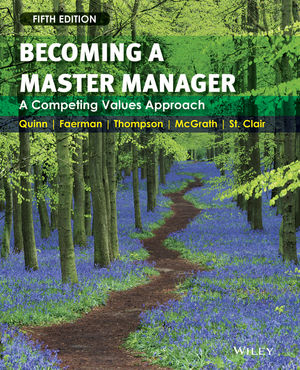 Becoming a Master Manager, 5th Edition
by Quinn et al. is built on a solid foundation of both theory and empirical evidence that provides a compelling case for why critical managerial and leadership competencies are important. The competing values framework offers future managers an enduring foundation for analyzing the most appropriate behaviors for achieving organizational goals.
Becoming a Master Manager, 5th Edition is appropriate for management and organizational behavior courses offered at the upper-level undergraduate and MBA levels.
See More
INTRODUCTION The Competing Values Approach to Management
The Evolution of Management Models
The Competing Values Framework
Organizing the Learning Process - ALAPA
Core Competency: Thinking Critically
MODULE 1 Creating and Sustaining Commitment and Cohesion
Competency 1-1 Understanding Self and Others
Competency 1-2 Communicating Honestly and Effectively
Competency 1-3 Mentoring and Developing Others
Competency 1-4 Managing Groups and Leading Teams
Competency 1-5 Managing and Encouraging Constructive Conflict
MODULE 2 Establishing and Maintaining Stability and Continuity
Competency 2-1 Organizing Information Flows
Competency 2-2 Working and Managing Across Functions
Competency 2-3 Planning and Coordinating Projects
Competency 2-4 Measuring and Monitoring Performance and Quality
Competency 2-5 Encouraging and Enabling Compliance
MODULE 3 Improving Productivity and Increasing Profitability
Competency 3-1 Developing and Communicating a Vision
Competency 3-2 Setting Goals and Objectives
Competency 3-3 Motivating Self and Others
Competency 3-4 Designing and Organizing
Competency 3-5 Managing Execution and Driving for Result
MODULE 4 Promoting Change and Encouraging Adaptability
Competency 4-1 Using Power Ethically and Effectively
Competency 4-2 Championing and Selling New Ideas
Competency 4-3 Fueling and Fostering Innovation
Competency 4-4 Negotiating Agreement and Commitment
Competency 4-5 Implementing and Sustaining Change
CONCLUSION Integration and the Road to Mastery
Integration and Behavioral Complexity
How Master Managers See the World
The Leveraging Power of Lift
The Never-ending Road to Mastery
See More
Emphasis on the Concept of Managerial Paradox: Multiple tensions that managers face in the workplace today. Examples of paradoxes are included throughout the text.
New Organization: Four modules instead of eight chapters help students make connections between topics.
Evaluation Matrix Assignment: Now included at the end of each module to allow students to strategize for mastery at an earlier time.
See More
Managerial and leadership competing values framework: extensively researched theoretical framework is used to organize the material.
Flexible and coherent systems approach to learning about management skills.
A well established pedagogical approach to learning that includes assessment, learning analysis, practice, application, and reflection is used throughout the text.
See More
Instructors Resources
ENHANCE YOUR COURSE
Digital evaluation copy available for this title
Request Copy

Contact your Wiley Representative
Find Your Rep

See More
See Less
Purchase Options
Wiley E-Text&nbsp&nbsp&nbsp

Becoming a Master Manager: A Competing Values Approach, 5th Edition
ISBN : 978-0-470-91391-8
384 pages
October 2010, ©2011
Paperback&nbsp&nbsp&nbsp
Becoming a Master Manager: A Competing Values Approach, 5th Edition
ISBN : 978-0-470-28466-7
384 pages
October 2010, ©2011
$155.95&nbsp&nbsp&nbsp
BUY

Information about Wiley E-Texts:
Wiley E-Texts are powered by VitalSource technologies e-book software.
With Wiley E-Texts you can access your e-book how and where you want to study: Online, Download and Mobile.
Wiley e-texts are non-returnable and non-refundable.
WileyPLUS registration codes are NOT included with the Wiley E-Text. For informationon WileyPLUS, click here .
To learn more about Wiley e-texts, please refer to our FAQ.

Information about e-books:
E-books are offered as e-Pubs or PDFs. To download and read them, users must install Adobe Digital Editions (ADE) on their PC.
E-books have DRM protection on them, which means only the person who purchases and downloads the e-book can access it.
E-books are non-returnable and non-refundable.
To learn more about our e-books, please refer to our FAQ.