Textbook
Management, 11th Edition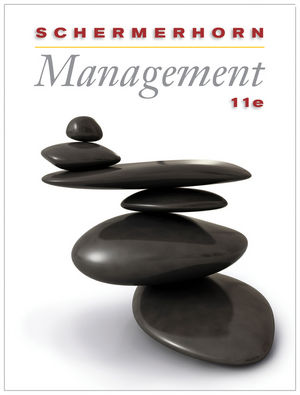 John Schermerhorn's
Management 11th edition
is designed to help millennial students learn the core concepts, enhance career readiness, and see the relevance between management and the business world. Inspire today's students to be good future managers by achieving
the perfect balance
of theory and practice in the principles of management course with John Schermerhorn's
Management 11e
. Today's students are tomorrow's leaders and managers.
We've got you covered with the most current and multifaceted resources like Management Weekly Updates, videos, cases, self-assessments, and student exercises that will make your principles of management course come alive, whether in class or online.


Table of Contents
PART ONE MANAGEMENT
CHAPTER 1 Introducing Management 1
CHAPTER 2 Management Learning Past to Present 27
CHAPTER 3 Ethics and Social Responsibility 51
PART TWO ENVIRONMENT
CHAPTER 4 Environment, Sustainability, and Innovation 77
CHAPTER 5 Global Management and Cultural Diversity 103
CHAPTER 6 Entrepreneurship and New Ventures 131
PART THREE PLANNING
CHAPTER 7 Information and Decision Making 155
CHAPTER 8 Planning Processes and Techniques 183
CHAPTER 9 Strategy and Strategic Management 205
PART FOUR ORGANIZING
CHAPTER 10 Organization Structures and Design 233
CHAPTER 11 Organization Culture and Change 257
CHAPTER 12 Human Resource Management 283
PART FIVE LEADING
CHAPTER 13 Leading and Leadership Development 309
CHAPTER 14 Individual Behavior 335
CHAPTER 15 Motivation Theory and Practice 359
CHAPTER 16 Teams and Teamwork 385
CHAPTER 17 Communication and Collaboration 411
PART SIX CONTROLLING
CHAPTER 18 Control Processes and Systems 439
CHAPTER 19 Operations and Services Management 461
CASES FOR CRITICAL THINKING
Chapter Cases C-2
Running Video Case: GREENSBURG, KANSAS C-40
Self-Test Answers AN-1
Glossary G-1
Endnotes EN-1
Organizational Index OI-1
Name Index NI-1
Subject Index SI-1
New To This Edition
New Management Weekly Updates: Keep you and your students updated and informed on the very latest in business news stories. Each week you will find links to 5 new articles, video clips, business news stories, and so much more with discussion questions to elaborate on the stories in the classroom. http://wileymanagementupdates.com
New Greensburg, KS Video Case: Provides an ongoing and video-supported look at developments in the economic renewal of a small town in middle America.
New Wiley Management Video Series: New videos of companies in the current news available for each chapter; complete with teaching notes.
New Ethics Emphasis: Ethics coverage has been moved to an earlier part in the book. All of the Real Ethics sections have been rewritten to reflect today's business environment.
New and Updated Cases: Cover organizations like Patagonia, Twitter, and Three Doctors Foundation
New Business Simulations: New suite of business and ethics simulations offered by Ethics-LX http://www.ethics-lx.com/
Wiley Resource Kit
Hallmark Features
Organized in 6 Parts: Management, Environment, Planning, Organizing, Leading, Controlling
Integrated Learning Model: Helps students develop managerial skills and competencies through:

Experience and Self-Assessment
Analysis and Application
Inquiry and Reflection

Four constructive balances of pedagogy:

balance of research insights with formative education
balance of management theory with management practice
balance of present understandings with future possibilities
balance of what "can" be done with what is, purely and simply, the "right" thing to do

Critical Thinking and Active Learning: Within the chapter are special features that not only introduce students to examples, current events, and applications of chapter material, but also engage them in critical thinking and active learning opportunities.
Available Versions