Textbook
Managing Business Ethics: Straight Talk about How to Do It Right, 5th Edition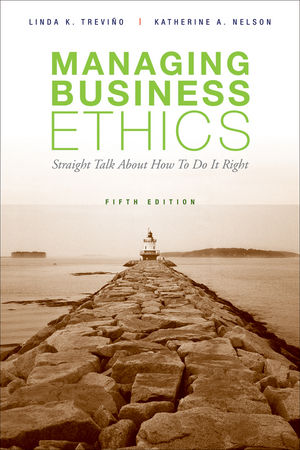 While most business ethics books focus exclusively on a philosophical approach to individual decision making, Linda Trevino and Kate Nelson bring together a mix of theory and practice in
Managing Business Ethics: Straight Talk about How to Do It Right 5th edition.
 In this new edition, the dynamic author team of Linda Trevino, prolific researcher and Distinguished Professor, and Kate Nelson, Professor and long time practitioner of strategic organizational communications and human resources, equip students with the pragmatic knowledge they need to identify and solve ethical dilemmas, understand their own and others' ethical behavior, and promote ethical behavior in their organization.  
 Managing Business Ethics is the perfect text for students entering the workplace, those seeking to become professionals in training, communications, compliance, in addition to chief ethics officers, corporate counsel, heads of human resources, and senior executives!
See More
SECTION I INTRODUCTION
CHAPTER 1 INTRODUCING STRAIGHT TALK ABOUT MANAGING BUSINESS ETHICS: WHERE WE'RE GOING AND WHY
SECTION II ETHICS AND THE INDIVIDUAL
CHAPTER 2 DECIDING WHAT'S RIGHT: A PRESCRIPTIVE APPROACH
CHAPTER 3 DECIDING WHAT'S RIGHT: A PSYCHOLOGICAL APPROACH
CHAPTER 4 COMMON ETHICAL PROBLEMS
SECTION III MANAGING ETHICS IN THE ORGANIZATION
CHAPTER 5 ETHICS AS ORGANIZATIONAL CULTURE
CHAPTER 6 MANAGING ETHICS AND LEGAL COMPLIANCE
CHAPTER 7 MANAGING FOR ETHICAL CONDUCT
CHAPTER 8 ETHICAL PROBLEMS OF MANAGERS
SECTION IV ORGANIZATIONAL ETHICS AND SOCIAL RESPONSIBILITY
CHAPTER 9 CORPORATE SOCIAL RESPONSIBILITY
CHAPTER 10 ETHICAL PROBLEMS OF ORGANIZATIONS
CHAPTER 11 MANAGING FOR ETHICS AND SOCIAL RESPONSIBILITY IN A GLOBAL BUSINESS ENVIRONMENT
See More
Linda K. Treviño
is Professor of Organizational Behavior, Cook Fellow in Busness Ethics, and Director of the Shoemaker Program in Business Ethics in the Smeal College of Business Administration at The Pennsylvania State University where she has been on faculty since 1987. She served as Chair of the Department of Management and Organization from 1999 - 2003. She holds a Ph.D. in management  from Tesas A&M University. Her research and writing on the management of ethical conduct in organizations is widely published and is internationally known.She has published about fifty journal articles and has co-authored an academic book entitled, Managing Ethics in Business Organizations: Social Scientific Perspectives, with Gary Weaver, in 2003.
Katherine A. Nelson is currently on the faculty of the Fox School of Business and Management, Temple University, where she teaches business ethics, introduction to management, and "HR on the Ground," a course she designed that was named one of "Ten College Courses That Pay Off at Work" (U.S. News & World Report, April 26, 2010). She also has taught business ethics to executive MBAs at the University of Delaware and to executives at Wharton Executive Education at the University of Pennsylvania. (She was a senior fellow in ethics at the Wharton School for several years in the early 1990s.) In 2010, she was honored with the Fox School's annual Andrisani-Frank Award for Excellence in Teaching.  Kate enjoyed a thirty-year career in business before transitioning to academia. She was a principal and communications practice leader for Mercer Human Resources Consulting in Philadelphia, where she managed a 19-person team of consultants delivering services to Mercer's clients in southeastern Pennsylvania, New Jersey, and upstate New York. Earlier, she was vice president and head of worldwide HR communication at Citicorp in New York and has held similar positions at a subsidiary of Merrill Lynch and at Honeywell. The ethics game she created at Citicorp, The Work Ethic, was awarded the Gold Quill of Excellence by the International Association of Business Communicators. The Work Ethic and similar games she developed have been used in numerous business schools including Harvard, Wharton, Columbia, Oxford, and INSEAD; and by numerous organizations including NASA, General Electric, and J.P. Morgan.  Kate received her B.A. from the College of Mount St. Vincent in New York City and is completing graduate work in human resources management at Temple University.
See More
New organization: The order of chapters has been streamlined for more comprehensive learning, and now moves more clearly from individual decision making, to managing ethics in organizational context, to broader issues of corporate social responsibility.
Updated research: New edition includes new research on "speaking up," finding your moral voice, and includes Professor Treviño's own research on moral disengagement.
New cases: Added on topics like Google goes to China, AIG, and Toyota.
New sustainability coverage: New material on the natural environment and the relation to business ethics has been added.
New Business Ethics Simulations: New suite of business ethics simulations offered by Ethics-LX

http://www.ethics-lx.com/
See More
Pragmatic approach: Assumes that ethics in organizations is about human behavior that can result from a number of factors, many of which can be influenced by managers and the organizational themselves.
Varied examples to address different work experience: The authors use a different mix of examples than what is found in conventional business ethics texts, and include cases centered on the kinds of problems that most people will encounter during the course of their work, not just at the executive level.
Latest research on ethics and organizational behavior: Full of current research, actual company examples, and advice.
Integrated cases: End of chapter integrated cases help apply the concepts learned in the chapter
See More
Instructors Resources
ENHANCE YOUR COURSE

Instant access to textbooks as eTextbooks.
Learn more

Digital evaluation copy available for this title
Request Copy

Contact your Wiley Representative
Find Your Rep

See More
See Less
Students Resources
Wiley Student Companion Site
Coming Soon!
View Sample content below:
See More
See Less
Purchase Options
Wiley E-Text&nbsp&nbsp&nbsp

Managing Business Ethics: Straight Talk about How to Do It Right, 5th Edition
ISBN : 978-0-470-57176-7
480 pages
December 2010, ©2011
Paperback&nbsp&nbsp&nbsp
Managing Business Ethics: Straight Talk about How to Do It Right, 5th Edition
ISBN : 978-0-470-34394-4
480 pages
August 2010, ©2011
$146.95&nbsp&nbsp&nbsp
BUY

Information about Wiley E-Texts:
Wiley E-Texts are powered by VitalSource technologies e-book software.
With Wiley E-Texts you can access your e-book how and where you want to study: Online, Download and Mobile.
Wiley e-texts are non-returnable and non-refundable.
WileyPLUS registration codes are NOT included with the Wiley E-Text. For informationon WileyPLUS, click here .
To learn more about Wiley e-texts, please refer to our FAQ.

Information about e-books:
E-books are offered as e-Pubs or PDFs. To download and read them, users must install Adobe Digital Editions (ADE) on their PC.
E-books have DRM protection on them, which means only the person who purchases and downloads the e-book can access it.
E-books are non-returnable and non-refundable.
To learn more about our e-books, please refer to our FAQ.
This title is also available on :