Textbook
Visualizing Environmental Science, 3rd Edition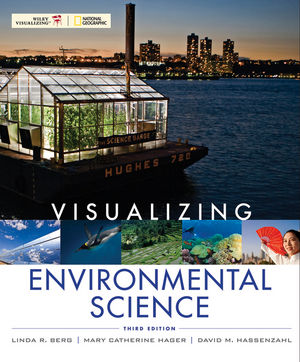 Now in its 3rd edition, Visualizing Environmental Science offers students a valuable opportunity to identify and connect the central issues of environmental science through a visual approach. The 3rd edition has refined and expanded the visuals using insights from research on student learning. Visualizing Environmental Science 3e is designed to help students acquire the skills they need to become better learners.  The visualizing approach reduces the cognitive load of complex processes, organizes related pieces of information, and integrates information into clear representations. Beautifully illustrated, Visualizing Environmental Science 3e shows your students what the discipline is all about—its main concepts and applications—while also instilling an appreciation and excitement about the richness of the subject.
See More
Preface v
1 The Environmental Challenges We Face 2
2 Environmental Sustainability and Human Values 26
3 Environmental History, Politics, and Economics 48
4 Risk Analysis and Environmental Health Hazards 72
5 How Ecosystems Work 96
6 Ecosystems and Evolution 126
7 Human Population Change and the Environment 158
8 Air and Air Pollution 190
9 Global Atmospheric Changes 216
10 Freshwater Resources and Water Pollution 240
11 The Ocean and Fisheries 270
12 Mineral and Soil Resources 294
13 Land Resources 318
14 Agriculture and Food Resources 346
15 Biological Resources 370
16 Solid and Hazardous Waste 394
17 Nonrenewable Energy Resources 416
18 Renewable Energy Resources 440
Glossary 465
Text, Table, & Line Art Credits 469
Photo Credits 471
Index 477
See More
New coauthor in Dave Hassenzahl, Chatham University
New data interpretation features attached to visuals to help engage students
New "critical thinking" questions and "from global to local" questions attached to visuals
Virtual fieldtrips
Chapter openers were updated including: Drought in Australia
Updated case studies including: the environmental impacts of China's Three Gorges Dam and the Loess Plateau in China
Refined and expanded visuals based on insights from research on student learning
Updates to the "EnviroDiscovery" feature including: an emerging urban feature: Green Roofs
Process diagrams explaining and providing examples of Environmental Impact Analyses
See More
Chapter Introductions illustrate certain concepts in the chapter with concise stories about some of today's most pressing environmental issues. These narratives are featured alongside striking accompanying photographs. The chapter openers also include illustrated Chapter Outlines that use thumbnails of illustrations from the chapter to refer visually to the content.
Visualizing features are specially designed multi-part visual spreads that focus on a key concept or topic in the chapter, exploring it in detail or in broader context using a combination of photos and figures.
Process Diagrams present a multi-step figure or a combination of figures that describes and depicts a complex process, helping students to observe, follow, and understand the process.
What a Scientist Sees features highlight a concept or phenomenon, using photos and figures that would stand out to a professional in the field, and helping students to develop observational skills.
EnviroDiscovery features provide additional topical material about relevant environmental issues.
The illustrated Case Studies that cap off the text sections of each chapter offer a wide variety of in-depth examinations that address important issues in the field of environmental science.
See More
Instructors Resources
ENHANCE YOUR COURSE
Digital evaluation copy available for this title
Request Copy

Contact your Wiley Representative
Find Your Rep

See More
See Less
Purchase Options
Paperback&nbsp&nbsp&nbsp
Visualizing Environmental Science, 3rd Edition
ISBN : 978-0-470-56918-4
528 pages
September 2010, ©2011
$146.95&nbsp&nbsp&nbsp
BUY

Information about Wiley E-Texts:
Wiley E-Texts are powered by VitalSource technologies e-book software.
With Wiley E-Texts you can access your e-book how and where you want to study: Online, Download and Mobile.
Wiley e-texts are non-returnable and non-refundable.
WileyPLUS registration codes are NOT included with the Wiley E-Text. For informationon WileyPLUS, click here .
To learn more about Wiley e-texts, please refer to our FAQ.

Information about e-books:
E-books are offered as e-Pubs or PDFs. To download and read them, users must install Adobe Digital Editions (ADE) on their PC.
E-books have DRM protection on them, which means only the person who purchases and downloads the e-book can access it.
E-books are non-returnable and non-refundable.
To learn more about our e-books, please refer to our FAQ.