Textbook
Visualizing Human Biology Lab Manual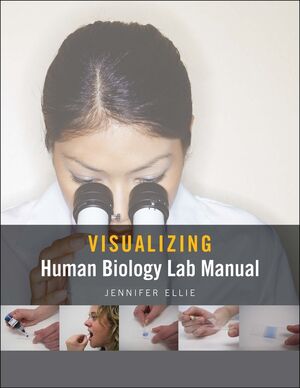 Visualizing Human Biology Lab Manual provides 18 labs specifically designed for the non-majors biology student, each of which engages students by focusing on the structure and function of each person's own unique body. The lab manual includes key experiments with step-by-step visual guides and more interesting, real world topics to connect with students' diverse experiences. Visuals are used to teach and explain, not just illustrate, and students with varied learning styles will be engaged. The applications of common laboratory techniques in science, medicine, and everyday life are also explored in each lab topic.
See More
Lab 1: Using the Scientific Method in Everyday Life.
Lab 2: Observing Cells with Light Microscopy.
Lab 3: Observing Body Tissues.
Lab 4: The Chemistry of Life.
Lab 5: The Digestive System.
Lab 6: The Cardiovascular System.
Lab 7: The Respiratory System.
Lab 8: The Urinary System.
Lab 9: The Reproductive System.
Lab 10: The Nervous System.
Lab 11: The Special Senses.
Lab 12: The Skeletal System.
Lab 13: The Muscular System.
Lab 14: Human Genetics.
Lab 15: DNA Fingerprinting.
Lab 16: Cancer.
Lab 17: Microorganisms and the Human Body.
Lab 18: Evolution.
Line Art and Text Credits.
Photo Credits.
See More
Uses the unique Visualizing the Lab feature to provide Step by Step instructions and photos to help students successfully complete each lab.
Includes a comprehensive Preparation Guide with teaching tips, supply lists, supplier listings, and detailed instructions on preparing materials for each laboratory.
Encourages students to grasp the big picture by relating each lab activity to real life conditions and their own connections to Biology.
Provides increased opportunities for critical thinking through the Active Learning Questions, Introductions, Exercises and Review Questions included in each if the 18 labs.
See More
Purchase Options

Information about Wiley E-Texts:
Wiley E-Texts are powered by VitalSource technologies e-book software.
With Wiley E-Texts you can access your e-book how and where you want to study: Online, Download and Mobile.
Wiley e-texts are non-returnable and non-refundable.
WileyPLUS registration codes are NOT included with the Wiley E-Text. For informationon WileyPLUS, click here .
To learn more about Wiley e-texts, please refer to our FAQ.

Information about e-books:
E-books are offered as e-Pubs or PDFs. To download and read them, users must install Adobe Digital Editions (ADE) on their PC.
E-books have DRM protection on them, which means only the person who purchases and downloads the e-book can access it.
E-books are non-returnable and non-refundable.
To learn more about our e-books, please refer to our FAQ.
This title is also available on :