Textbook
Visualizing Anatomy and Physiology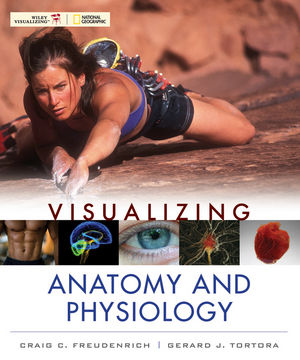 Visualizing Anatomy and Physiology is a visually powerful textbook, illustrated for maximum pedagogical effect, up-to-the-minute in all aspects of anatomical science and physiology, that provides motivating and engaging content as well as clinical and everyday relevance of the science of the discipline.

for
Visualizing Anatomy and Physiology
. Learn more at
WileyPLUS.com


Table of Contents
1 Organization of the Human Body.           
2 Introductory Chemistry.         
3 Cells and Tissues.         
4 The Integumentary System.
5 The Skeletal System.
6 The Muscular System.         
7 The Nervous System.         
8 Somatic Senses and Special Senses.           
9 The Endocrine System.         
10 The Cardiovascular System: Blood.         
11 The Cardiovascular System: Heart, Blood Vessels, and Circulation.         
12 The Lymphatic System and Immunity.         
13 The Respiratory System.         
14 The Digestive System, Nutrition, and Metabolism.         
15 The Urinary System, Fluid, Electrolyte, and Acid-Base Balance.         
16 The Reproductive Systems.
Appendix A Periodic Table.
Appendix B Measurements.
Appendix C Answers to Self-Tests.
Glossary.
Line Art Credits.
Photo Credits.
Index.
New To This Edition
Impressive and accessible Visuals
Chapter Planner
Process Diagrams
Visualizing Pedagogical System including: Learning Objectives
Concept Che
New Term Boxes
Insight Boxes
What a Healthcare Provider See s
End of Chapter Pedagogy: Chapter Review
Key Terms
Critical Thinking Questions
Self Quiz
Hallmark Features
Tested and proven visuals and pedagogy that help students learn more effectively are used to teach and explain, not just illustrate. These include A & P InSight figures, Process Diagrams, and images from trusted sources such as the National Geographic Society.
Organized into 16 chapters, the material is designed to fit more easily into the shorter one-semester course.
What a Health Provider Sees present clinical examples and situations from the perspective of people in the health and medical fields. Each one is accompanied by "Think Critically" questions that ask students to apply what they've learned.
Numerous assessment opportunities are provided in the form of quizzes, assignments, and a complete testbank. The variety of questions link to the narrative, illustrations, and animations and can be automatically graded, saving professors' valuable time and effort.
The affordable paperback format in manageable size is also available in other print or electronic formats, providing even greater savings to students wanting the best possible price for required materials.

Available Versions