Textbook
Chemistry: The Molecular Nature of Matter, 6th Edition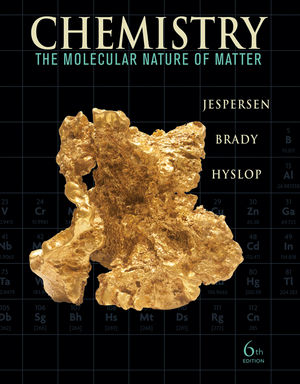 Chemistry: The Study of Matter and Its Changes, Sixth Edition will provide the necessary practice, support and individualised instruction that ensures success in the General Chemistry course. This text provides the forum for problem solving and concept mastery of chemical phenomena that leads to proficiency and success in the General Chemistry course. This edition will continue a "molecular basis of chemistry" tradition, but in a manner that overtly and repeatedly reinforces the way properties at the molecular level are related to properties we observe at the macroscopic level. The unique "chemical tools" approach employed in this book provides a way of thinking that helps those students develop the ability to analyse and solve both mathematical and conceptual problems. This text follows the successful three-step approach described as "ANALYSIS," "SOLUTION" and "IS THE ANSWER REASONABLE?" This encourages the student to think about the problem before attempting to solve it, then working through the solution, and finally asking the important question "Does the answer make sense?" There are problem sets called "Bringing It Together" that contain problems which require students to bring together concepts from two or more of the preceding chapters. This reinforces learned concepts and builds concept mastery.
See More
Chapter 1: Chemistry and the Atomic/Molecular View of Matter.
Chapter 2: Scientific Measurements.
Chapter 3: Elements, Compounds, and the Periodic Table.
Chapter 4: The Mole and Stoichiometry.
Chapter 5: Molecular View of Reactions in Aqueous Solutions.
Chapter 6: Oxidation–Reduction Reactions.
Chapter 7: Energy and Chemical Change.
Chapter 8: The Quantum Mechanical Atom.
Chapter 9: The Basics of Chemical Bonding.
Chapter 10: Theories of Bonding and Structure.
Chapter 11: Properties of Gases.
Chapter 12: Intermolecular Attractions and the Properties of Liquids and Solids.
Chapter 13: Mixtures at the Molecular Level: Properties of Solutions.
Chapter 14: Chemical Kinetics.
Chapter 15: Chemical Equilibrium.
Chapter 16: Acids and Bases, A Molecular Look.
Chapter 17: Acid-Base Equilibria in Aqueous Solutions.
Chapter 18: Solubility and Simultaneous Equilibria.
Chapter 19: Thermodynamics.
Chapter 20: Electrochemistry.
Chapter 21: Nuclear Reactions and Their Role in Chemistry.
Chapter 22: Metal Complexes.
Chapter 23: Organic Compounds, Polymers, and Biochemicals.
See More
The new edition begins with a new chapter (chapter one) that lays the groundwork for the atomic and molecular view of matter and outlines how these concepts are used throughout the text. This chapter includes a discussion of what chemistry is and the kinds of activities that chemists participate in.
Analyzing and Solving Multi-Concept Problems – these new sections in the text demonstrate to students how difficult problems can often be decomposed into a set of similar problems of a type that they have already learned to solve. The emphasis is on the thinking that goes into solving a complex problem. Multi-Concept problems are included at the end of each chapter – the goal is to challenge the student to solve problems that require the application of several different concepts.
New figures have been included throughout the text to provide visual meaning to accompanying discussions.
In the end of chapter questions and problems, exercises have been added that have a visual component, requiring students to apply molecular concepts developed in the chapter discussions.
The end of chapter problems have undergone a reworking to be sure that they provide a range of difficulty, from drill-type problems to more difficult ones; a significant number of "visual" problems that include graphics or molecular structures that need to be explained or manipulated have been added.
The three step problem solving process of Analysis, Solution, and asking Is The Answer Reasonable?, which was applied to all worked examples in the 5th edition has been retained. The authors have expanded this to include a fourth step called Assembling The Tools, which appears just following the Analysis step. After analyzing the problem and defining the approach that will be followed to obtain an answer, the authors describe specifically the tools that will be used in the Solution step that comes next.
See More
Clear, concise and easy to understand
Analysis, Solution and Is The Answer Reasonable? parts of the worked examples really teach/reinforce the critical thinking skills
Great writing style that gives the feeling of a dialog or a personal conversation
Chapters 1 & 3 from the previous edition have been combined into a new chapter 1
End of Chapter problems and questions that make students think about how the concepts relate to their own life
Tools For Problem Solving & Summary of Tools*
Facets of Chemistry: Shorts essays providing descriptions of real-world, practical applications of chemistry in industry, medicine, and the environment.
Bringing It All Together: Collection of exercises to review topics presented in the preceding chapters as well as problem solving that combines concepts from two or more chapters
Interactive Learning Ware: Step by step interactive tutorial to develop problem solving skills
Macro to micro illustrations
See More
Instructors Resources
ENHANCE YOUR COURSE

Instant access to textbooks as eTextbooks.
Learn more

Digital evaluation copy available for this title
Request Copy

Contact your Wiley Representative
Find Your Rep

See More
See Less
Students Resources
Wiley Student Companion Site
Coming Soon!
View Sample content below:
See More
See Less
Purchase Options
Chemistry: The Molecular Nature of Matter, 6th Edition
ISBN : 978-0-470-91327-7
1224 pages
February 2011, ©2012
Loose-leaf&nbsp&nbsp&nbsp
Chemistry: The Molecular Nature of Matter, 6th Edition Binder Ready Version
ISBN : 978-0-470-91770-1
1224 pages
December 2010, ©2012
Hardcover&nbsp&nbsp&nbsp
Chemistry: The Molecular Nature of Matter, 6th Edition
ISBN : 978-0-470-57771-4
1224 pages
January 2011, ©2012

Information about Wiley E-Texts:
Wiley E-Texts are powered by VitalSource technologies e-book software.
With Wiley E-Texts you can access your e-book how and where you want to study: Online, Download and Mobile.
Wiley e-texts are non-returnable and non-refundable.
WileyPLUS registration codes are NOT included with the Wiley E-Text. For informationon WileyPLUS, click here .
To learn more about Wiley e-texts, please refer to our FAQ.

Information about e-books:
E-books are offered as e-Pubs or PDFs. To download and read them, users must install Adobe Digital Editions (ADE) on their PC.
E-books have DRM protection on them, which means only the person who purchases and downloads the e-book can access it.
E-books are non-returnable and non-refundable.
To learn more about our e-books, please refer to our FAQ.
This title is also available on :