Textbook
Chemistry: Structure and Dynamics, 5th Edition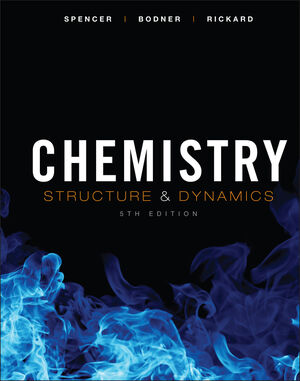 The Spencer text is the only text that is built on independently researched pedagogy on the best way to teach General Chemistry.
Chemistry: Structure and Dynamics, 5th Edition
emphasises deep understanding rather than comprehensive coverage along with a focus on the development of inquiry and reasoning skills. While most mainstream General Chemistry texts offer a breadth of content coverage, the Spencer author team, in contrast, focuses on depth and student preparation for future studies.
The fifth edition is revised in keeping with our commitment to the chemical education community and specifically the POGIL (Process Oriented Guided Inquiry Learning) Project. This text reflects two core principles, first that the concepts that are covered are fundamental building blocks for understanding chemistry and second, that the concepts should be perceived by the students as being directly applicable to their interests and careers. The authors further provide this "core" coverage using 1 of 3 models; data-driven, chemical theories and students understanding, which allows for a more concrete foundation on which students build conceptual understanding.
See More
Chapter 1. Elements and Compounds.
Chapter 2. The Mole: The Link between the Macroscopic and the Atomic World of Chemistry.
Chapter 3. The Structure of the Atom.
Chapter 4. The Covalent Bond.
Chapter 5. Ionic and Metallic Bonds.
Chapter 6. Gases.
Chapter 7. Making and Breaking of Bonds.
Chapter 8. Liquids and Solutions.
Chapter 9. Solids.
Chapter 10. The Connection Between Kinetics and Equilibrium.
Chapter 11. Acids and Bases.
Chapter 12. Oxidation–Reduction Reactions.
Chapter 13. Chemical Thermodynamics.
Chapter 14. Kinetics.
Chapter 15. Nuclear Chemistry.
Chapter 16. Chemical Analysis.
Appendix A.
Appendix B.
Appendix C.
Appendix D.
Photo Credits.
Index.
See More
Developed in conjunction with the ACS Task Force on the General Chemistry Curriculum.
The text contains 16 core chapters followed by optional modules that the instructor may cover at his or her discretion. Thus considerable flexibility is provided in structuring the course.
Core themes emphasis — process of science, relationship between molecular structure and physical/chemical properties, & relationship between micro and macro levels.
The text and related materials are based on a hands-on approach to learning chemistry. Students are given models or data where possible and are guided by leading questions to develop the concepts by themselves.
See More
Instructors Resources
ENHANCE YOUR COURSE
Digital evaluation copy available for this title
Request Copy

Contact your Wiley Representative
Find Your Rep

See More
See Less
Purchase Options

Information about Wiley E-Texts:
Wiley E-Texts are powered by VitalSource and accessed via the VitalSource Bookshelf reader, available online and via a downloadable app.
Wiley E-Texts are accessible online and offline, and can be read on a variety of devices, including smartphones and tablets.
Wiley E-Texts are non-returnable and non-refundable.
Wiley E-Texts are protected by DRM. For specific DRM policies, please refer to our FAQ.
WileyPLUS registration codes are NOT included with any Wiley E-Text. For informationon WileyPLUS, click here .
To learn more about Wiley E-Texts, please refer to our FAQ.

Information about e-books:
E-books are offered as e-Pubs or PDFs. To download and read them, users must install Adobe Digital Editions (ADE) on their PC.
E-books have DRM protection on them, which means only the person who purchases and downloads the e-book can access it.
E-books are non-returnable and non-refundable.
To learn more about our e-books, please refer to our FAQ.
Learn more about