Textbook
Introduction to Management in the Hospitality Industry, 10th Edition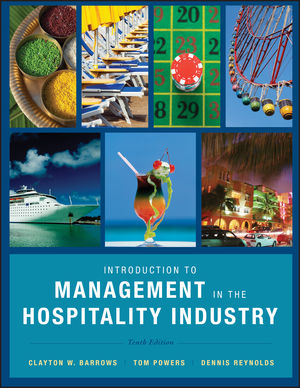 Readers seeking management careers in hospitality will enter a dynamic industry filled with opportunities. The rewards are many, but so are the challenges. Today's hospitality managers must deal with such complex factors as globalization, terrorism threats, ecotourism, internet commerce, new business and financial models, and rapidly changing consumer demands. Introduction to Management in the Hospitality Industry, Tenth Edition gives readers the industry know-how and the management skills needed to thrive in all aspects of the field, from food service to lodging to tourism. The Tenth Edition of Introduction to Management in the Hospitality Industry features both historical perspectives and discussions of new trends in a variety of sectors. This book has the most thorough coverage of the hospitality industry, covering foodservice, lodging, and travel and tourism, hospitality careers, and hospitality management. Readers will have a strong grasp of the many facets of the hospitality industry once they have utilized this textbook.
See More
Part 1. Perspectives on careers in hospitality 1
Chapter 1. The hospitality industry and you 3
Chapter 2. Forces affecting growth and change in the hospitality industry 33
Part 2. Food service 61
Chapter 3. The restaurant business 63
Chapter 4. Restaurant operations 103
Chapter 5. Restaurant industry organization : chain, independent, or franchise? 127
Chapter 6. Competitive forces in food service 159
Chapter 7. Issues facing food service 183
Chapter 8. On-site food service 213
Part 3. Lodging 255
Chapter 9. Lodging : meeting guest needs 257
Chapter 10. Hotel and lodging operations 293
Chapter 11. Forces shaping the hotel business 333
Chapter 12. Competition in the lodging business 367
Part 4. Travel and tourism 405
Chapter 13. Tourism : front and center 407
Chapter 14. Destinations : tourism generators 437
Part 5. Management in the hospitality industry 483
Chapter 15. Management : a new way of thinking 485
Chapter 16. Planning in hospitality management 511
Chapter 17. Organizing in hospitality management 533
Chapter 18. Staffing : human-resources management in hospitality management 557
Chapter 19. Control in hospitality management 587
Chapter 20. Leadership and directing in hospitality management 605
Part 6. Hospitality as a service industry 627
Chapter 21. The role of service in the hospitality industry 629
See More
Expanded and enhanced discussions of sustainability and corporate responsibility
Discussion of demographics and changes within specific generations with special attention to the effects associated with aging Baby Boomers
Inclusion of new and emerging industry segments
More culinary examples including international culinary programs and an updated profile of the Research Chefs Association
New trends in on-site foodservice including those related to vending
An expanded section on franchising along with considerations of the global marketplace
More examples of the use of technology in both food service and lodging
A greater emphasis upon international travel and the associated effects on tourism along with the introduction of voluntourism
Revised and extended discussions of prominent gaming destinations such as Atlantic City, Mississippi Gulf Coast, and Macau
New focus on electronic resources in the management section, including on-line recruiting
Updated Internet exercises that can facilitate individual learning or group discussion
Addition of emerging perspectives on management and organization
See More
The classic introductory textbook for hospitality majors
Includes six chapters (chapters 15-20) on important management topics such as Planning, Organization, Staffing, Controls, and Leadership
Appealing full color interior design
Includes a full exploration of the significant changes that have taken place in hospitality and tourism in the post 9/11 world
"This Chapter Should Help You" learning objectives are directly tied to sections within each chapter, easily facilitating ready assessment of learning outcomes
Comprehensive treatment of the entire hospitality industry, and thoroughly updated to reflect the latest trends in the hospitality, foodservice, and travel/tourism industries
Learning objectives, summaries, review questions, key terms concepts are contained in each chapter
"Industry Practice Notes" take a closer look at specific trends in the hospitality industry
"Case Histories," which emphasize real-world examples from renowned hospitality organizations and associations
"Careers in Hospitality" discussion points are integrated throughout the book and are highlighted with an icon
See More
Instructors Resources
Digital evaluation copy available for this title
Request Copy

Contact your Wiley Representative
Find Your Rep

See More
See Less
Purchase Options

Information about Wiley E-Texts:
Wiley E-Texts are powered by VitalSource and accessed via the VitalSource Bookshelf reader, available online and via a downloadable app.
Wiley E-Texts are accessible online and offline, and can be read on a variety of devices, including smartphones and tablets.
Wiley E-Texts are non-returnable and non-refundable.
Wiley E-Texts are protected by DRM. For specific DRM policies, please refer to our FAQ.
WileyPLUS registration codes are NOT included with any Wiley E-Text. For informationon WileyPLUS, click here .
To learn more about Wiley E-Texts, please refer to our FAQ.

Information about e-books:
E-books are offered as e-Pubs or PDFs. To download and read them, users must install Adobe Digital Editions (ADE) on their PC.
E-books have DRM protection on them, which means only the person who purchases and downloads the e-book can access it.
E-books are non-returnable and non-refundable.
To learn more about our e-books, please refer to our FAQ.