Textbook
Physical Geology: The Science of Earth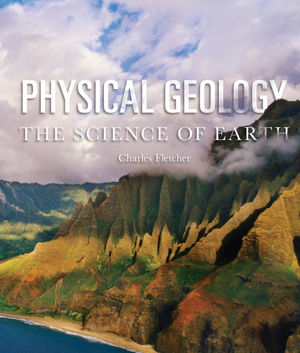 Physical Geology provides readers with a variety of ways to learn the content of physical geology and offer them an opportunity to learn through multiple intelligences. In this first edition, the challenge of critical thinking and the high-interest of relevant subject matter is used to build on other knowledge. This exciting new book explores all the standard introductory Physical Geology topics using recent research, innovative pedagogy and a stunning art program to show readers how they can take geology and apply it to their world as a whole.
See More
Chapter 1 AN INTRODUCTION TO GEOLOGY.
Chapter 2 SOLAR SYSTEM.
Chapter 3 PLATE TECTONICS.
Chapter 4 MINERALS.
Chapter 5 IGNEOUS ROCK.
Chapter 6 VOLCANOES.
Chapter 7 WEATHERING.
Chapter 8 SEDIMENTARY ROCK.
Chapter 9 METAMORPHIC ROCK.
Chapter 10 GEOLOGIC RESOURCES.
Chapter 11 MOUNTAIN BUILDING.
Chapter 12 EARTHQUAKES.
Chapter 13 GEOLOGIC TIME.
Chapter 14 EARTH'S HISTORY.
Chapter 15 THE GEOLOGY OF THE UNITED STATES.
Chapter 16 GLOBAL WARMING.
Chapter 17 GLACIERS AND PALEOCLIMATOLOGY.
Chapter 18 MASS WASTING.
Chapter 19 SURFACE WATER.
Chapter 20 GROUNDWATER.
Chapter 21 DESERTS AND WIND.
Chapter 22 COASTAL GEOLOGY.
Chapter 23 MARINE GEOLOGY.
APPENDIX.
GLOSSARY.
PHOTO CREDITS.
INDEX.
See More
For ease of reading, we offer text in two page segments. Students find the book approachable, succinct, and extremely well organized.
Woven into each page are critical thinking exercises (similar to lab exercises) linked to illustrations and photos. These can all be graded automatically on-line.
We discuss relevant and provocative global issues such as peak oil, global warming, drought and water stress, population growth, natural hazards, environmental management, and others.
Provides classroom problems to supplement lecture.
Emphasizing the basic principles of geology, this text is easy to adopt into an existing syllabus. For example, plate tectonics is introduced early, and the entire text teaches to tectonics as a unifying theory of geology.
The writing is clear and jargon free. Reviewers emphasized, "These chapters are especially easy to read!"
Every page has several pieces of accurate, detailed, beautiful illustrations and photos. 
See More
Instructors Resources
ENHANCE YOUR COURSE
Digital evaluation copy available for this title
Request Copy

Contact your Wiley Representative
Find Your Rep

See More
See Less
Students Resources
See More
See Less
Purchase Options
Physical Geology: The Science of Earth
ISBN : 978-0-470-91308-6
February 2011, ©2011
Loose-leaf&nbsp&nbsp&nbsp
Physical Geology, Binder Ready Version
ISBN : 978-0-470-91757-2
736 pages
November 2010, ©2011
Paperback&nbsp&nbsp&nbsp
Physical Geology: The Science of Earth
ISBN : 978-0-471-22037-4
704 pages
November 2010, ©2011

Information about Wiley E-Texts:
Wiley E-Texts are powered by VitalSource technologies e-book software.
With Wiley E-Texts you can access your e-book how and where you want to study: Online, Download and Mobile.
Wiley e-texts are non-returnable and non-refundable.
WileyPLUS registration codes are NOT included with the Wiley E-Text. For informationon WileyPLUS, click here .
To learn more about Wiley e-texts, please refer to our FAQ.

Information about e-books:
E-books are offered as e-Pubs or PDFs. To download and read them, users must install Adobe Digital Editions (ADE) on their PC.
E-books have DRM protection on them, which means only the person who purchases and downloads the e-book can access it.
E-books are non-returnable and non-refundable.
To learn more about our e-books, please refer to our FAQ.
This title is also available on :