Textbook
Visualizing Human Geography: At Home in a Diverse World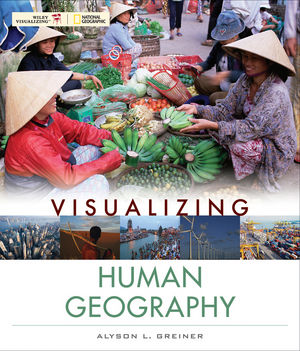 Visualizing Human Geography is a comprehensive, modern book for today's human geography course. With current examples, up-to-date content and a visual design that is accessible without sacrificing content, Visualizing Human Georgraphy will appeal to a broad range of students and generate enthusiasm for the discipline.


Table of Contents
1. What Is Human Geography?
2. Globalization and Cultural Geography.
3. Population and Migration.
4. Geographies of Language.
5. Geographies of Religion.
6. Geographies of Identity: Race, Ethnicity, Sexuality, and Gender.
7. Political Geography.
8. Urban Geographies.
9. Geographies of Development.
10. Changing Geographies of Industry and Services.
11. Agricultural Geographies.
12. Environmental Challenges.
Appendix A: Understanding Map Projections.
Appendix B: Answers to Self-Tests.
Glossary.
Hallmark Features
Links the narrative and concepts to visual elements
Highlights the relevance of concepts through practical examples
Integrates maps throughout to help reveal patterns or trends
Emphasizes divergent views and critical thinking
Reinforces concepts through photographs and other visuals
Available Versions