Textbook
The Restaurant: From Concept to Operation, 6th Edition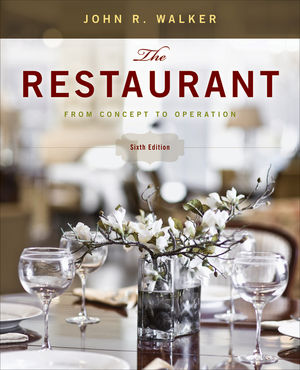 Turning your restaurant dreams into real success is an exciting challenge that requires a wide array of skills and a vast body of knowledge. The new
Sixth Edition
of
The Restaurant: From Concept to Operation
covers everything aspiring restaurateurs need to know to conceive, open, and run any type of restaurant. From concept to menus to staffing to legal and tax matters, this one-stop guide is packed with indispensable information to guide you to success in this highly competitive and rewarding industry.
This Sixth Edition has been revised, updated, and enhanced with numerous industry examples, advice containing sidebars, charts, tables, photographs, and menus, and includes the latest discussion of trends and issues within restaurant management, including the greening of the industry, sustainability, leadership, and social media as a marketing and sales opportunity.


Table of Contents
Chapter 1. Introduction 1
Chapter 2. Kinds and characteristics of restaurants and their owners 17
Chapter 3. Concept, location, and design 50
Chapter 4. Restaurant business and marketing plans 98
Chapter 5. Financing and leasing 124
Chapter 6. Legal and tax matters 161
Chapter 7. The menu 187
Chapter 8. Bar and beverages 216
Chapter 9. Food purchasing 241
Chapter 10. Planning and equipping the kitchen 261
Chapter 11. Restaurant operations and control 285
Chapter 12. Organization, recruiting, and staffing 309
Chapter 13. Employee training and development 342
Chapter 14. Service and guest relations 364
Chapter 15. Restaurant technology 382
New To This Edition
New Chapter: (10) Restaurant Leadership and Management defines the characteristics of an effective leader as well as what it takes to successfully lead restaurant employees.
Spotlights on sustainability and sustainable restaurant management throughout.
A greater emphasis on restaurant business plans, restaurant management, and restaurant operations.
An increased focus toward the independent restaurateur.
New topical coverage, including: the early history of eating out and restaurants in America; purchasing meat, cocktails, spirits, and nonalcoholic beverages; and the influences of Native American and African American food on the industry.
Hallmark Features
Comprehensive and reader friendly approach to all the basics
Takes readers step-by-step through the complicated process of planning, creating, and opening any type of restaurant
Includes information on topics such as staffing, legal and regulatory concerns, cost control and general financing, marketing and promotion, kitchen planning and design, the menu, sanitation and concept
Strong pedagogical features such as learning objectives, key terms and concepts, and review questions in each chapter
Includes up-to-date restaurant profiles, as well as sidebars offering advice, charts, tables, photographs and menus
Available Versions