Textbook
Basic Engineering Circuit Analysis, 10th Edition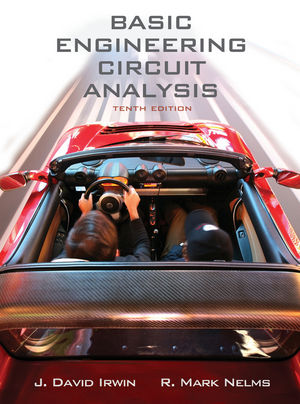 Basic Engineering Circuit Analysis has long been regarded as the most dependable textbook for students otherwise intimidated by the subject matter. With this new 10th edition, Irwin and Nelms continue to develop the most complete set of pedagogical tools available and thus provide the highest level of support for students entering into this complex subject.
Irwin and Nelms trademark student-centered learning design focuses on helping students complete the connection between theory and practice. This theme starts with chapter openers that include specific learning objectives for the chapter, around which all chapter content is structured. All key concepts are described in text, illustrated with solved example problems, and then followed by Learning Assessments, which are similar problems with the answer given, but not the solution. Students can then complete the connection by solving an algorithmic variation of that. Further end-of-chapter problems gradually raise the level of complexity. All learning modules include reading quiz questions in WileyPLUS, so faculty can identify gaps in student learning and students can measure their own mastery of the material.

for
Basic Engineering Circuit Analysis, 10th Edition
. Learn more at
WileyPLUS.com


Table of Contents
Chapter 1. Basic concepts 1
Chapter 2. Resistive circuits 17
Chapter 3. Nodal and loop analysis techniques 82
Chapter 4. Operational amplifiers 133
Chapter 5. Additional analysis techniques 165
Chapter 6. Capacitance and inductance 226
Chapter 7. First- and second-order transient circuits 267
Chapter 8. AC steady-state analysis 346
Chapter 9. Steady-state power analysis 419
Chapter 10. Magnetically coupled networks 471
Chapter 11. Polyphase circuits 516
Chapter 12. Variable-frequency network performance 546
Chapter 13. The Laplace transform 632
Chapter 14. Application of the Laplace transform to circuit analysis 658
Chapter 15. Fourier analysis techniques 709
Chapter 16. Two-port networks 757
Appendix Complex numbers 783
New To This Edition
New chapter openers and photos connect concepts in the book to novel real-world applications.
Each chapter now begins with, and is structured around, specific learning objectives.
Circuits is a problem-solving discipline, learned through practice. Tools to help students build their problem-solving skills have been expanded to take full advantage of the combination of print and digital media. Key concepts are first described in text with illustrations, followed by detailed example solutions, and then problems with answers given, called Learning Assessments. Each Learning Assessment is also offered as a video tutorial in WileyPLUS. Finally, algorithmic problems give students the opportunity to practice the same types of problems with different values. The problem-solving videos (PSVs) are now also available as iPod downloads.
In order to provide maximum flexibility, solved examples are available in online supplements that apply the most popular problem-solving programs, MATLAB, PSPICE or MultiSim. These examples are all based on problems in the text, and any or all of them can be integrated into custom editions of the text.
Problem material has been greatly expanded and revised. There are approximately 1400 problems in the 10th Edition, including hundreds of new problems of all levels of difficulty.
Every chapter includes FE Exam Problems, which closely match the style and level of problems typically found on this standardized test taken by most engineering students before graduation.
Hallmark Features
Extensive 'teaching-by-example' approach; key concepts are explained multiple times in varying formats to support diverse learning styles.
The four-color design is employed to enhance and clarify both text and illustrations. This greatly improves the pedagogical presentation, particularly with complex circuit illustrations. A consistent color scheme for circuit elements and other graphic components is used throughout the text.
Detailed, flexible coverage of the most popular problem-solving software -- Pspice, MATLAB, and LabView – is provided in online supplements that can be included in custom print versions at the professor's discretion.
Every chapter includes FE Exam Problems, which closely match the style and level of problems typically found on this standardized test taken by most engineering students before graduation
Available Versions