Textbook
Integrated Business Processes with ERP Systems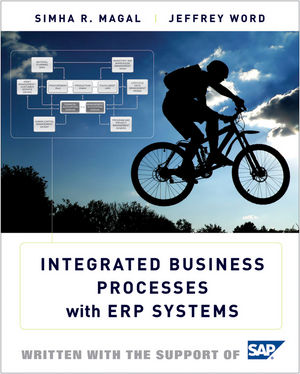 Integrated Business Processes with ERP Systems covers the key processes supported by modern ERP systems. This textbook and the WileyPLUS online course is designed for use as both a reference guide and a conceptual resource for students taking ERP-focused courses using SAP. It examines in depth the core concepts applicable to all ERP environments, and it explains how those concepts can be utilized to implement business processes in SAP systems.
Join our Facebook group for this title:  www.facebook.com/IBPERP
See More
1 Introduction to Business Processes 1
The Functional Organizational Structure 2
Business Processes 4
Global Bike Incorporated (GBI) 15
How to use This Book 16
2 Introduction to Enterprise Systems 23
Enterprise Systems 23
Data in an Enterprise System 29
Reporting 37
3 Introduction to Accounting 49
Organizational Data 51
Master Data 52
Key Concepts 58
Processes 61
Reporting 72
4 The Procurement Process 83
Organizational Data 84
Master Data 89
Key Concepts 95
Process 102
Reporting 119
5 The Fulfillment Process 127
Organizational Data 128
Master Data 139
Process 145
Credit Management Process 167
Reporting 170
6 The Production Process 179
Master Data 182
Process 196
Reporting 215
7 Inventory and Warehouse Management Processes 221
Inventory Management 222
Organizational Data in Warehouse Management 234
Master Data in Warehouse Management 239
Processes in Warehouse Management 242
Reporting 257
8 The Material Planning Process 269
Master Data 271
Process 285
Reporting 304
9 Process Integration 315
Procurement, Fulfi llment, and IWM Processes 318
Procurement, Fulfi llment, Production, and IWM Processes 332
Index 349
See More
Simha R.
Magal, Ph.D.,
is professor of management (MIS) and director, ERP initiative, in the Seidman College of Business at Grand Valley State University. He received his doctorate from the University of Georgia. His primary research interests include e-business and enterprise systems. Dr. Magal's articles have appeared in such publications as MIS Quarterly, Journal of MIS, and Information and Management, among others, and he has served on the editorial boards of several journals. Dr. Magal has taught courses related to business processes and enterprise systems that utilize SAP for more than a decade. He is an SAP-certified associate consultant and a TERP10 academy instructor.
Jeffrey Word, Ph.D., is vice president of product strategy at SAP AG. He is responsible for defining SAP's future product strategy and for fostering product innovation within SAP. Dr. Word has worked for several Global 1000 companies in the high-tech industry for nearly 20 years, specializing in business consulting and IT strategy. At SAP, he has driven the evolution of the company's enterprise technology strategy, with a special focus on corporate process improvement initiatives and services-based IT architecture design. Dr. Word earned his Ph.D. in information systems at Manchester Business School in England.
See More
• Integrated Business Processes with ERP Systems approaches topics using an integrated process perspective of the firm. Each process is discussed within the context of its execution across functional areas in the company, with special emphasis on the role of data in managing the coordination between activities and groups. Students will gain a deep appreciation for the role of enterprise systems in efficiently managing processes from multiple functional perspectives.
• Running Case Study - Many key examples, demonstrations, and assignments incorporated throughout the book are based on a fictional company, Global Bike Incorporated (GBI). GBI exists virtually in the GBI ERP system, which will be used to provide hands-on experience with executing the various processes in SAP ERP.
• Real-World Examples - In addition to the integrated approach and the GBI case study, the text includes multiple scenarios that demonstrate how businesses actually utilize ERP capabilities. Examples of both positive and negative issues associated with enterprise systems are integrated throughout the chapters to illustrate the concepts with real-world experiences.
• WileyPLUS resources include the complete book online, recorded demonstrations of each key activity, and interactive hands-on assignments using the SAP platform.
See More
Instructors Resources
ENHANCE YOUR COURSE

Instant access to textbooks as eTextbooks.
Learn more

Digital evaluation copy available for this title
Request Copy

Contact your Wiley Representative
Find Your Rep

See More
See Less
Purchase Options
Integrated Business Processes with ERP Systems
ISBN : 978-0-470-57167-5
384 pages
March 2011, ©2010
Loose-leaf&nbsp&nbsp&nbsp
Integrated Business Processes with ERP Systems, Binder Ready Version
ISBN : 978-0-470-92094-7
March 2011, ©2012
Hardcover&nbsp&nbsp&nbsp
Integrated Business Processes with ERP Systems
ISBN : 978-0-470-47844-8
384 pages
August 2011, ©2012

Information about Wiley E-Texts:
Wiley E-Texts are powered by VitalSource technologies e-book software.
With Wiley E-Texts you can access your e-book how and where you want to study: Online, Download and Mobile.
Wiley e-texts are non-returnable and non-refundable.
WileyPLUS registration codes are NOT included with the Wiley E-Text. For informationon WileyPLUS, click here .
To learn more about Wiley e-texts, please refer to our FAQ.

Information about e-books:
E-books are offered as e-Pubs or PDFs. To download and read them, users must install Adobe Digital Editions (ADE) on their PC.
E-books have DRM protection on them, which means only the person who purchases and downloads the e-book can access it.
E-books are non-returnable and non-refundable.
To learn more about our e-books, please refer to our FAQ.
This title is also available on :