Textbook
Control Systems Engineering, 6th Edition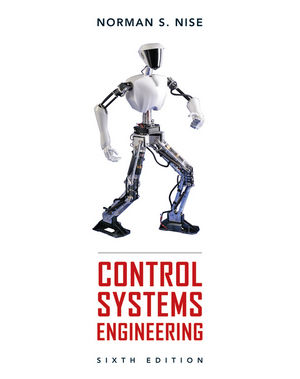 Highly regarded for its accessible writing and practical case studies, Control Systems Engineering is the most widely adopted textbook for this core course in Mechanical and Electrical engineering programs. This new sixth edition has been revised and updated with 20% new problems and greater emphasis on computer-aided design.
See More
PREFACE.
1. INTRODUCTION.
2. MODELING IN THE FREQUENCY DOMAIN.
3. MODELING IN THE TIME DOMAIN.
4. TIME RESPONSE.
5. REDUCTION OF MULTIPLE SUBSYSTEMS.
6. STABILITY.
7. STEADY-STATE ERRORS.
8. ROOT LOCUS TECHNIQUES.
9. DESIGN VIA ROOT LOCUS.
10. FREQUENCY RESPONSE TECHNIQUES.
11. DESIGN VIA FREQUENCY RESPONSE.
12. DESIGN VIA STATE SPACE.
13. DIGITAL CONTROL SYSTEMS.
Appendix A List of Symbols.
Appendix B MATLAB Tutorial.
Appendix C MATLAB's Simulink Tutorial.
Appendix D LabVIEW Tutorial.
Glossary.
Answers to Selected Problems.
Credits.
Index.
Appendix E MATLAB's GUI Tools Tutorial (Online).
Appendix F MATLAB's Symbolic Math Toolbox Tutorial (Online).
Appendix G Matrices, Determinants, and Systems of Equations (Online).
Appendix H Control System Computational Aids (Online).
Appendix I Derivation of a Schematic for a DC Motor (Online).
Appendix J Derivation of the Time Domain Solution of State Equations (Online).
Appendix K Solution of State Equations for t0 6¼ 0 (Online).
Appendix L Derivation of Similarity Transformations (Online).
Appendix M Root Locus Rules: Derivations (Online).
Control Systems Engineering Toolbox (Online).
Cyber Exploration Laboratory Experiments Covers Sheets (Online).
Lecture Graphics (Online).
Solutions to Skill-Assessment Exercises (Online).
See More
Close the loop between your lectures and the lab!
Integrated throughout the Nise text are 
10 virtual experiments
, which enable students to implement the
design-simulate-prototype
workflow of practicing engineers. Powered by LabVIEW software and simulations of Quanser's lab plants, the virtual labs enable students to apply concepts to virtual systems, implement control solutions and evaluate their results. The virtual labs deepen the homework learning experience and prepare students to make more effective use of their time in the lab. 
Empower your students to take control of their learning with virtual labs accessible anywhere internet is available!
20% new end-of-chapter problems that highlight biomedical,robotics,or other engineering applications including a new progressive analysis and design problem – a hybrid electric vehicle
Greater emphasis on computer-aided analysis and design,including MATLAB®, LabVIEW, and Simulink
Visit www.quansercontrollabs.com for additional information related to Quanser.
See More
Accessibly written. Generally regarded as the best written control textbook, noted for clear writingand accessible presentation. (11 of 18 Amazon reviewers give it a 5 out of 5)
Design Emphasis. Students are encouraged to go beyond a ?plug-and-chug? approach through the use of design problems, progressive analysis and design problems, and examples and problems related to the case studies.
Real-world case studies (an autonomous submersible vehicle and an antenna position control system) are built up gradually throughout the chapters to demonstrate the analysis and design process.
Strong learning-by-example pedagogical approach. Skill-assessment exercises demonstrate step-by-step techniques to solve most problems; cyber exploration labs show how to apply popular software tools (MATLAB®, LabVIEW, Simulink) to control engineering problems.
Clearly ties mathematics to physical reality, so students can comprehend how theoretical concepts connect to actual system dynamics.
See More
Purchase Options
Control Systems Engineering, 6th Edition
ISBN : 978-0-470-91373-4
944 pages
February 2011, ©2011
Loose-leaf&nbsp&nbsp&nbsp
Control Systems Engineering, 6th Edition Binder Ready Version
ISBN : 978-0-470-91769-5
944 pages
December 2010, ©2011
Hardcover&nbsp&nbsp&nbsp
Control Systems Engineering, 6th Edition
ISBN : 978-0-470-54756-4
944 pages
December 2010, ©2011

Information about Wiley E-Texts:
Wiley E-Texts are powered by VitalSource technologies e-book software.
With Wiley E-Texts you can access your e-book how and where you want to study: Online, Download and Mobile.
Wiley e-texts are non-returnable and non-refundable.
WileyPLUS registration codes are NOT included with the Wiley E-Text. For informationon WileyPLUS, click here .
To learn more about Wiley e-texts, please refer to our FAQ.

Information about e-books:
E-books are offered as e-Pubs or PDFs. To download and read them, users must install Adobe Digital Editions (ADE) on their PC.
E-books have DRM protection on them, which means only the person who purchases and downloads the e-book can access it.
E-books are non-returnable and non-refundable.
To learn more about our e-books, please refer to our FAQ.