Textbook
Operating System Concepts Essentials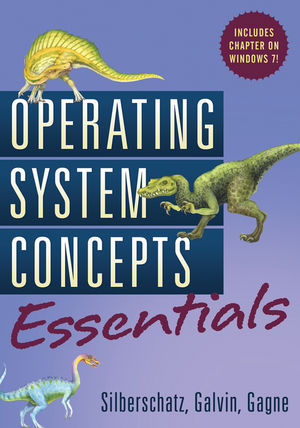 By staying current, remaining relevant, and adapting to emerging course needs, Operating Systems Concepts by Abraham Silberschatz, Peter Baer Galvin and Greg Gagne has defined the operating systems course through eight editions. A new Essentials version from this award winning team will soon be available and we invite you to consider it for your students.
Based on the bestselling 8th edition, Operating System Concepts Essentials provides readers with a streamlined text that focuses on the core concepts that underlie contemporary operating systems. It has been designed to reflect a typical undergraduate course syllabus in operating systems but offers an alternative format to enable students to grasp the essential features of a modern operating system more easily and more quickly.
See More
PART ONE. OVERVIEW.
Chapter 1. Introduction.
Chapter 2. Operating-System Structures.
PART TWO. PROCESS MANAGEMENT.
Chapter 3. Processes
Chapter 4. Threads.
Chapter 5. CPU Scheduling.
Chapter 6. Process Synchronization.
PART THREE. MEMORY MANAGEMENT.
Chapter 7. Main Memory.
Chapter 8. Virtual Memory.
PART FOUR. STORAGE MANAGEMENT.
Chapter 9. File-System Interface.
Chapter 10. File-System Implementation.
Chapter 11. Mass-Storage Structure.
Chapter 12. I/O Systems.
PART FIVE. PROTECTION AND SECURITY.
Chapter 13. Protection.
Chapter 14. Security.
PART SIX. CASE STUDIES.
Chapter 15. The Linux/System.
Chapter 16. Windows 7
PART SEVEN. APPENDICES.
Appendix A. BSD UNIX (contents online).
Appendix B. The Mach System (contents online).
See More
Focuses on core concepts to help instructors and students better align the content of the book with the syllabus of the typical course. The briefer book is also priced to enhance its value to the student.
The authors have omitted materials that are less often assigned in the course.
Includes a thorough update of OSC 8e and a new chapter on Windows7®.
Updated coverage of many topics including multicore CPUs, virtual machines, and open-source operating systems.
Additional practice exercises for students online.
Clear, authoritative coverage of the concepts that underlie operating systems.
Teaches general concepts in operating systems while allowing for a choice in implementation systems.
Includes programming problems and projects.
See More
Instructors Resources
ENHANCE YOUR COURSE

Instant access to textbooks as eTextbooks.
Learn more

Digital evaluation copy available for this title
Request Copy

Contact your Wiley Representative
Find Your Rep

See More
See Less
Purchase Options
Operating System Concepts Essentials
ISBN : 978-1-118-02696-0
752 pages
February 2011, ©2012
Loose-leaf&nbsp&nbsp&nbsp
Operating System Concepts Essentials, Binder Ready Version
ISBN : 978-0-470-91773-2
752 pages
March 2011, ©2012
Paperback&nbsp&nbsp&nbsp
Operating System Concepts Essentials
ISBN : 978-0-470-88920-6
752 pages
November 2010, ©2011

Information about Wiley E-Texts:
Wiley E-Texts are powered by VitalSource technologies e-book software.
With Wiley E-Texts you can access your e-book how and where you want to study: Online, Download and Mobile.
Wiley e-texts are non-returnable and non-refundable.
WileyPLUS registration codes are NOT included with the Wiley E-Text. For informationon WileyPLUS, click here .
To learn more about Wiley e-texts, please refer to our FAQ.

Information about e-books:
E-books are offered as e-Pubs or PDFs. To download and read them, users must install Adobe Digital Editions (ADE) on their PC.
E-books have DRM protection on them, which means only the person who purchases and downloads the e-book can access it.
E-books are non-returnable and non-refundable.
To learn more about our e-books, please refer to our FAQ.
This title is also available on :