Textbook
Biology Basics Review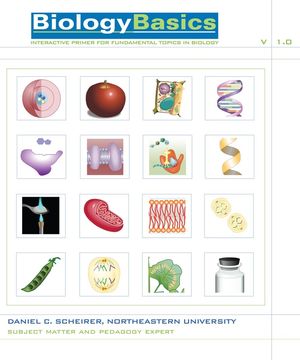 Designed for a one or two semester course in introductory biology taught at most two and four-year colleges. These 16 standalone, interactive, online modules walk students through basic key concepts studied in biology.  Each self-contained module provides basic presentation of the concept and an activity to help the user understand key biological concepts. 
Table of Contents
1. Scientific Method

2. Atoms & Chemical Bonds

3. Carbohydrates

4. Proteins

5. Lipids

6. Nucleic Acids

7. Cell Structure

8. How Enzymes Work

9. Cellular Respiration

10. Photosynthesis

12. The Cell Division Cycle (Mitosis)

13. Meiosis

14. Mendelian Inheritance

15. DNA Structure & Replication

16. From Gene to Protein (Transcription and Translation)
Hallmark Features
Provides basic facts and information needed to understand key biological concepts.
Interactive material helps the students engage in key concepts furthering their understanding of the material.
Does not require any prerequisite material.  Can be assigned to student's prior to lecture helping them to understand key concepts being discussed in class and ensuring better student preparation.
A great resource for a variety of biology courses.  A great review tool for other courses such as Nutrition, Microbiology, Anatomy & Physiology, Cell Biology, Genetics.
Available Versions