Textbook
Essentials of Anatomy and Physiology Laboratory Manual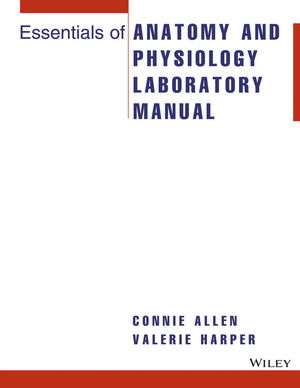 This interactive manual presents lab activities in a clear, concise, and student-friendly writing style. It contains activities and experiments that enhance students' ability to both visualize anatomical structures and understand physiological topics. Lab exercises require students to first apply information they learn and then critically evaluate it. The manual is written to not only complement the new edition of Tortora & Grabowski's Introduction to the Human Body, Sixth Edition, but to work effectively with any of the leading essentials textbooks.
See More
Preface.
Exercise 1 - Anatomical Language.
Exercise 2 - Organ Systems and Body Cavities.
Exercise 3 - Compound Light Microscope.
Exercise 4 - Cell Structure and Cell Cycle.
Exercise 5 - Transport Across Cell Membranes.
Exercise 6 - Tissues.
Exercise 7 - Integumentary System.
Exercise 8 - Bone Structure.
Exercise 9 - Axial Skeleton.
Exercise 10 - Appendicular Skeleton.
Exercise 11 - Joints and Synovial Joint Movements.
Exercise 12 - Contraction of Skeletal Muscle.
Exercise 13 - Skeletal Muscles and Their Actions.
Exercise 14 - Spinal Cord and Spinal Nerves.
Exercise 15 - Somatic Reflexes.
Exercise 16 - Brain and Cranial Nerves.
Exercise 17 - Special Senses: The Eye.
Exercise 18 - Special Senses: The Ear.
Exercise 19 - Endocrine System.
Exercise 20 - The Blood.
Exercise 21 - Structure of the Heart.
Exercise 22 - Heart Sounds, Pulse Rate, and Blood Pressure.
Exercise 23 - Blood Vessel Structure and Identification.
Exercise 24 - Structure of the Respiratory System.
Exercise 25 - Pulmonary Ventilation.
Exercise 26 - Structure of the Digestive System.
Exercise 27 - Mechanical and Chemical Digestion.
Exercise 28 - Structure of the Urinary System and Urinalysis.
Exercise 29 - Male and Female Reproductive Systems.
Answer Key to Activities.
Index.
See More
Brevity and Conciseness of Text. This lab manual covers the maximum amount of material in the briefest and most hands-on way. Topics that are not covered in the one semester course have been omitted, and descriptive text is kept to a minimum.
Self-contained Lab Exercises. All pedagogical features are complete for each Exercise, including the "Reviewing Your Knowledge" Lab Reports.
vVariety of Questions and Activities. The manual includes fill-in-the blank, art labeling, coloring, identification exercises, and thought-provoking Critical Thinking Questions that summarize concepts learned in that lab.
Illustration Program. Many of the figures are picked up from Tortora & Grabowski's Introduction to the Human Body 6e. Labels are removed from most figures for exercises and activities, other figures are revised into a coloring-book style format for coloring exercises.
Answer Key. Includes answers to in-lab activities and Reviewing Your Knowledge Lab reports for self-grading.
See More
"Lab. Activity well organized and guides student with information and then with exercise opportunities to assimilate this knowledge. The diagrams are clear and encourage the reader to partake in the variously designed self-testing exercises. This is an excellent self-learning module."
R. Hoots, Woodland College
"This lab provided my students with a wealth of information. I really appreciated the fact that the information was not to far above their heads and easy to read. It reinforced exactly what I teach on the cardiac system. Thanks."
Julie Marsh
"Your drawings are exceedingly clear and the exercises very appropriate. I especially like the muscle groupings with important information about each in one location."
Randall Barre, CSTCC
See More
Purchase Options
Paperback&nbsp&nbsp&nbsp
Essentials of Anatomy and Physiology Laboratory Manual
ISBN : 978-0-471-46516-4
384 pages
October 2003, ©2004

Information about Wiley E-Texts:
Wiley E-Texts are powered by VitalSource technologies e-book software.
With Wiley E-Texts you can access your e-book how and where you want to study: Online, Download and Mobile.
Wiley e-texts are non-returnable and non-refundable.
WileyPLUS registration codes are NOT included with the Wiley E-Text. For informationon WileyPLUS, click here .
To learn more about Wiley e-texts, please refer to our FAQ.

Information about e-books:
E-books are offered as e-Pubs or PDFs. To download and read them, users must install Adobe Digital Editions (ADE) on their PC.
E-books have DRM protection on them, which means only the person who purchases and downloads the e-book can access it.
E-books are non-returnable and non-refundable.
To learn more about our e-books, please refer to our FAQ.
This title is also available on :
Learn more about