Textbook
Garde Manger: The Art and Craft of the Cold Kitchen, 3rd Edition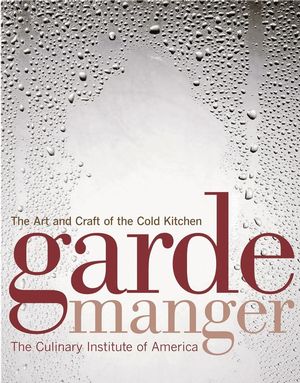 Garde Manger: The Art and Craft of the Cold Kitchen
is the market's leading textbook for its subject in the culinary education market. This
Second Edition
offers the most up-to-date kitchen reference on hot and cold buffet from the kitchen-tested wisdom of The Culinary Institute of America's chefs and teachers. The book covers a range of topics, from salads and sandwiches to hors d'oeuvres and appetizers and includes over 500 recipes to inspire the student.
A knowledge of garde manger is an essential part of every culinary student's training, and Garde Manger is the market leading book on the topic.  The art of garde manger includes a broad base of culinary skills, from basic cold food preparations to roasting, poaching, simmering, and sauteing meats, fish, poultry, vegetables, and legumes. A comprehensive guide to the art and craft of garde manger, this book includes detailed information on cold sauces and soups; salads; sandwiches; cured and smoked foods; sausages; terrines, pates, galantines, and roulades; cheese; appetizers and hors d'oeuvres; condiments, crackers, and pickles; and buffet development and presentation.  The book also includes a history of garde manger from the original European tradition through the modern day, as well as a glossary of terms and a recommended reading list.  There are 540 recipes accompanied by over 280 full-color photographs, which illustrate key step-by-step techniques and finished plates.  This new edition provides the most up-to-date recipes, plating techniques, and flavor profiles being used in the field today.
See More
Acknowledgements.
Preface.
Chapter One. The Professional Garde Manger.
Chapter Two. Cold Sauces and Cold Soups.
Chapter Three. Salads.
Chapter Four. Sandwiches.
Chapter Five. Cured and Smoked Foods.
Chapter Six. Sausage.
Chapter Seven. Terrines, Pates, Galantines, and Roulades.
Chapter Eight. Cheese.
Chapter Nine. Appetizers and Hors d'Oeuvre.
Chapter Ten. Condiments, Crackers, and Pickles.
Chapter Eleven. Buffet Presentation.
Chapter Twelve. Basic Recipes.
Glossary.
Bibliography and Recommended Reading.
Recipe Index.
Subject Index.
See More
Founded in 1946, The Culinary Institute of America is an independent, not for profit college offering bachelor's and associate degrees in culinary arts and baking and pastry arts. A network of more than 37,000 alumni in foodservice and hospitality has helped the CIA earn its reputation as the world's premier culinary college. Courses for foodservice professionals are offered at the college's main campus in Hyde Park, NY and at The Culinary Institute of America at Greystone, in St. Helena, CA. Greystone also offers baking and pastry, advanced culinary arts, and wine certifications.
See More
Features 100 all-new recipes, as well as new content on micro greens; international sandwiches; brining ratios; fermented sausages; artisanal American cheeses; tapas tasting menus; savory sorbets; new caviar options; breakfast buffets; raw bar, pasta, and omelet buffet stations; and ice carving

Includes 115 process shots to illustrate important step-by-step techniques, and 75 beautiful photographs showing finished dishes

Objectives at the beginning of each chapter and bolded key terms throughout the text add a pedagogical element that students and instructors will find helpful
See More
The most comprehensive reference book available on the subject

Covers a range of topics, from salads and sandwiches to hors d'oeuvres and appetizers--all the hot and cold food preparation knowledge the skilled garde manger needs

Photographs by award-winning photographer Ben Fink show finished dishes and important techniques to help the reader visualize key concepts, from curing salmon and bacon to making and decanting flavored oils

Contemporary preparation and presentation ideas help chefs produce and use garde manger in the professional kitchen, permitting greater menu flexibility
See More
Purchase Options
Hardcover&nbsp&nbsp&nbsp
Garde Manger: The Art and Craft of the Cold Kitchen, 3rd Edition
ISBN : 978-0-470-05590-8
688 pages
January 2008

Information about Wiley E-Texts:
Wiley E-Texts are powered by VitalSource technologies e-book software.
With Wiley E-Texts you can access your e-book how and where you want to study: Online, Download and Mobile.
Wiley e-texts are non-returnable and non-refundable.
WileyPLUS registration codes are NOT included with the Wiley E-Text. For informationon WileyPLUS, click here .
To learn more about Wiley e-texts, please refer to our FAQ.

Information about e-books:
E-books are offered as e-Pubs or PDFs. To download and read them, users must install Adobe Digital Editions (ADE) on their PC.
E-books have DRM protection on them, which means only the person who purchases and downloads the e-book can access it.
E-books are non-returnable and non-refundable.
To learn more about our e-books, please refer to our FAQ.