Textbook
The Art of Charcuterie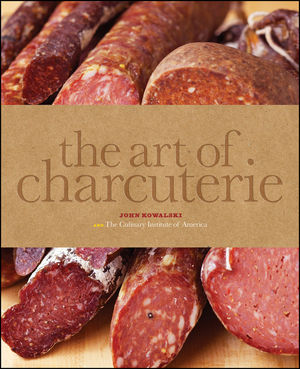 A comprehensive, professional-level guide to the making of sausages and cured meats

The art of charcuterie has been practiced since the fifteenth century, but in recent years interest has escalated in this artisanal specialty. Pâtés, cured meats, terrines, and gourmet sausages are staples at upscale restaurants as well as cocktail and dinner parties. Modern charcutiers have introduced new and exciting techniques and flavors for delicious (and even healthy) charcuterie. Written by John Kowalski and the experts at the CIA, The Art of Charcuterie covers every aspect of this rediscovered culinary art: curing and brining, smoking, terrines, pâtés, sausages, herbs and seasonings, sauces and relishes, and kitchen sanitation.
•    Features thorough explanations of tools of the trade, kitchen equipment, and ingredients
•    Includes technical and nutritional explanations of all the meats used in the charcuterie kitchen and how to best prepare them
•    Heavily illustrated with 200 full-color photographs, including techniques and finished items

The Art of Charcuterie is the ultimate companion for professionals and dedicated home cooks who want to master both traditional and contemporary techniques.

See More
Acknowledgments.
Introduction.
Chapter One: Equipment.
Chapter Two: Spices, Herbs, and Seasonings.
Chapter Three: Meats, Poultry, and Seafood.
Chapter Four: Sanitation.
Chapter Five: Curing and Brining.
Chapter Six: Smoking.
Chapter Seven: Forcemeats.
Chapter Eight: Sausages.
Chapter Nine: Condiments.
Resources.
Conversion Tables.
Glossary.
Subject Index.
Recipe Index.
See More
Founded in 1946,
The Culinary Institute of America
is an independent, not-for-profit college offering bachelor's and associate degrees in culinary arts and baking and pastry arts, as well as certificate programs in culinary arts and wine and beverage studies. A network of more than 40,000 alumni has helped the CIA earn its reputation as the world's premier culinary college. The CIA, which also offers courses for industry professionals and food enthusiasts, has campuses in New York (Hyde Park), California (St. Helena), and Texas (San Antonio).
John Kowalski is a Certified Hospitality Educator and a professor of culinary arts at the CIA. His previous experience includes restaurant positions at Le Chantilly, Le Périgord Park, and Petite Marmite. He also has worked as a corporate traveling chef throughout the United States and as an educational administrator at Empire State College. Kowalski competed with the CIA's faculty teams in the Sociètè Culinaire Philanthropique's New York Culinary Salon in 1995 and 1996 and 2001 through 2003. His awards include First Prize for Cooking and an Honorable Mention for Pastry in 1995, First Prize for Culinary Presentation in 2002, and the Salon's grand prize, the Marc L. Sarrazin Trophy, in 2003.
See More
Instructors Resources
Request a print evaluation copy
Contact us

Contact your Wiley Representative
Find Your Rep

See More
See Less
Purchase Options
Hardcover
The Art of Charcuterie
ISBN : 978-0-470-19741-7
400 pages
December 2010, ©2010

Information about Wiley E-Texts:
Wiley E-Texts are powered by VitalSource and accessed via the VitalSource Bookshelf reader, available online and via a downloadable app.
Wiley E-Texts are accessible online and offline, and can be read on a variety of devices, including smartphones and tablets.
Wiley E-Texts are non-returnable and non-refundable.
Wiley E-Texts are protected by DRM. For specific DRM policies, please refer to our FAQ.
WileyPLUS registration codes are NOT included with any Wiley E-Text. For informationon WileyPLUS, click here .
To learn more about Wiley E-Texts, please refer to our FAQ.

Information about e-books:
E-books are offered as e-Pubs or PDFs. To download and read them, users must install Adobe Digital Editions (ADE) on their PC.
E-books have DRM protection on them, which means only the person who purchases and downloads the e-book can access it.
E-books are non-returnable and non-refundable.
To learn more about our e-books, please refer to our FAQ.