Textbook
Chocolates and Confections: Formula, Theory, and Technique for the Artisan Confectioner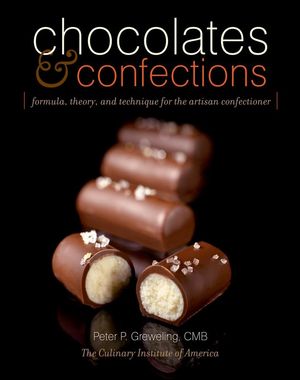 Candymaking is in the midst of a revolution. The public is increasingly hungry for hand-crafted chocolates and confections, heightening appreciation for the work of artisan confectioners who use traditional techniques and fine ingredients. Now, master confectioner Peter Greweling of The Culinary Institute of America has at lastproduced the bible of artisan confectionery—a comprehensive guide to the ingredients, theory, techniques, and formulas needed to create every kind of chocolate and confection.
Illustrated throughout with nearly 200 striking full-color photographs and illustrations,Chocolates & Confections provides a comprehensive foundation in confectionery, offering accessible explanations of theory as well as illustrated step-by-step guidance on technique, from tempering chocolate to candying fruit. It also includes helpful charts that pinpoint common candy-making pitfalls and how to avoid them, guides to the best quality chocolate and other all-natural confectionery ingredients, as well as information on packaging and storage.
Chocolates & Confections features chapters on every confectionery type—cream ganache, butter ganache, non-crystalline sugar confections, crystalline sugar confections, jellies, aerated confections, and nut centers—and includes nearly 150 formulas for classic confections, such as marzipan made using fresh almonds, as well as contemporary variations such as Madras, a coconut curry butter ganache. From truffles, butter ganache confections, hard candies, brittles, toffee, caramels, and taffy to fondants, fudges, gummies, candied fruit, marshmallows, divinity, nougat, marzipan, gianduja, and rochers, it demonstrates how to produce world-class confections and provides the in-depth background information candy-makers need to formulate their own signature creations.
Available Versions