Textbook
The Dynamic Earth: An Introduction to Physical Geology, 5th Edition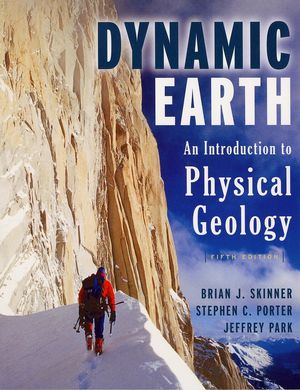 With authoritative and detailed coverage, Skinner and Porter address all key areas of physical geology, as well as recent events that have shaped our world. The new edition is updated to address the latest in geoscientific research, theory, and knowledge.

Emphasis on the unifying themes of physical geology

Expands the earth systems science viewpoint of previous editions

Introduces readers to remote sensing, global positioning systems, and other tools

Exciting, first-hand accounts from the field relate geology to everyday life experiences

Includes a GeoDiscoveries CD with an interactive globe, animations, videos, and more
See More
1 Meet Planet Earth 2
2 Global Tectonics: Our Dynamic Planet 30
3 Atoms, Elements, Minerals, Rocks: Earth's Building Materials 66
4 Igneous Rocks: Products of Earth's Internal Fire 98
5 Magmas and Volcanoes 120
6 Weathering and Soils 147
7 Sediments and Sedimentary Rocks: Archives of Earth History 172
8 Metamorphism and Metamorphic Rocks: New Rocks from Old 202
9 How Rock Bends, Buckles, and Breaks 224
10 Earthquakes and Earth's Interior 246
11 Geologic Time and the Rock Record 276
12 The Changing Face of the Land 302
13 Mass Wasting 324
14 Streams and Drainage Systems 352
15 Groundwater 382
16 Glaciers and Glaciation 410
17 Atmosphere, Winds and Deserts 446
18 The Oceans and Their Margins 474
19 Climate and Our Changing Planet 508
20 Earth Through Geologic Time 530
21 Resources of Minerals and Energy 560
Appendix A
Units and Their Conversions A1
Appendix B
Tables of the Chemical Elements and
Naturally Occurring Isotopes A4
Appendix C:
Table of the Properties of Common
Minerals A7
Glossary G1
Selected References, R1
Credits C1
Index I1
See More
Introduces plate tectonics and the Earth system in the first two chapters. Each chapter also features a section titled Revisiting Plate Tectonics and the Earth System.
This edition features new co-author and geophysicist Jeffrey Park of Yale University.
Uses GPS measurements to introduce plate tectonics in Chapter 2. Historic evidence, based on paleomagnetism, is discussed in Chapter 20: Earth Through Geologic Time.
Features revised chapter order based on feedback from users (see Table of Contents).
Integrates throughout the book discussions of human effects on the environment. The human race is presented as a force affecting changes to Earth.
Includes revisions, updates, and corrections in all chapters. About 25% of the illustrations in this edition are new, and many of the new illustrations reflect current and ongoing research.
See More
Early focus on plate tectonics: The topic is discussed thoroughly in the first two chapters of the text. The authors introduce plate tectonics as a natural consequence of Earth's ongoing loss of internal heat, with GPS measurements, isostasy and global patterns of earthquakes and volcanoes as the observational evidence.
Emphasis on the Earth system: The concept of Earth as a unified, interconnected system is introduced in Chapter 1, and stressed throughout the text. This approach helps students tie together geologic facts that might otherwise seem disconnected.
Plate tectonics and the Earth system are "revisited" in each chapter: A concluding section in each chapter connects the specialized topics of a chapter to the central themes of the book.
Personal essays from the authors: Each chapter begins with an essay from one of the authors about his research in the subfield of geology covered in the chapter.
See More
Purchase Options
Paperback
The Dynamic Earth: An Introduction to Physical Geology, 5th Edition
ISBN : 978-0-471-15228-6
648 pages
April 2003, ©2004

Information about Wiley E-Texts:
Wiley E-Texts are powered by VitalSource and accessed via the VitalSource Bookshelf reader, available online and via a downloadable app.
Wiley E-Texts are accessible online and offline, and can be read on a variety of devices, including smartphones and tablets.
Wiley E-Texts are non-returnable and non-refundable.
Wiley E-Texts are protected by DRM. For specific DRM policies, please refer to our FAQ.
WileyPLUS registration codes are NOT included with any Wiley E-Text. For informationon WileyPLUS, click here .
To learn more about Wiley E-Texts, please refer to our FAQ.

Information about e-books:
E-books are offered as e-Pubs or PDFs. To download and read them, users must install Adobe Digital Editions (ADE) on their PC.
E-books have DRM protection on them, which means only the person who purchases and downloads the e-book can access it.
E-books are non-returnable and non-refundable.
To learn more about our e-books, please refer to our FAQ.
Learn more about