Textbook
Laws of Communication: The Intersection Where Leadership Meets Employee Performance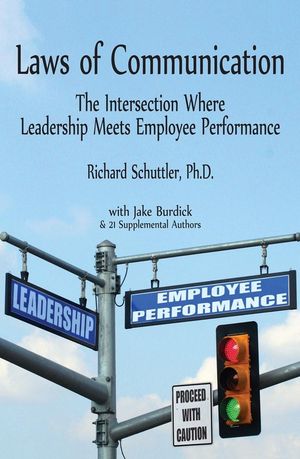 The influence that workplace supervisors have on their workers is widely-recognized.  In assessing organizational communication traits, Laws of Communication presents the governing rules of the complex relationship between a leader, employee, and organizational performance.  With a stoplight as his model, Dr. Schuttler clearly outlines how the colors red, yellow, and green explain types of leadership and employee performance quality zones.  Contributions by twenty-one supplemental authors from a broad range of countries, industries, and businesses make Laws of Communication an easy, unique, and beneficial guide for front-line workers, mid-level supervisors, and senior leaders alike.
Table of Contents
Foreword.
Preface.
Acknowledgements.
Dedication.
About the 21 Supplement Authors.
Section 1 Defining the Laws of Communication.
Chapter 1 The Law of Communication: Correlating Performance to Communication.
Chapter 2 Supplement Chapters: Common Threads and Themes.
Section 2 The Significance of Communication.
Chapter 3 Applying Spiritual Principles in Business Communication: The Key to Manifesting Organizational Goals.
Chapter 4 Schuttler's Laws of Communication: Application for Open Book Management.
Chapter 5 Lean Six Sigma and Communication: Observing the Laws of Communication.
Chapter 6 Organizational Acculturation: Fostering Inclusion in the Green Zone.
Chapter 7 Empirical Support for the Laws of Communication and Implications for Building a Successful Organization.
Chapter 8 Business Communication: Operating Within Schuttler's Stoplight Metaphor.
Chapter 9 Business Intelligence: Correlating Performance to Communication.
Chapter 10 The Domino Effect Towards Corporate Excellence.
Section 3 Applying the Laws of Communication.
Chapter 11 The Laws of Communication in the Lodging Industry.
Chapter 12 The Laws of Communication as Applied to the Success and Failure of a Telecommunications Firm.
Chapter 13 The Linkage Between the Law of Communication and University Research Administration.
Chapter 14 Laws of Communication in the Healthcare Industry.
Chapter 15 Laws of Communication: Applications for the Nurse-Patient Relationship.
Chapter 16 Communication, Leadership, and Performance in an Educational Setting.
Chapter 17 Community Foundations and the Laws of Communication.
Chapter 18 The Laws of Communication in an Order Fulfillment Organization.
Chapter 19 Navigating Organizational Complexities: Laws of Communication in the Aviation Industry.
Chapter 20 A Case Study: The Fifth Discipline and the Laws of Communication.
Section 4 Assessing Communication in Organizations.
Chapter 21 Evaluating the Communicative Structures and Pathways.
Chapter 22 The Red Zone: Analyzing and Assessing Hospital Leaders' Communication Failures.
Chapter 23 Malcolm Baldrige Criteria in a Clinical Laboratory Setting.
Section 5 Conclusion.
Chapter 24 Communicating Effectively is a Learned Skill.
References.
Author's Biography.
Author Information
Dr. Richard Schuttler is an international public speaker, educator, and author. He has 20 years of diversified, domestic and international management and leadership improvement expertise within academia, federal/state governments, and Fortune 1000 environments developing strategies and implementation methods. He has mentored executives, faculty, and students from around the world in a variety of professional leadership and management settings.
He is the owner of Organizational Troubleshooter, LLC (www.orgtroubleshooter.org). Dr. Schuttler served as Dean at the University of Phoenix (Business Week's 2004 #3 Hot Growing Companies) where he was responsible for the Doctor of Management in Organizational Leadership and Doctor of Business Administration degree programs that experienced tremendous growth during his five-year tenure. Richard has an extensive and proven assessment background applying the Malcolm Baldrige National Quality Awards criteria. He is a Senior Member with the American Society for Quality and has served as a judge with the International Team Excellence Award program criteria.
Richard served in the U.S. Navy and retired after 23 years of honorable service. He earned his Ph.D. in Applied Management and Decision Sciences from Walden University. His research and consulting background is with quantitative and qualitative methods in multiple industries focusing on improving efficiency and effectiveness with people and process.
More information on the Laws of Communication and its companion Supervisor Leadership and Communication Inventory can be found online at www.lawsofcomm.com and www.slci.ws. Richard can be reached directly via email at DrRich@slci.ws.
Hallmark Features
Supplemental Contributions -  The book contains a unique international collection of supplemental contributions from 21 authors who are subject matter experts in their professions. They represent a variety of industries, businesses, and countries. Each provides a perspective of how the Laws of Communication have manifested themselves and are found in different settings.
Available Versions