Textbook
Management, 2nd Canadian Edition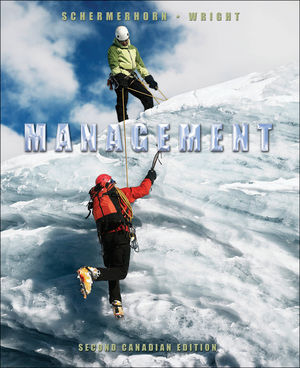 Multiple Paths to Reach the Summit...
We learn, teach, and manage in different ways. Management, Second Canadian Edition has been carefully crafted to meet the needs of today's millennial students to keep them engaged in active learning through an integrated learning model. Today more than ever, our students have pressing needs for direction as well as suggestion, application as well as information, and integration as well as presentation. The integrated learning model, together with WileyPLUS, the online teaching and learning platform, helps guide students as they read and study for exams, encourages them to engage in self-reflection about personal development of management skills and competencies, challenges them to engage in critical thinking, and informs them of how management issues and themes apply in our careers and everyday lives.

for
Management, 2nd Canadian Edition
. Learn more at
WileyPLUS.com

Table of Contents
Management
Chapter 1 Introducing Management
Chapter 2 Management Learning Past to Present
Environment
Chapter 3 Global Dimensions of Management
Chapter 4 Ethics, Social Responsibility and Sustainability
Chapter 5 Entrepreneurship and Small Business Management
Planning
Chapter 6 Planning Processes and Techniques
Chapter 7 Strategy and Strategic Management
Organizing
Chapter 8 Organization Structures  and Design
Chapter 9 Innovation and Organizational Change
Chapter 10 Human Resource Management
Leading
Chapter 11 Leading and Leadership Development
Chapter 12 Individual Behaviour
Chapter 13 Information and Decision-Making
Chapter 14 Motivation Th eory and Practice
Chapter 15 Teams, Teamwork, and Collaboration
Control
Chapter 16 Control Processes and Systems
Chapter 17 Operations and Services Management
New To This Edition
NEW! Learning from Others is a brand new chapter opening feature that places the chapter content in the context of real people and organizations. 
NEW! Learning about Yourself, also a new chapter opening feature, focuses on a critical personal skill or characteristic relevant to the chapter content.  Students are provided with information and insight and are asked to engage in a process of self reflection. 
Case Studies -- Integrated cases focus on fascinating companies such as Zara International, Netflix, Facebook , and Pixar.  Each case includes new questions that relate the case specifically to the chapter content and extend the students' understanding and abilities in applying chapter content to real situations.
NEW! The chapter on Ethics and Social Responsibility now includes a section on Sustainability that introduces the concept of sustainability in the context of corporate governance.
New suite of ethics simulations offered by Ethics-LX. www.ethics-lx.com
Going Global a new feature that highlights one company s evolution from local business to global player.
Visual Chapter Preview   -- links study questions to an overall chapter guide.
NEW! Research Brief   -- summarizes recent journal articles relevant to chapter topics.
NEW! Real Ethics challenges students to respond to an ethics problem or dilemma.
NEW!  Issues & Situations raises questions about personal behavior in common organizational situations.
Hallmark Features
Management Smarts assist in developing practical applications. These notepads consist of concise lists of helpful hints and describe dos' and don'ts' of managerial behaviour.
Thematic Boxes exemplify the importance of the issues managers must face. These boxes provide concise and relevant examples without interrupting the flow of the material. The mini stories and cases in Canadian Company in the News, and Canadian Managers illustrate real life issues and situations that managers have to face in the workplace.
An Integrated Learning Model to help guide students as they read and study for exams, including Learning Objectives and Study Questions at the beginning of the chapter, Learning Checks throughout the chapter, and Management Learning Review which provides ample opportunity for review and reflection including a study question summary, a chapter self test, short response questions, and application questions.
Available Versions