Textbook
Physics, Volume 2, 5th Edition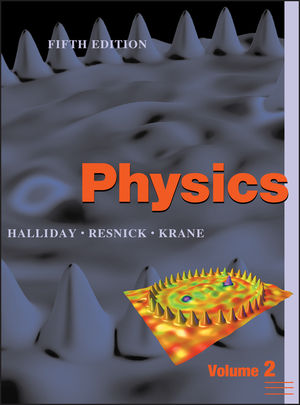 Electric Charge and Coulomb's Law.

The Electric Field.

Gauss' Law.

Electic Potential Energy and Potential.

The Electrical Properties of Materials.

Capacitance.

DC Circuits.

The Magnetic Field.

The Magnetic Fiel Of a Current.

Faraday's Law Of Induction.

Magnetic Properties of Materials.

Inductance. Maxwell's Equations and Electromagnetic Waves.

Light Waves.

Mirrors and Lenses.

Interference.

Difraction.

Gratings and Spectra.

Polarization.

The Nature of Light.

The Nature of Matter.

Electrons in Potential Wells.

Properties of Atoms.

Electrical Conduction in Solids.

Nuclear Physics.

Energy from the Nucleus.

Particle Physics and Cosmology.

Appendices.

Answers to Odd-Numbered Problems.

Photo Credits.

Index.
See More
Entire book edited to clarify conceptual development in light of recent findings of physics education research.
Following the inspiration of Arnold Arons, the Mechanics sequence is re-organized so that energy is the capstone topic.
End-of-chapter problem sets are thoroughly over-hauled - new problems are added, out-dated references are deleted, and new short-answer conceptual questions are added.
The presentation of Thermodynamics and Quantum Mechanics has been revised to provide a more modern approach to these topics.
The supplement package for both students and instructors have been greatly expanded. For students there are a Student Study Guide, Student Solutions Manual, and Student Website. For instructors there are a Instructor's Solutions Manual (both print and electronic), Test Bank, Computerized Testbank, Tranparencies, and IRCD with Simulations. EGrade is also avaible as a testing option.
See More
Instructors Resources
Wiley Instructor Companion Site
Coming Soon!
View Sample content below:
See More
See Less
Students Resources
Wiley Student Companion Site
Coming Soon!
View Sample content below:
See More
See Less
Purchase Options
Hardcover&nbsp&nbsp&nbsp
Physics, Volume 2, 5th Edition
ISBN : 978-0-471-40194-0
688 pages
October 2001, ©2002
$201.95&nbsp&nbsp&nbsp
BUY

Information about Wiley E-Texts:
Wiley E-Texts are powered by VitalSource technologies e-book software.
With Wiley E-Texts you can access your e-book how and where you want to study: Online, Download and Mobile.
Wiley e-texts are non-returnable and non-refundable.
WileyPLUS registration codes are NOT included with the Wiley E-Text. For informationon WileyPLUS, click here .
To learn more about Wiley e-texts, please refer to our FAQ.

Information about e-books:
E-books are offered as e-Pubs or PDFs. To download and read them, users must install Adobe Digital Editions (ADE) on their PC.
E-books have DRM protection on them, which means only the person who purchases and downloads the e-book can access it.
E-books are non-returnable and non-refundable.
To learn more about our e-books, please refer to our FAQ.
Learn more about