Textbook
National Geographic Atlas of the World-College, 2nd Edition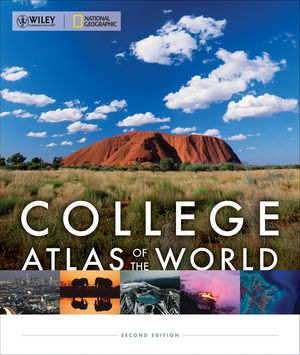 State-of-the-art cartographic technology plus award-winning design and content make this affordable, compact yet comprehensive atlas the ultimate resource for your students. Thematic maps present 25 global themes, from tectonics, the biosphere, and energy sources to population, health, literacy, and more, along with such timely topics as environmental stress and flash points for conflict and terror.
New To This Edition
The recently renamed Pakistani province of Khyber-Pakhtunkhwa and centrally administrative area of Gilgit-Baltistan.
The new Albanian/Serbian naming convention in Kosovo along with place-name updates from throughout the world.
Updated geophysical superlatives including new elevations for Cerro Aconcagua in South America, the Dead Sea in Asia, and Challenger Deep in the Pacific - the ocean's deepest point.
New national parks, including Northeast Greenland National Park, which is the world's largest.
Major highways, high-speed railroads, and airports.
Newly named features and soundings on all Ocean Floor maps
Politically sensitive areas, such as the Caucasus, Persian Gulf, and Korean Peninsula, are covered on the regional map plates - all updated with the most current information available at time of publication.
Available Versions