Textbook
77-882 Microsoft Excel 2010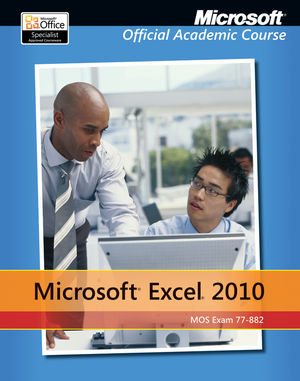 This MOAC Microsoft Excel 2010 77-882 text best prepares students for the Microsoft Office Specialist exam. The program is based upon the same curriculum as the Microsoft Office Specialist Exam to build the skills students need to succeed at work and the preparation they need to validate those skills and get the jobs they seek.



Table of Contents
LESSON 1: OVERVIEW 1
LESSON 2: USING BACKSTAGE 22
LESSON 3: WORKING WITH MICROSOFT EXCEL 2010 51
LESSON 4: FORMATTING CELLS AND RANGES 76
LESSON 5: FORMATTING WORKSHEETS 113
CIRCLING BACK 1 146
LESSON 6: MANAGING WORKSHEETS 149
LESSON 7: WORKING WITH DATA 174
LESSON 8: USING BASIC FORMULAS AND FUNCTIONS 207
CIRCLING BACK 2 245
LESSON 9: USING ADVANCED FORMULAS AND SECURING WORKBOOKS 248
LESSON 10: CREATING CHARTS AND PIVOTTABLES 304
LESSON 11: ADDING PICTURES AND SHAPES TO A WORKSHEET 342
CIRCLING BACK 3 377
APPENDIX A 380
APPENDIX B 385
GLOSSARY 386
CREDITS 389
INDEX 390
New To This Edition
Now in full-color for enhanced learning!
Instructors: Save hours grading Office documents with OfficeGrader for automated grading of spreadsheets
Page count increased by 25-30% - including coverage of PivotTables and Sparklines!
Hallmark Features
180 day trial version of Microsoft Office Professional 2010 packaged with corresponding textbook in select markets
Task based approach to learning software uses, features, and commands
Maps to 100% of the Microsoft Office Specialist (MOS) exam objectives
MOS exam vouchers available with the book (for additional fee)
MOS practice tests available with the book (additional fee)
Free DreamSpark Premium subscription for qualified departments available upon adoption
Available Versions