Textbook
Case Studies in Abnormal Psychology, 9th Edition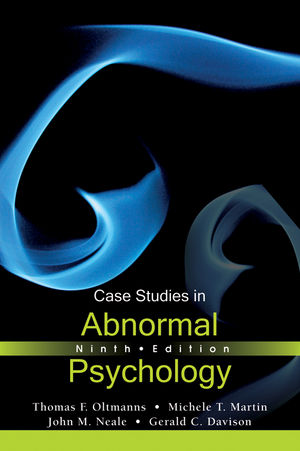 Would you like to include more high interest cases in your Abnormal Psychology course?
Most textbooks on abnormal psychology include short descriptions of actual clinical cases. However, those presentations are necessarily brief and too fragmented for students to gain a clear understanding of the unique complexities of a person's troubled life. Case Studies in Abnormal Psychology, Ninth Edition takes mental disorders from the realm of theory into the complex reality of human lives. This casebook presents comprehensive coverage of 23 high interest cases that include topics such as eating disorders, gender identity disorder, borderline personality, and posttraumatic stress disorder. Each study (1) provides detailed descriptions of a range of clinical problems, (2) illustrates some of the ways in which these problems can be viewed and treated, and (3) discusses some of the evidence that is available concerning the prevalence and causes of the disorders in question.
Case Studies in Abnormal Psychology, Ninth Edition is available in alternate versions (eBooks and custom) for professors and students. For more information, visit the "Instructor's Resource" tab or "Student Resource" tab below.
See More
Preface v
1. Obsessive-Compulsive Disorder 1
2. Panic Disorder with Agoraphobia 17
3. Posttraumatic Stress Disorder: Rape Trauma 35
4. Hypertension in an African American Man 52
5. Dissociative Identity Disorder: Multiple Personality 68
6. Major Depressive Disorder 87
7. Bipolar Disorder 102
8. Somatization Disorder 115
9. Schizophrenia: Paranoid Type 130
10. Psychotic Disorder (NOS), Substance Dependence, and Violence 145
11. Alcohol Dependence 159
12. Sexual Dysfunction: Female Orgasmic Disorder and Premature Ejaculation 171
13. Paraphilias: Exhibitionism and Frotteurism 188
14. Gender Identity Disorder: Transsexualism 202
15. Eating Disorder: Anorexia Nervosa 221
16. Eating Disorder: Bulimia Nervosa 234
17. Parasomnia: Nightmare Disorder and Isolated Sleep Paralysis 251
18. Paranoid Personality Disorder 265
19. Borderline Personality Disorder 283
20. Antisocial Personality Disorder: Psychopathy 297
21. Autistic Disorder 309
22. Attention-Deficit/Hyperactivity Disorder 323
23. Oppositional Defiant Disorder 336
References 351
Index 391
See More
A NEW chapter to describing a woman who experienced terrifying nightmares and an associated sleep paralysis. This new case provides important coverage of sleep disorders, which affect large numbers of people and have received increased attention in the professional literature.
See More
A comprehensive and scholarly casebook, written by a team of authors

An excellent balance in various perspectives and treatments that include strong coverage of cultural, ethnic, gender, and women's issues throughout.

Best known for its in-depth discussion sections, to get student to think further about the information and details presented.

Includes a number of transcripts of therapy sessions, giving students a realistic view of psychotherapy.
See More
Instructors Resources
ENHANCE YOUR COURSE
Digital evaluation copy available for this title
Request Copy

Contact your Wiley Representative
Find Your Rep

See More
See Less
Purchase Options
Wiley E-Text&nbsp&nbsp&nbsp

Case Studies in Abnormal Psychology, 9th Edition
ISBN : 978-1-118-21520-3
416 pages
January 2012, ©2012
Paperback&nbsp&nbsp&nbsp
Case Studies in Abnormal Psychology, 9th Edition
ISBN : 978-1-118-08619-3
416 pages
December 2011, ©2012

Information about Wiley E-Texts:
Wiley E-Texts are powered by VitalSource technologies e-book software.
With Wiley E-Texts you can access your e-book how and where you want to study: Online, Download and Mobile.
Wiley e-texts are non-returnable and non-refundable.
WileyPLUS registration codes are NOT included with the Wiley E-Text. For informationon WileyPLUS, click here .
To learn more about Wiley e-texts, please refer to our FAQ.

Information about e-books:
E-books are offered as e-Pubs or PDFs. To download and read them, users must install Adobe Digital Editions (ADE) on their PC.
E-books have DRM protection on them, which means only the person who purchases and downloads the e-book can access it.
E-books are non-returnable and non-refundable.
To learn more about our e-books, please refer to our FAQ.