Textbook
A History of Modern Psychology, 4th Edition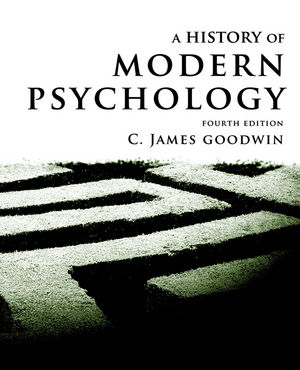 The enhanced 4th Edition of Goodwin's series, A History of Modern Psychology, explores the modern history of psychology including the fundamental bases of psychology and psychology's advancements in the 20th century. Goodwin, Ph.D. in experimental psychology, has a true passion for the history of experimental psychology. Strengths of the text include his conversational writing style and attention to recent scholarship in the history of psychology. Goodwin's 4th Edition focuses on the reduction of biographical information with an emphasis on more substantial information including ideas and concepts and on ideas/research contributions; more history on the applied areas of psychology; condensed chapters, philosophical antecedents and physiological antecedents; and more psychology's history in the 20th century.
See More
CHAPTER 1 INTRODUCING PSYCHOLOGY'S HISTORY 1
CHAPTER 2 THE PHILOSOPHICAL CONTEXT 28
CHAPTER 3 THE PHYSIOLOGICAL CONTEXT: EARLY RESEARCH ON THE NERVOUS SYSTEM 59
CHAPTER 4 WUNDT AND GERMAN PSYCHOLOGY 93
CHAPTER 5 DARWIN'S CENTURY: EVOLUTIONARY THINKING 126
CHAPTER 6 AMERICAN PIONEERS 160
CHAPTER 7 STRUCTURALISM AND FUNCTIONALISM 200
CHAPTER 8 APPLYING THE NEW PSYCHOLOGY 236
CHAPTER 9 GESTALT PSYCHOLOGY 279
CHAPTER 10 THE ORIGINS OF BEHAVIORISM 310
CHAPTER 11 THE EVOLUTION OF BEHAVIORISM 343
CHAPTER 12 MENTAL ILLNESS AND ITS TREATMENT 382
CHAPTER 13 PSYCHOLOGY'S PRACTITIONERS 414
CHAPTER 14 PSYCHOLOGICAL SCIENCE IN THE POSTWAR ERA 443
CHAPTER 15 LINKING PSYCHOLOGY'S PAST AND PRESENT 480
See More
70+ new references made from the third edition to the fourth edition
NEW material included on the history of insane asylums in Chapter 12
The history of clinical psychology in the United States (e.g., Witmer) has been moved from Chapter 12 to Chapter 13, working together smoothly with post World War II developments in clinical psychology (e.g., the Boulder conference)
Coverage of the following topics has been added or elaborated from prior editions: archival researching, J. S. Mill's education, Broca and the discovery of the speech center, introspection as practiced in different labs, the effect of slavery on Darwin's thinking, sexual selection added to natural selection, De Candolle's argument with Galton, effects of William James' Amazon trip, Hall's use of recapitulation, the psychology exhibit at the Columbian Exposition, E. W. Scripture and the application of laboratory procedures to sports, the fate of Little Albert, Scott's application of memory principle to advertising, applied psychology in Europe, the Brelands' IQ Zoo as an illustration of applied operant technology, the asylum movement and the attempt to improve mental health via architecture, British psychologist C. S. Myers and shell shock, James Gibson and ecological perception.
See More
Every chapter begins with a Preview and a set of Chapter Objectives, which set the stage for what is to come
Each chapter concludes with a detailed Summary of the chapter's contents and a brief annotated list of articles and/or books in For Further Reading.

Key Date

sections identify years that corresponds to especially important events in psychology's history

To further enable students to make links between psychology and the rest of the world, timelines are included within the front and back inside covers of the text
An online Student Study Guide includes a guided concept review and several different forms of sample test material, with feedback
See More
Instructors Resources
ENHANCE YOUR COURSE
Digital evaluation copy available for this title
Request Copy

Contact your Wiley Representative
Find Your Rep

See More
See Less
Purchase Options

Information about Wiley E-Texts:
Wiley E-Texts are powered by VitalSource and accessed via the VitalSource Bookshelf reader, available online and via a downloadable app.
Wiley E-Texts are accessible online and offline, and can be read on a variety of devices, including smartphones and tablets.
Wiley E-Texts are non-returnable and non-refundable.
Wiley E-Texts are protected by DRM. For specific DRM policies, please refer to our FAQ.
WileyPLUS registration codes are NOT included with any Wiley E-Text. For informationon WileyPLUS, click here .
To learn more about Wiley E-Texts, please refer to our FAQ.

Information about e-books:
E-books are offered as e-Pubs or PDFs. To download and read them, users must install Adobe Digital Editions (ADE) on their PC.
E-books have DRM protection on them, which means only the person who purchases and downloads the e-book can access it.
E-books are non-returnable and non-refundable.
To learn more about our e-books, please refer to our FAQ.