Textbook
Introduction to Computing Using Python: An Application Development Focus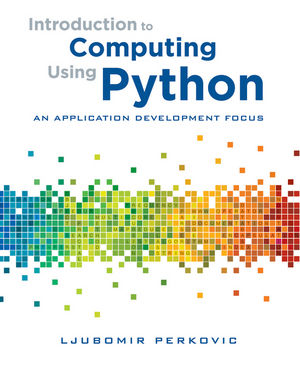 Perkovic's
Introduction to Programming Using Python
 is more than just an introduction to programming. It is an inclusive introduction to Computer Science that takes the pedagogical approach of "the right tool for the job at the right moment," and focuses on application development.  The approach is hands-on and problem-oriented, with practice problems and solutions appearing throughout the text. The text is imperative-first, but does not shy away from discussing objects early where appropriate. Discussions of user-defined classes and Object-Oriented Programming appear later in the text, when students have more background and concepts can be motivated.  Chapters include an introduction to problem solving techniques and classical algorithms, problem-solving and programming and ways to apply core skills to application development.
Meet the author here: http://www.youtube.com/watch?v=TlDzgJdKWUA
See More
Chapter 1. Introduction to Computer Science
Chapter 2. Python Data Types
Chapter 3. Imperative Programming
Chapter 4. Text data, Files, and Exceptions
Chapter 5. Execution Control Structures
Chapter 6. Containers and Randomness
Chapter 7. Namespaces
Chapter 8. Object-Oriented Programming
Chapter 9. Graphical User Interfaces
Chapter 10. Recursion
Chapter 11. The Web and Search
Chapter 12. Databases and Data Processing


See More
• Introduces computing concepts and Python programming in a breadth-first manner, starting from a small general-purpose vocabulary and then gradually extending it.
• This approach allows students to write small functions and for exercises early in the course, and also allows homework assignments to be set up as applications (i.e. complete functions) early on.
• As the built-in data types, conditionals, loops, and functional and modular abstractions are studied in more depth in later chapters the focus of the textbook narrative remains on problem solving and on patterns used to break problems up and design programs.
• Inline practice problems appear throughout the book to help reinforce concepts. The solutions to these problems appear at the end of the corresponding chapter, allowing students to check their work or take a peek in case they are stuck.
• Language features are introduced as constructs that help solve a problem or achieve a desirable program design.
• In the process of developing applications, program complexity rises to a point when object oriented techniques are easier to motivate, and therefore learn.
• In the last three chapters, the context of web crawling and search engines are used to introduce a broad array of topics: recursion, regular expressions, depth-first search, Google's MapReduce framework, HTML parsers, SQL, and multicore programming.
• Most chapters include a case study that showcases the concepts and tools covered in the chapter in context.
• Uses Caution boxes to warn students of potential pitfalls, and Detour boxes to briefly explore tangential topics.
• Contains a large number of boxes, practice problems, figures, and tables which create visual breaks in the text, making the volume more approachable for today's students.


See More
Instructors Resources
Request a print evaluation copy
Contact us

Contact your Wiley Representative
Find Your Rep

See More
See Less
Purchase Options
Wiley E-Text

Introduction to Computing Using Python: An Application Development Focus
ISBN : 978-1-118-32731-9
512 pages
January 2012, ©2012
Paperback
Introduction to Computing Using Python: An Application Development Focus
ISBN : 978-0-470-61846-2
512 pages
December 2011, ©2012

Information about Wiley E-Texts:
Wiley E-Texts are powered by VitalSource and accessed via the VitalSource Bookshelf reader, available online and via a downloadable app.
Wiley E-Texts are accessible online and offline, and can be read on a variety of devices, including smartphones and tablets.
Wiley E-Texts are non-returnable and non-refundable.
Wiley E-Texts are protected by DRM. For specific DRM policies, please refer to our FAQ.
WileyPLUS registration codes are NOT included with any Wiley E-Text. For informationon WileyPLUS, click here .
To learn more about Wiley E-Texts, please refer to our FAQ.

Information about e-books:
E-books are offered as e-Pubs or PDFs. To download and read them, users must install Adobe Digital Editions (ADE) on their PC.
E-books have DRM protection on them, which means only the person who purchases and downloads the e-book can access it.
E-books are non-returnable and non-refundable.
To learn more about our e-books, please refer to our FAQ.