Textbook
Marketing Research, 9th Edition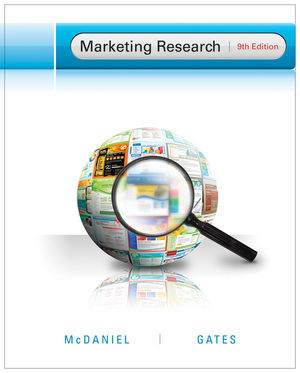 In the Ninth Edition of Marketing Research, McDaniel and Gates continue to share their industry experience to teach students how to make critical business decisions through the study of market research. The authors' practical, applications-based approach features real data, real people, and real research, to prepare students to conduct and use market research for future careers in business.
Co-author Roger Gates, President of DSS Research, infuses the text with a practitioner perspective, helping students learn how to use marketing research through a practical presentation of theory and practice.  
See More
Preface vii
1 The Role of Marketing Research in Management Decision Making 1
2 The Marketing Research Industry and Research Ethics 21
3 Problem Definition, Exploratory Research, and the Research Process 57
4 Secondary Data and Databases 89
5 Qualitative Research 116
6 Traditional Survey Research 151
7 Online Marketing Research 177
8 Primary Data Collection: Observation 213
9 Primary Data Collection: Experimentation and Test Markets 242
10 The Concept of Measurement 276
11 Using Measurement Scales to Build Marketing Effectiveness 302
12 Questionnaire Design 335
13 Basic Sampling Issues 379
14 Sample Size Determination 406
15 Data Processing And Fundamental Data Analysis 435
16 Statistical Testing Of Differences And Relationships 470
17 Bivariate Correlation and Regression 514
18 Multivariate Data Analysis 540
19 Communicating The Research Results 585
20 Managing Marketing Research 607
Photo Credits PC-1
Appendix 1: Comprehensive Cases A-1
A: Biff Targets an Online Dating Service for College Students A-2
B: Freddy Favors Fast Food and Convenience for College Students A-5
C: Superior Online Student Travel—A Cut Above A-9
D: Rockingham National Bank Visa Card Survey A-13
Appendix 2: Considerations in Creating a Marketing Plan A-21
Appendix 3: Statistical Tables A-25
Endnotes A-32
Glossary G-1
Index I-1
See More
·
NEW Wiley Marketing Research Video Series:
Interviews with key personnel at leading marketing research companies illustrate how they apply the major concepts of marketing research to their business.
·         NEW Real Life Research Cases: Featured in every chapter, cases on Teens and Mobile Phones, Stovetops and Laptops, the Changing Face of Motherhood, and The Carter Regional Blood Center offer current and relevant topics to underscore market research concepts.  
·         NEW Content on Current Topics: Includes coverage of social media and user-generated content, online tracking firms, behavioral targeting and privacy battles, Facebook as a survey research platform.
See More
·
Real World Content
: Real data, real people and real results are featured throughout the text to help students connect content and theory to actual business decisions.
·         Applied Approach: The most practical marketing research text offers a practitioner perspective to teach students how they will use market research in future careers.
·         Technology: The most thorough coverage of mobile applications, data mining and analysis, and new applications such as Google Analytics and Qualtrics. 
See More
Instructors Resources
ENHANCE YOUR COURSE
Digital evaluation copy available for this title
Request Copy

Contact your Wiley Representative
Find Your Rep

See More
See Less
Purchase Options

Information about Wiley E-Texts:
Wiley E-Texts are powered by VitalSource technologies e-book software.
With Wiley E-Texts you can access your e-book how and where you want to study: Online, Download and Mobile.
Wiley e-texts are non-returnable and non-refundable.
WileyPLUS registration codes are NOT included with the Wiley E-Text. For informationon WileyPLUS, click here .
To learn more about Wiley e-texts, please refer to our FAQ.

Information about e-books:
E-books are offered as e-Pubs or PDFs. To download and read them, users must install Adobe Digital Editions (ADE) on their PC.
E-books have DRM protection on them, which means only the person who purchases and downloads the e-book can access it.
E-books are non-returnable and non-refundable.
To learn more about our e-books, please refer to our FAQ.