Textbook
Introduction to Engineering Math, Preliminary Edition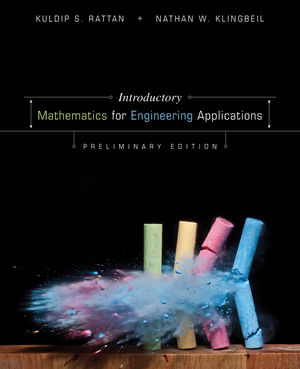 Rattan's
Introductory Mathematics for Engineering Applications
is designed is to improve student retention, motivation and success through application-driven, just-in-time engineering math instruction. It is intended to be taught by engineering faculty, not math faculty, so the emphasis is on using math to solve engineering problems, not on derivations and theory.

The book is a product of four NSF grants to develop and disseminate a new approach to engineering mathematics education. The authors have developed a course that does just this, and have recruited faculty at more than two dozen institutions to pilot aspects of this course in their own curricula.  This approach covers only the salient math topics actually used in core engineering courses, including physics, statics, dynamics, electric circuits and computer programming.  More importantly, the course replaces traditional math prerequisites for the above core courses, so that students can advance in the engineering curriculum without first completing the required calculus sequence.  The result has shifted the traditional emphasis on math prerequisite requirements to an emphasis on engineering motivation for math, and has had an overwhelming impact on engineering student retention.


Table of Contents
Chapter 1: Straight Lines in Engineering
Chapter 2: Quadratic Equations in Engineering
Chapter 3: Trigonometry in Engineering
Chapter 4: Two-Dimensional Vectors in Engineering
Chapter 5: Complex Numbers in Engineering
Chapter 6: Sinusoids in Engineering
Chapter 7: Systems of Equations in Engineering
Chapter 8: Derivatives in Engineering
Chapter 9: Integration in Engineering
Chapter 10: Differential Equations in Engineering
Hallmark Features
Ideally, this text will serve as a a primary text for a first-year engineering math course, which would allow students to advance through the first two years of their academic program without first completing the required calculus sequence.
This course doesn't replace calculus. It simply allows students to advance through introductory engineering courses while they gain the maturity and motivation to succeed in calculus at a slower pace.
Available Versions