Textbook
Business Data Communications and Networking, 11th Edition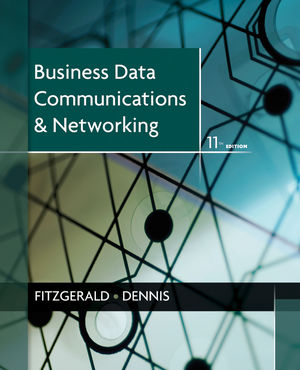 Over the past few years, many fundamental changes have occurred in data communications and networking that will shape the future for decades to come.
Updated with the latest advances in the field, Jerry FitzGerald and Alan Dennis' 11th Edition of Business Data Communications and Networking continues to provide the fundamental concepts and cutting-edge coverage of applications that students need to succeed in this fast-moving field. 
Authors FitzGerald and Dennis have developed a foundation and balanced presentation from which new technologies and applications can be easily understood, evaluated, and compared.
See More
PART ONE INTRODUCTION 1
CHAPTER 1 INTRODUCTION TO DATA COMMUNICATIONS 2
1.1 INTRODUCTION 4
1.2 DATA COMMUNICATIONS NETWORKS 11
1.3 NETWORK MODELS 15
1.4 NETWORK STANDARDS 22
1.5 FUTURE TRENDS 26
1.6 IMPLICATIONS FOR MANAGEMENT 29
SUMMARY 30
PART 2 FUNDAMENTAL CONCEPTS 37
CHAPTER 2 APPLICATION LAYER 38
2.1 INTRODUCTION 40
2.2 APPLICATION ARCHITECTURES 40
2.3 WORLD WIDE WEB 49
2.4 ELECTRONIC MAIL 53
2.5 OTHER APPLICATIONS 58
2.6 IMPLICATIONS FOR MANAGEMENT 63
SUMMARY 64
CHAPTER 3 PHYSICAL LAYER 76
3.1 INTRODUCTION 78
3.2 CIRUITS 79
3.3 COMMUNICATION MEDIA 88
3.4 DIGITAL TRANSMISSION OF DIGITAL DATA 95
3.5 ANALOG TRANSMISSION OF ANALOG DATA 100
3.6 DIGITAL TRANSMISSION OF ANALOG DATA 105
3.7 IMPLICATIONS FOR MANAGEMENT 109
SUMMARY 109
CHAPTER 4 DATA LINK LAYER 118
4.1 INTRODUCTION 120
4.2 MEDIA ACCESS CONTROL 120
4.3 ERROR CONTROL 123
4.4 DATA LINK PROTOCOLS 131
4.5 TRANSMISSION EFFICIENCY 136
4.6 IMPLICATIONS FOR MANAGEMENT 139
SUMMARY 140
CHAPTER 5 NETWORK AND TRANSPORT LAYERS 147
5.1 INTRODUCTION 149
5.2 TRANSPORT AND NETWORK LAYER PROTOCOLS 150
5.3 TRANSPORT LAYER FUNCTIONS 152
5.4 ADDRESSING 157
5.5 ROUTING 165
5.6 TCP/IP EXAMPLE 174
5.7 IMPLICATIONS FOR MANAGEMENT 182
PART THREE NETWORK TECHNOLOGIES 195
CHAPTER 6 WIRED AND WIRELESS LOCAL AREA NETWORKS 196
6.1 INTRODUCTION 198
6.2 LAN COMPONENTS 201
6.3 WIRED ETHERNET 208
6.4 WIRELESS ETHERNET 213
6.5 THE BEST PRACTICE LAN DESIGN 218
6.6 IMRPOVING LAN PERFORMANCE 223
6.7 IMPLICATIONS FOR MANAGEMENT 227
SUMMARY 227
CHAPTER 7 WIDE ARES NETWORKS 268
7.1 INTRDUCTION 238
7.2 BACKBONE NETWORK COMPONENTS 240
7.3 BACKBONE NETWORK ARCHITECTURES 243
7.4 THE BEST PRACTICE BACKBONE DESIGN 258
7.5 IMPROVING BACKBONE PERFORMANCE 260
7.6 IMPLICATIONS FOR MANAGEMENT 261
SUMMARY 262
CHAPTER 8 WIDE AREA NETWORKS 268
8.1 INTRODUCTION 270
8.2 CIRCUIT-SWITCHED NETWORKS 271
8.3 DEDICATED-CIRCUIT NETWORKS 273
8.4 PACKET-SWITCHED NETWORKS 279
8.5 VIRTUAL PRIVATE NETWORKS 286
8.6 THE BEST PRACTICE WAN PERFORMANCE 294
8.7 IMPROVING WAN PERFORMANCE 294
8.8 IMPLICATIONS FOR MANAGEMENT 297
SUMMARY 297
CHAPTER 9 THE INTERNET 310
9.1 INTRODUCTION 311
9.2 HOW THE INTERNET WORKS 312
9.3 INTERNET ACCESS TECHNOLOGIES 317
9.4 THE FUTURE OF THE INTERNET 324
9.5 IMPLICATIONS FOR MANAGEMENT 328
SUMMARY 328
PART FOUR NETWORK MANAGEMENT 337
10.1 INTRODUCTION 339
10.2 RISK ASSESSMENT 345
10.3 ENSURING BUSINESS CONTINUITY 351
10.4 INTRUSION PREVENTION 361
10.5 BEST PRACTICE RECOMMENDATIONS 390
10.6 IMPLICATIONS FOR MANAGEMENT 391
SUMMARY 392
CHAPTER 11 NETWORK DESIGN 408
11.1 INTRODUCTION 410
11.2 NEEDS ANALYSIS 413
11.3 TECHNOLOGY DESIGN 418
11.4 COST ASSESSMENT 421
11.5 DESIGNING FOR NETWORK PERFORMANCE
11.6 IMPLICATION FOR MANAGEMENT 437
SUMMARY 439
CHAPTER 12 NETWORK MANAGEMENT 448
12.1 INTRODUCTION 449
12.2 ORGANIZING THE NETWORK MANAGEMENT FUNCTION 450
12.3 CONFIGURATION MANAGEMENT 454
12.4 PERFORMANCE AND FAULT MANAGEMENT 456
12.5 END USER SUPPORT 466
12.6 COST MANAGEMENT 467
12.7 IMPLICATIONS FOR MANAGEMENT 472
SUMMARY 473
PART FIVE APPENDICES 481
APPENDIX A CONNECTOR CABLES 482
APPENDIX B SPANNING TREE PROTOCOL 493
APPENDIX C IP TELEPHONY
APPENDIX D CELLULAR TECHNOLOGIES 500
APPENDIX E TCP/IP GAME 502
APPENDIX F WINDOWS SERVER 513
GLOSSARY 525
INDEX 555
See More
Professor Alan Dennis
is professor of information systems in the Kelley School of Business at Indiana University and holds the John T. Chambers Chair in Internet Systems. The Chambers Chair was established to honor John Chambers, president and chief executive officer of Cisco Systems, the worldwide leader of networking technologies for the Internet.
Prior to joining Indiana University, Professor Dennis spent nine years as a professor at the University of Georgia, where he won the Richard B. Russell Award for Excellence in Undergraduate Teaching. Professor Dennis has a bachelor's degree in computer science from Acadia University in Nova Scotia, Canada, and an MBA from Queen's University in Ontario, Canada. His Ph.D. in management of information systems is from the University of Arizona. Prior to entering the Arizona doctoral program, he spent three years on the faculty of Queen's School of Business.
Dr. Jerry Fitzgerald is the principal in Jerry Fitzgerald & Associates, a firm he started in 1977. He has extensive in risk analysis, computer security, audit and control of computerized systems, data communications, networks, and systems analysis. He has been active in risk-assessment studies, computer security, audit  reviews, designing controls into applications during the new system development process, date communication networks, bank wire transfer systems, and electronic data interchange and date communication networks. Dr. FitzGerald has a Ph.D.in business economics and a master's degree in business economics from the Claremont Graduate School, an MBA from the University of Santa Clara, and a bachelor's degree in industrial engineering from Michigan State University. He is a certified information systems auditor (CISA) and holds a certificate in data processing (CDP). He belongs to the EDP Auditors Association (EDPAA), the Institute of Internal Auditors (IIA), and the Information Systems Security Association (ISSA). Dr. FitzGerald has been a faculty member at several California universities and a consultant at SRI International.
Alexandra Durcikova is an Assistant Professor at the Eller College of Business, University of Arizona. Alexandra has a Ph.D. in Management Information Systems from University of Pittsburgh. She has earned a M.Sc. degree in Solid States Physics from Comenius University, Bratislava, worked as an experimental physics researcher in the area of superconductivity and as an instructor of executive MBA students prior to pursuing her Ph.D. Alexandra's research interests include knowledge management and knowledge management systems, knowledge management system characteristics, governance mechanisms in the use of knowledge management systems; and human compliance with security policy and characteristics of successful phishing attempts within the area of network security. Her research appears in Information Systems Research, Journal of Management Information Systems, International Journal of Human-Computer Studies, and Communications of the ACM.
See More
Combined wireless and wired LANs into one chapter and thus reducing the number of chapters from 13 to 12
Expanded and added new hands-on activities with deliverables to each chapter. 
o    Several labs are included that use Wireshark. The activities are designed to reinforce the key concepts in each chapter, as well as to provide an interesting, practical use of network technology. These activities could be used as demonstrations in class, lab exercises, or activities given as homework.
Chapter 5 has been significantly updated. This additional material should make it easier for the students to understand TCP/IP.
o    More detailed description of the TCP/IP handshakes is provided
o    New section in this chapter describes the anatomy of a router
Chapter on network security now has a new hand-on assignment that asks the students to use PGP to encrypt and decrypt an e-mail message using public key encryption.
o    This assignment will help students to better understand how to post a public key and the procedure for encrypting a message.
Reduced complexity and bulk by removing older technologies that are fading from use.
See More
•       Balanced coverage of the technical and managerial aspects of data communications helps students understand how networks operate and how to successfully apply them.
•       Real-life examples throughout the text illustrate the complex uses of networks in recent years including mini-cases in Management Focus boxes which show how real organizations are using telecommunications and networking.
•       The text covers all the important topics in data communications. Every important technology and/or network management issue is addressed in enough depth to give the student a basic understanding.
•       Online material to help you teach the course including an online lab manual, OPNET labs, and animations to help students visualize and understand concepts more effectively
See More
Instructors Resources
ENHANCE YOUR COURSE
Digital evaluation copy available for this title
Request Copy

Contact your Wiley Representative
Find Your Rep

See More
See Less
Purchase Options
Wiley E-Text&nbsp&nbsp&nbsp

Business Data Communications and Networking, 11th Edition
ISBN : 978-1-118-21528-9
608 pages
November 2011, ©2012
Hardcover&nbsp&nbsp&nbsp
Business Data Communications and Networking, 11th Edition
ISBN : 978-1-118-08683-4
608 pages
August 2011, ©2012
$222.95&nbsp&nbsp&nbsp
BUY

Information about Wiley E-Texts:
Wiley E-Texts are powered by VitalSource technologies e-book software.
With Wiley E-Texts you can access your e-book how and where you want to study: Online, Download and Mobile.
Wiley e-texts are non-returnable and non-refundable.
WileyPLUS registration codes are NOT included with the Wiley E-Text. For informationon WileyPLUS, click here .
To learn more about Wiley e-texts, please refer to our FAQ.

Information about e-books:
E-books are offered as e-Pubs or PDFs. To download and read them, users must install Adobe Digital Editions (ADE) on their PC.
E-books have DRM protection on them, which means only the person who purchases and downloads the e-book can access it.
E-books are non-returnable and non-refundable.
To learn more about our e-books, please refer to our FAQ.